Carlozzi Family Scholarship
$2,500–$10,000
Award Amount
1/24/2023
Submission Deadline
Explore Similar Scholarships
College Major:
Grade Level:
New York Women in Communications (NYWICI), founded in 1929, is the premier organization for female communications professionals. The nonprofit organization has over 2,500 members ranging from senior executives to students, entrepreneurs, and young professionals in a variety of communications disciplines such as journalism, broadcasting, corporate communications, digital, publishing, advertising, integrated marketing, photography, public relations, and graphic design.
The foundation's mission is to empower women in the communications field at all career stages to reach their full potential and navigate the ever-changing communications landscape. Each year, they award scholarships, ranging from $2,500 to $10,000 to high school seniors, and full-time undergraduate and graduate students. It provides educational programs such as an annual communications boot camp for women starting their careers or transitioning careers. To date, it has given more than $2 million in scholarship support to over 350 women.
NYWICI also gave $47,000 in Pivot Development Grants to 30 deserving women that are self-directed grants to female professionals seeking to advance their careers. New York Women in Communications is dedicated to diversity and inclusion. Scholarships are given based on academic achievement, financial need, and a demonstrated commitment to the field of communication.
Key Information of Carlozzi Family Scholarship
Study Details
Area of Study
Advertising
Broadcasting
Communications
English
Film
Journalism
Marketing
Public Relations
Publishing
Country of Study
United States
Scholarship Details
Intended Level of Study
Undergraduate
Postgraduate
Award Amount
$2,500–$10,000
Carlozzi Family Scholarship Timeline
November 2022
Application Opening Date
Applications open on November 1.
January 2023
Submission Deadline
The submission deadline is on January 24.
March 2023
Awards Announcement Date
Winners are announced in March.
Scholarship Eligibility
To be eligible to apply, applicants must meet the following criteria.
Eligible Grade: Undergraduate
Maximum Age: Any
Required GPA: 3.2
Geographic Eligibility: Connecticut, New Jersey, New York, Pennsylvania
Gender: Women
Race/Ethnicity: Any
Application Requirements
Here's what you need to submits besides your application.
Grade transcript
Recommendation letters
Short Answers
School Verification
How to ace the Carlozzi Family Scholarship
1
Show commitment to the field of communications
In your application, make sure to show your commitment to the field of communication. The scholarship is intended for students who want to pursue or advance their careers in communications.
2
Display your academic accomplishments
Academic achievement is one of the criteria used to select scholarship recipients. If you have a lot of academic accomplishments, make sure to include them in your application.
3
Emphasize your engagement in your school community
Students, who are very active in their school community, have a good chance of being chosen. Remember to include your volunteer work in your application.
4
Talk about leadership roles you've taken
In your application, make sure to pick the experiences that truly show off your leadership abilities. Talk about the extracurricular leadership roles that demonstrate your ability to take on responsibility.
How the Carlozzi Family Scholarship is Judged
Recipients are chosen by the committee based on demonstrated leadership, academic achievement, work experience, participation in school and community service activities, honors and other awards or recognition, and the applicant's statement of goals and aspirations. Need and personal or family circumstances are also taken into consideration.
Why We Love the Carlozzi Family Scholarship
Free NYWICI membership
Scholarship recipients are given a free one-year membership in NYWICI and are considered the organization's ambassadors.
Professional growth
The foundation supports women at all stages of their communications careers. They encourage women's leadership and professional development, as well as networking opportunities. NYWICI offers a large network for career development and opportunities.
Financial assistance for women
Over the last 50 years, NYWICI has recognized and supported women who want to further their education in journalism and communication.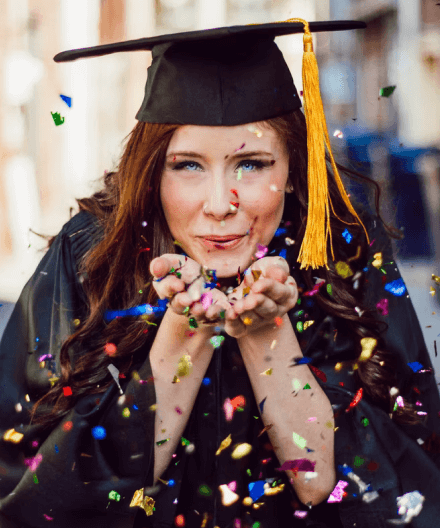 5 Facts About Carlozzi Family Scholarship
Applicants must be U.S. citizens
The Carlozzi Family Scholarship is for women who are permanent residents of New York, New Jersey, Connecticut, or Pennsylvania.
The required GPA is 3.2
Full-time college undergraduate and graduate students with an overall GPA of 3.2 (or 87%) or higher are eligible to apply.
Applicants must major in a communications field
Applicants must be planning to or majoring in an advanced degree in a communications-related field at a US college or university.
Scholarship money is sent directly to school
The foundation sends scholarship money directly to educational institutions.
Re-applying students must be members of NYWICI
Past scholarship winners, who are reapplying, must be current members of New York Women in Communications.