8 Best Private Student Loans For Bad Credit In 2023
This blog post gives the pros and cons of 4 different private student loans for people with bad credit.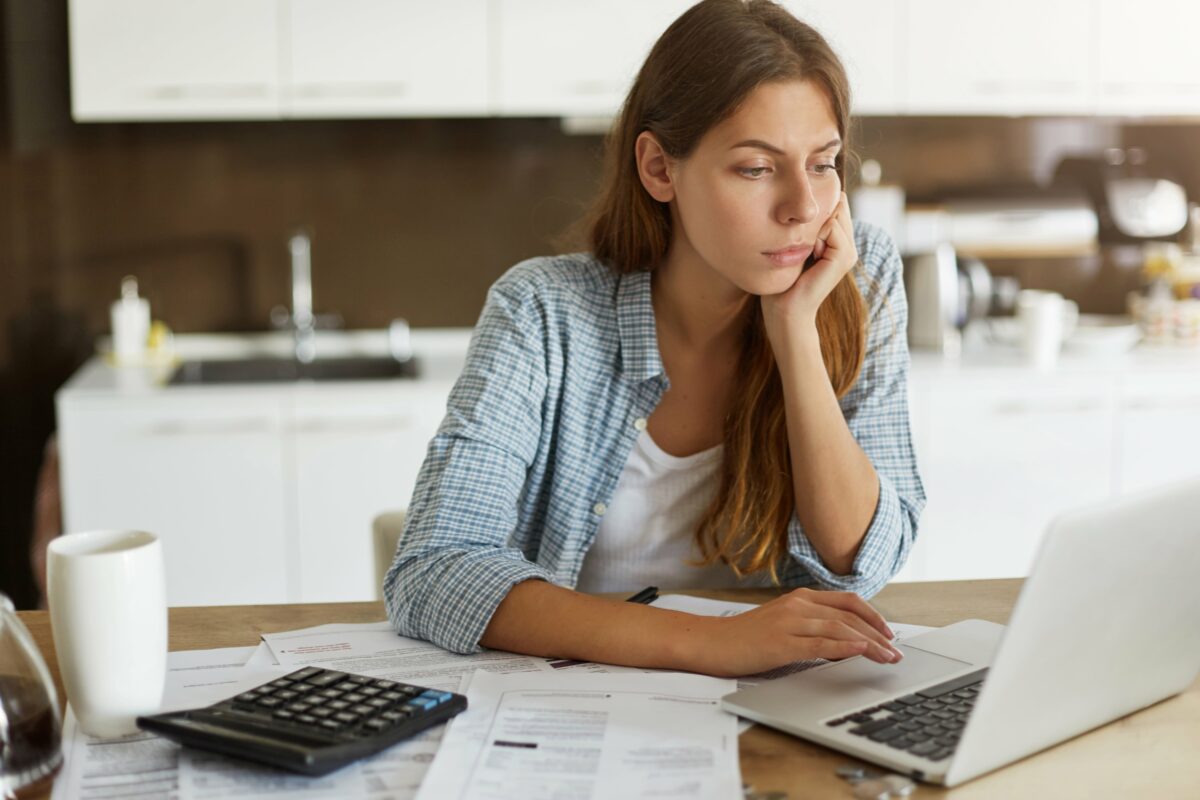 It can be difficult for students to find loans with poor credit or no credit history at all. However there are options available through private and federal state programs that can enable students to find good loan options.  These loans offer various repayment alternatives and don't ask for a credit background in order to borrow money.
How to Get Private Student Loans for Bad Credit?
Students who don't have a credit history or have poor credit should start with exploring federal loans. Loans like direct subsidized and unsubsidized don't require any credit history and can be available to students to further their education. However if the federal loan options are exhausted you may still be able to find some private lenders that can provide loans without a credit check. Private student loans can provide more flexible repayment options and greater loan amounts. 
You can also consider possibilities like income share agreements that don't have rigorous credit score criteria. Another great option is to find a co-signer that has a good credit score. Co-signers then become responsible for making your payments incase you are not able to.
Best Private Student Loans For Bad Credit
#1 Funding U
Funding U is a private lender that offers student loans without a credit check. They have flexible repayment plans, competitive interest rates, and fast approval times. Funding U also has no minimum credit score requirement, making it easier for those with bad credit to get the financial assistance they need. 
Pros
No credit check required 

Fixed-rate loan terms with repayment periods of up to 20 years 

Easy and convenient online application process 
Cons
Interest rates may be higher than other student loan providers 

Additional eligibility requirements may apply depending on the type of loan you are applying for. 
Eligibility Requirements
Proof of enrollment in an accredited college or university 

U.S citizen or permanent resident 

Evidence of income to show ability to repay the loan 
Repayment Terms
Fixed rate interest rates and repayment periods of up to 20 years 

Payments can be withdrawn directly from your bank account 

Co-signer release option available for borrowers with good credit and repayment history.
#2 A.M. Money
A.M. Money is a private student loan lender that offers loans without any credit check or cosigner requirement. They have competitive interest rates and flexible repayment terms, with no minimum credit score required. A.M. Money also offers online applications and quick approval times, making it easy for those with bad credit to get the financial assistance they need.
Pros
No credit check or cosigner required 

Competitive interest rates and flexible repayment terms 

No origination fees or prepayment penalties 
Cons
Maximum loan amount is $50,000 

High-interest rates for borrowers with low credit scores or no credit history. 
Eligibility Requirements
U.S citizen or permanent resident 

Enrolled at least half-time in an accredited college or university 

Evidence of income to show ability to repay the loan
Repayment Terms
Fixed and variable rate loan options available 

Repayment periods of up to 15 years 

No prepayment penalty or origination fees charged
#3 MEFA
MEFA, or the Massachusetts Educational Financing Authority, offers private student loans and student loan refinancing to undergraduate and graduate students in all 50 states. Its refinancing loan is best suited for borrowers with a steady income but no college diploma. Its private student loan is best suited for students who expect to earn a consistent income after graduation.
Pros
In comparison to other private lenders, MEFA offers low, fixed interest rates and no fees, making it easier to save money. 

There are no loan fees or late fees. 

Provides a variety of undergraduate student loan repayment plans, including deferred repayment. 

Allows for deferral of undergraduate loans for up to five years and graduate student loans for up to three years. 
Cons
Except for refinancing loans, a hard credit check is required to determine eligibility. 

Allows only one undergraduate repayment plan with co-borrower release and no graduate student or refinancing loans. 

There is no autopay discount.
Eligibility Requirements
Enrolled at least half-time in a degree-granting undergraduate program at an eligible non-profit college or university in the United States.

Maintain satisfactory academic progress in accordance with the college or university's requirements.

Every borrower needs to be an American citizen or lawful permanent resident.

Have a creditworthy co-borrower who will share repayment responsibility. Loan credit score requirements are not disclosed.
Repayment Terms
Allows for military deferment.

Death or disability discharge available

10- or 15-year repayment term.

Beginning on the 28th day of the month following the final loan disbursement, borrowers make interest-only payments while they remain in school. 
#4 Ascent
Ascent provides many loan options for students. These include a co-signed loan, a non-co-signed credit-based option, and a non-co-signed future income-based as well. A co-signed loan is a great option for students with poor or no credit history. It also provided flexible payment terms and a 9 month grace period.
Pros
Among the best for payment flexibility.

You can see if you'll qualify and what rate you'll get without a hard credit check.

Stands out for features that enable faster loan repayment.

Grace period of 9 months which is longer than most lenders.
Cons
Students enrolled at less than half-time are ineligible. 

International students are not eligible for co-signer release. 

Freshmen and sophomores are not eligible for outcome-based loans without a cosigner. 
Eligibility Requirements
Be a junior or senior in college enrolled full-time (or with an anticipated graduation date within nine months of the loan application deadline) in a degree program at an eligible institution 

Be a U.S. citizen, permanent resident, or eligible for Deferred Action for Childhood Arrivals (DACA) in the United States. 

Maintain a 2.9 GPA or above in your classes. 

be at least 18 years old, or the age of legal majority in their state of residence.
Repayment Terms
Co-signers can only be dropped if the primary borrower satisfies the lender's underwriting requirements. 

After making 12 qualified monthly payments, debtors can request co-signer releases. 

While still in college borrowers pay $25 each month. When your nine-month grace period expires after you graduate from school, you'll be required to begin making full payments.
#5 Earnest
Earnest offers private student loans to bachelors and graduate-level students. They cover 100% school-certified costs including tuition, books and supplies, laptops, and study abroad costs without any origination fee. Their offer loans to students with below-average credit scores, low-interest rates, and with a grace period of up to 9 months after graduation.
Pros
No origination fee or late fees
Flexible monthly payments and loan term length offered
Rate match feature offered
They cover 100% of school-certified costs including study abroad and laptops
Offer longer than the average grace period
You can skip a payment per year without any consequences
Cons
Borrowers or co-signers must have at least a 650 FICO credit score
Loans unavailable to some of the states (Nevada excluded)
Eligibility Requirements
Must reside in a supported U.S. state, be a U.S. citizen or a permanent resident. If not, then must have a consigner who is a U.S. citizen or permanent resident
Must be the age of majority as defined by the state of residence
Undergraduate borrowers must be enrolled at least half-time.
Must be enrolled in a 4-year bachelor's or graduate-level degree at qualified institutions
Minimum FICO score of 650 is required
Repayment Terms
 9-month grace period after graduation
$25/month Fixed payment option available while in school and during the grace period
Can make only interest payments while studying
No late payment fees
Allows consolidation of private and federal loans in one payment
Refinancing available
#6 MPower Financing
MPower Financing offers non-cosigner loans to international students. They help international students complete their education in the U.S. and Canada by lending fixed-rate loans of a minimum of $2,001 and a maximum of $100,000. The amount of money you are able to borrow is limited to $25,000 for an academic period. They offer competitive interest rates with discounts of up to 0.25% in the interest rate.
Pros
No credit check or cosigner is required
MPower Financing has loan options for international students
It offers loans to DACA recipients
Can apply for an MPower Financing loan alongside other loans from other lenders
Dedicated student loan advisor for every student
Rate discounts
Forbearance of up to 24 months
Up to 0.25% in interest rate discounts
Cons
Support 400 schools in total in the United States and Canada
Lend to students in the last two years before graduation or who are about to begin their one- or two-year program
Only one term of repayment equal to 10 years
Eligibility Requirements
Undergraduate or graduate students in the final two years of their program or about to begin a year or two-year program.
International student, refugee, asylum-seeker, DACA recipient, or United States citizen
Admitted to one of the approved schools
Repayment Terms
Payments start 45 days after the loan disbursement
Interest-only payments till graduation and during the grace period
Remaining months of payments are calculated using a 120-month amortization schedule
On-time payments with no pre-payment option of any principal
#7 SOFI
SOFI offers various types of loan options including private student loans for graduate and undergraduate students. Students can borrow an amount anywhere between $1,000 to $100,000 which they can only use for Qualified Higher Education Expenses at an eligible institution. It does include credit scores in the factors it considers to accept a loan and the requirement may be around 650. However, SOFI is not clear about its minimum credit score requirements and it is only a part of the eligibility criteria.
Pros
Flexible repayment options and terms of up to 15 years
No late fee
Accept co-borrowers
A variety of in-school repayment options are available
Can borrow up to $100,000
Six-month grace period
Borrowers become members and are offered additional benefits
Rate discounts upon setting up auto-pay
Unemployment protection
Cons
Bi-weekly payments via autopay are not offered
No cosigner release on refinance loans
Only 12 months of forbearance offered
Requires a credit score of around mid-600s; however, the minimum credit requirement is unclear.
Eligibility Requirements
Reside in the United States or the District of Columbia
U.S. citizen, permanent resident of the U.S., or non-permanent resident alien in which case some documentation may be required as proof.
Age of majority in their state of residence, otherwise, a cosigner with an age of majority will be required for the loan to be approved
Enrolled at least half-time in an eligible and accredited school – associate degrees are not eligible
Enrolled at a bachelor's or a graduate level
Repayment Terms
Fixed and variable-rate loan options are available
5, 10, or 15 years of loan terms offered
No prepayment penalty or origination fee
No late fee
Allows in-school and military deferment
Allows cosigner release which requires two years of timely payments
Interest-only payment option while in school
#8 Edly
Edly offers private student loans with income-based repayment options. They do not require a good credit score and offer noncosigner loans to students. They also offer a grace period of 4 months and payments only start if you are earning more than $30,000. It's an affordable option for students looking for a private student loan for bad credit.
Pros
No credit check or cosigner is required
No payment is required if the borrower's income is less than $30,000 per year.
Payments can be deferred in case you lose your job
No interest rate
Income-based repayment
Works with more than 1,700 schools
Cons
Unavailable to freshmen and sophomores receiving a four-year degree
Unavailable to borrowers in Vermont, Maine, West Virginia, and Colorado
Hard to predict payments upfront
Total loan amount limited to $25000 only with up to $15000 yearly payments
Eligibility Requirements
U.S. citizens or permanent residents
Current college junior, senior, or graduate student
Studying in one of the participating schools
Repayment Terms
• Need to repay 2.25x the borrowed amount
• 5 – 12 years of repayment term length
• Deferred payments offered in case you lose your job
• Income-based repayment
• Four-month grace period after graduation
How to Choose a Private Student Loan for Bad Credit
There are a few tips to consider when choosing the best private loan for poor credit.
Find a lender with a lower APR rate
The APR is what you pay above the amount you borrowed. The higher the rate, the more the loan will cost you. So, the best loan would be the one with lower APR rates. Moreover, choose loans with fixed interest rates so they don't change over time.
 Avoid loans with additional fees
Opt for loans that do not charge any origination, prepayment, application, or late fee to avoid additional costs.
Find a cosigner to sign the loan with you.
Having a cosigner can help you better your chances of qualifying for a private student loan regardless of having bad credit.
Look for loans with multiple and flexible repayment options
Some lenders offer more flexibility in terms of their repayment terms. Having more flexible and multiple options helps ease off the burden of the loan.
Look for lenders that offer hardship options
There are various options offered by some lenders that can help you in a crisis. A few of these options may include loan deferment if you become unemployed or earn less than a certain amount of yearly income. Other options may even include forbearance, refinancing, and loan forgiveness.
Ways to Improve Your Credit Score For a Private Student Loan
There are four easy ways to improve your credit score.
#1 On-time payment
Because payment history accounts for such a large portion of your credit score, it's critical that you keep up with your student loan payments. Making on-time payments is one of the best ways to use your student loans to build credit – by being consistent with your payments, you'll notice your credit score gradually rising.
#2 Prepaid Credit Card or Secured loan
Another way to improve your credit score is to consider getting a secured loan or a secured credit card. A secured loan requires you to put up collateral in return for the money borrowed, while a secured credit card allows you to make purchases using funds placed into an account that you are responsible for repaying. Both of these options can help build your credit and make it more likely that lenders will approve your application for a private student loan.
#3 Make numerous years of on-time payments
Your credit score will rise as the average age of your accounts increases. Keeping accounts open for a long time can help your credit score over time.  Federal student loans have a standard repayment term of ten years, and private student loans frequently have repayment terms ranging from ten to twenty years. Making student loan payments for that length of time will improve your credit score, especially if you're new to credit.
#4 Pay off your debts
Another borrowing behavior that can improve your credit score is paying your debts on time. Consider making a second (small) monthly payment of whatever extra you can contribute if you can afford it. Paying down credit card balances, in particular, can help you lower your credit utilization ratio, which is a key metric in how credit bureaus calculate your score. Working to pay off loans or other forms of debt can also help you learn how to improve your credit score.
Income Share Agreements For Bad Credit
An income share agreement (ISA) is a sort of contract that enables students to get money for higher education while they are enrolled and repay it with a certain proportion of their income once they graduate. Upon signing the income share agreement, the repayment period and income % are decided. There is no interest charged in income share agreements and this is a good option for students that dont have a good credit score.
The best conditions for ISA are:
You are not eligible for private student loans and you have used up all of your government loan alternatives. 

You would be subject to hefty interest rates on student loans because of your low credit score. 

An ISA with appropriate terms and a small payment cap is offered by your university. 
Your income share agreement's funder will decide your eligibility, the income share, and payback term duration. Your income share agreement funder will also assess your qualifications for college funding and the terms based on your professional goals, educational background, course of study, and future plans.
FAQS
These are some of the questions we are most frequently asked by students with bad credit.
How can I get private student loans for bad credit?
By reviewing different lenders such as Funding U and A.M. Money you may be able to find loans without credit. Other lenders like Ascent have flexible co-signer options.
What is the minimum credit score required for a private student loan?
Lenders of private student loans often need a credit score of at least 670. You can review our comparison chart to understand which lender works best for you as some may not require any credit score.
How can I improve my credit score?
The simplest approach to raise your credit score in the short term is to pay off your current bills, including paying off any outstanding loans, as well as the balances on your credit cards. Building a solid payment history is ultimately the most efficient strategy to raise your credit score.