How To Write A Financial Aid Appeal Letter with Samples
If you need a little more financial assistance or a top up on your student loan, then this blog will explain how to write an appeal letter for financial aid.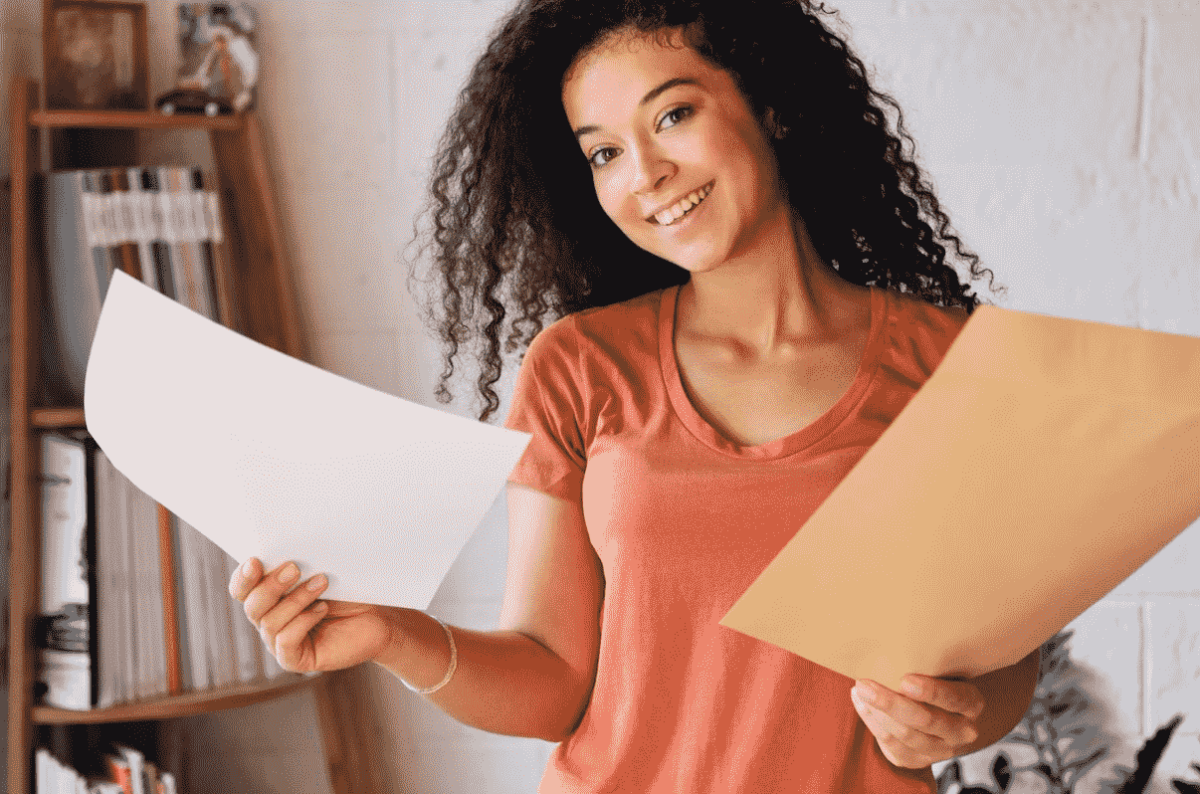 What happens when your school is not giving you enough financial aid or your financial aid was withdrawn or denied? Be assured that this should not spell doom for you or mean that your college life is over even before it has begun. Writing a financial aid appeal letter is one of the first things you should do to mitigate this situation. A financial aid letter will help you ask politely for more money from your school.
How to Write a Financial Aid Appeal Letter
The information laid out in your financial appeal letter is very important, so it must be presented to the right people in a manner that highlights your polite request for help. The letter should contain concise details of your specific situation.
Key Aspects to Include:
Word choice, tone, and grammar
Choose your words carefully so as to be concise and straight to the point. Ensure your tone is respectful, and that your grammar is correct and free from mistakes throughout the letter.

Detailed reasons for appealing
The body of your letter should start with a detailed reason for appealing. Ensure to provide brief details about your current financial situation without bombarding the reader with so much personal information.

Amount and date of the financial award
Providing the amount and the date that the financial aid was awarded helps to track your file. This information should be at the beginning of your letter acting as a reference point.
Documentation enclosed
The documentation you provide acts as proof and helps to support your case. Ensure to attach the documents that will reinforce your case with your letter and mail them together.

A polite request for financial aid
Craft a polite request that conveys your need to have financial aid or extra financial aid where applicable. This information should be in the middle of the letter right before you sign it off.
Amount of additional aid needed
Having a specific amount of aid that you need will help you present your case in a way that helps the reader understand exactly what you need from them. Include this in the body of the letter. You could also highlight the number for the reader who might be skimming through the letter so that it's easy for them to identify.

Request for a match to another offer
If you have received aid from another school, then you can request a match to the offer. Let your financial aid officer know why you wish to stick to their school and hence why you would like for them to match the other offer in order to stay.
Thank the school for its consideration
It is best to begin and end your financial aid appeal letter with a "thank you". Thank the reader for taking the time to read your letter as well as for considering and honoring your request.

When to Write a Financial Appeal Letter
When writing your financial aid appeal letter, it is important to know the necessary guidelines laid out by your school. This will help you know the address and name of the person who is going to handle your appeal. It will help you include the right documentation to support your case and in essence, following the exact procedure will increase your chances of success.


 Applicable Scenarios
Unemployment

:




Unemployment can change your financial situation directly, thus altering your expected income contribution towards your college costs. A financial aid appeal letter will help to present your case, letting your school know that you will be needing more financial assistance.

Health Issues:


Health issues directly affecting you or your immediate family can have a heavy impact on one's household income and financial resources. A financial aid appeal letter will help to plead your case and in turn, earn you a higher award to fill in the financial gap.

Eviction:


Eviction and homelessness are situations that depict a dire financial need. If you are evicted and thus homeless, writing a financial aid appeal might help you receive more funds seeing as your current situation greatly affects your ability to pay for school.

Divorce:


A divorce proceeding can be expensive and this may mean that financial resources have the potential to be drained. If a student's parents are going through a divorce, then a financial aid appeal will help you politely ask for more funds.

Financial aid is less than expected:
Your financial aid might be less than you expected for reasons such as filling in the wrong information, or perhaps you think that your situation deserves more aid than was given. Writing a financial aid appeal letter to request more money might help you increase the funds you were previously allocated.
Financial Appeal Letter Samples
Given below are samples of financial aid appeal letters that you can follow:
Sample 1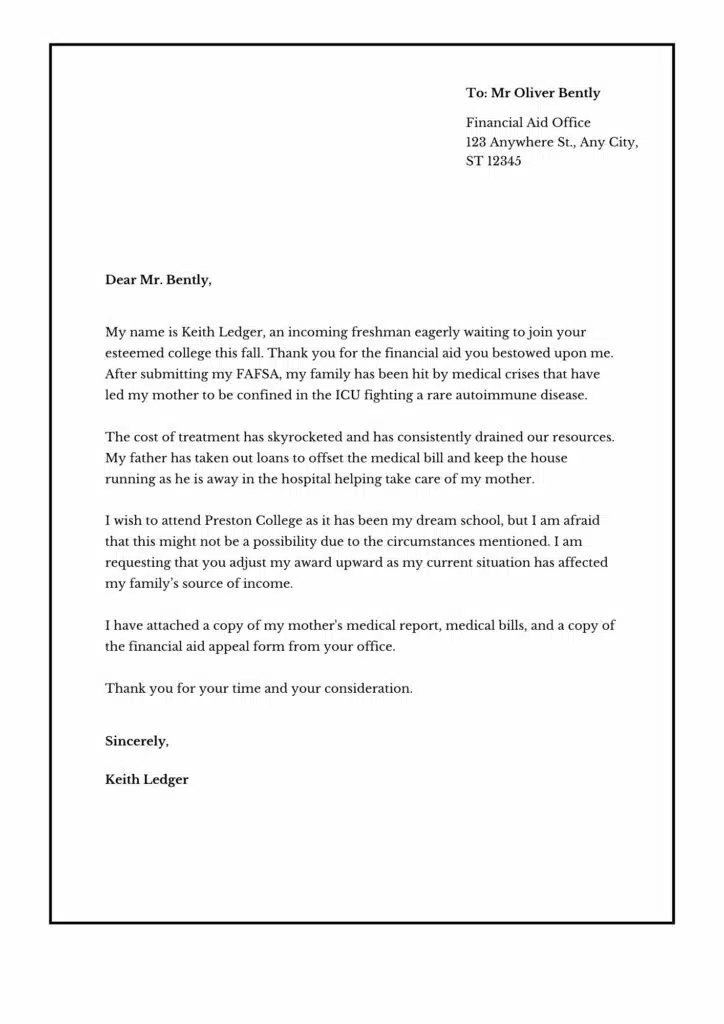 Sample 2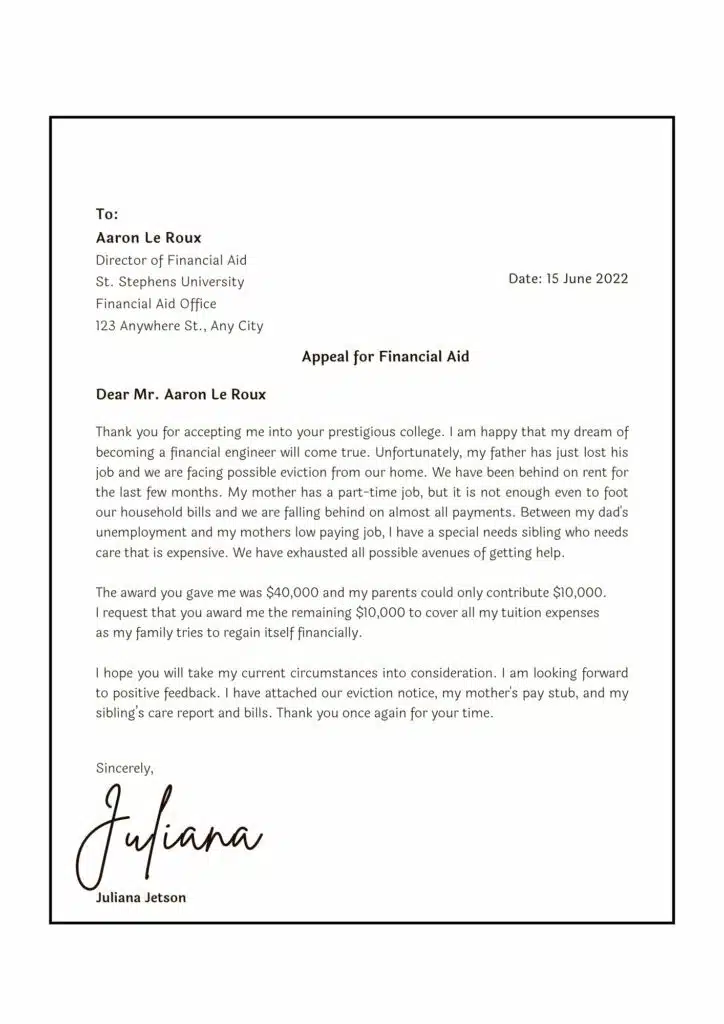 Sample 3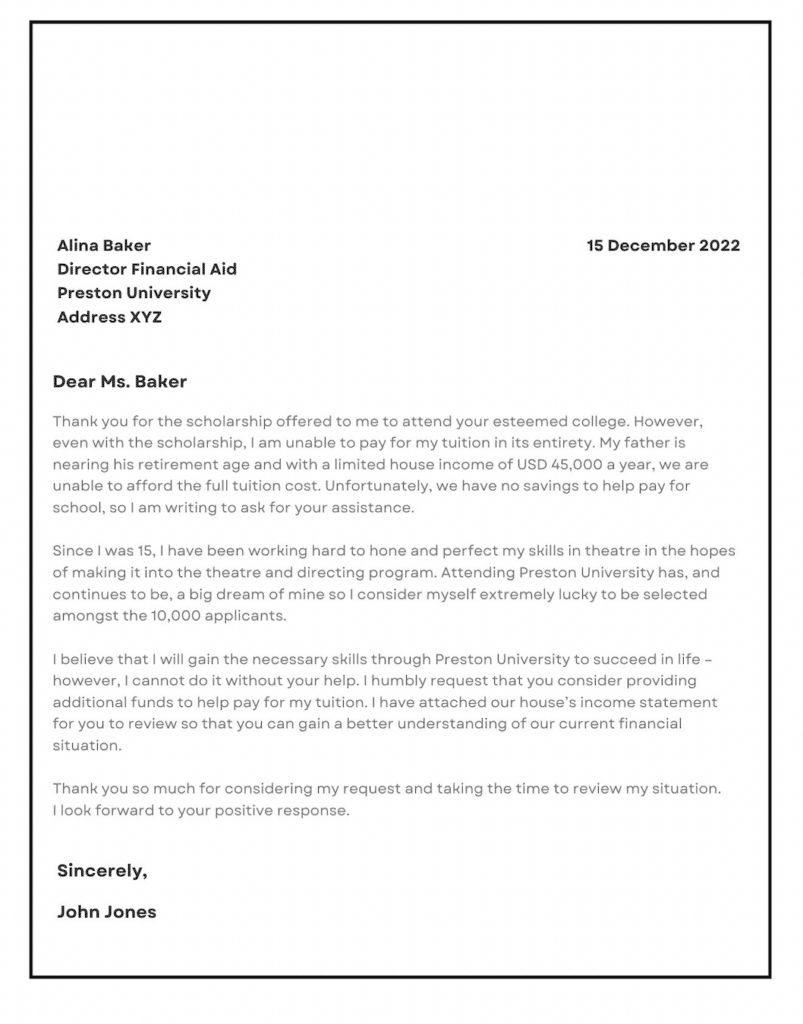 Steps to Appeal to Financial Aid
To appeal for more financial aid, you must make sure that you satisfy the eligibility requirements for financial aid. Ensure that you present all the updated financial information in regard to your income, then send out the letter within the required timeframe (as soon as possible).
Steps to apply
To appeal for financial aid you will need to take the following steps:
1#: Identify the appeal process by contacting your school's financial aid office.
2#: Identify the best person to address your appeal letter to.
3#: Figure out how much financial aid you wish to request.
4#: Put together all your supporting documents.
5#: Write a well-thought-out financial aid appeal letter that should only be a page long.
6#: Proofread or have someone read your letter to correct any grammatical errors
7#: Attach all the relevant supporting documents.
8#: Submit the letter and wait for the response.
Tips for Success
Here are some tips to keep in mind while writing the financial aid appeal letter, these can increase your chances of success:
Keep the format simple and elegant. Don't include any fancy fonts or designs
Be clear with your words and state the reason for the letter upfront. Explain your circumstances and that you need financial aid and don't just write 'you need more money.'
If you are writing the letter to the school, then add merit-based financial aid that you can get. For example for athletics performance, academics, or any other.
When you are writing to the federal government, you can check on your FAFSA application if you qualify for more aid. Do note however that this letter still goes through the school.
Keep your letter to one side of the page and always include a thank you note for the person you who will consider your request.
Make your appeal letter strong by attaching documents that verify your financial situation.
Do your research and write the letter with honesty.
FAQs
Can I write a financial appeal letter for bad grades?

A bad grade can cause a student to lose financial aid. Through a financial aid appeal letter, you can explain your case and have your financial aid award reinstated.



What is a good excuse for financial aid appeal?

You do not need to give excuses but you need to be honest, table your case and hopefully, the financial aid office will hear you out and increase your financial aid award.
Are financial aid appeal letters always successful?

The success rate of a financial aid appeal letter is fifty-fifty. However, knowing how to write and what to include in the financial aid appeal letter will increase your success rate.
Final Thoughts
A financial aid appeal letter may be the only hope for students and parents who have received an award package less than what they expected or have been denied financial aid altogether. After filling out the FAFSA, your circumstances may change – thus affecting your ability to pay for college. You will not be able to get more funds if you do not ask for them. A well-written financial aid appeal letter will not only table your request but will also help to present your case to the financial aid office in a manner that provides you with a favorable outcome.