10 Best Part-Time Student Loans
As a part-time student, there are options available to you to finance your studies. Here are the best private student loan lenders to help you fund your part-time tuition.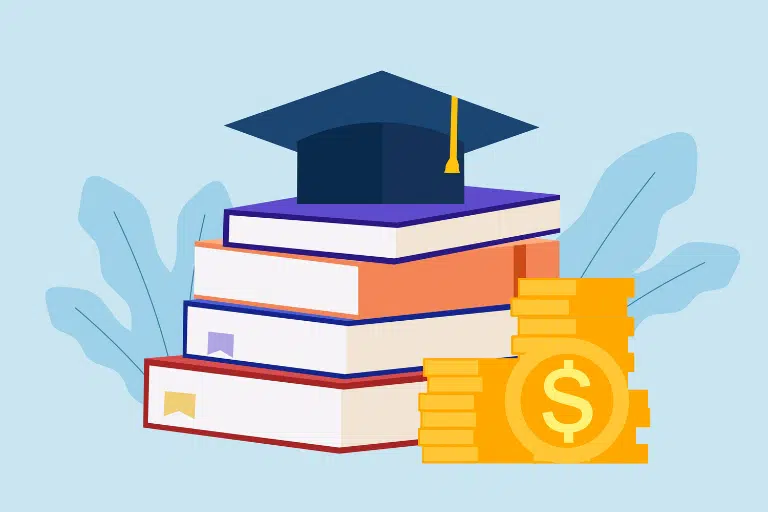 If you're one of the 7.5 million students planning to take just a few credits each semester while going to college or career-training school, you might find it difficult to get a part-time student loan. This is because many lenders require borrowers to attend school at least half-time to be eligible for the loan.
As a part-time student, you may be wondering how to get financial aid; qualified part-time students are eligible for financial support from the federal government and private lenders. Here's what you need to know.
Best Part-Time Student Loans
Lender
Scholaroo rating
Fixed rates starting (APR)
Variable rates starting (APR)

College Ave

Best overall

Visit website
4.44%
5.09%

Sallie Mae

Best for flexible repayment options

Visit website
4.50%
5.99%

Earnest

Earnest is best for its transparent eligibility requirements

Visit website
4.45%
5.32%

Citizens Bank

Best for cosigner policies

Visit website
4.43%
6.03%

Ascent

Great option for loans without a cosigner

Visit website
4.62%
5.98%

SoFi

SoFi is best for interest rate discounts

Visit website
4.99%
5.49%

MEFA

Best for low cost financing options

Visit website
5.35%
N/A

Discover

Discover is best overall for rewards

Visit website
4.49%
5.99%

EdvestinU

Best for students attending school in New Hampshire

Visit website
6.25%
7.96%

Custom Choice

Best for low-interest student loans

Visit website
3.65%
6.14%
What Is a Part-time Student Loan?
A part-time student loan is a type of educational loan that is designed to assist students who are enrolled on a part-time basis. Unlike full-time students, part-time students usually take fewer credit hours and may balance their academic life with work or other responsibilities.
Federal Student Loans, such as the Direct Subsidized and Unsubsidized Loans, are available to part-time students if they meet certain criteria. Typically, a student must be enrolled at least half-time to qualify. The loan amount may be less compared to full-time students, reflecting the fewer credit hours taken.
Private student loans like the ones we've listed above, are another option. These are offered by private institutions like banks and credit unions. Eligibility criteria and terms can vary widely, and interest rates are usually higher than federal loans.
Pros and Cons of Part-Time Student Loans
Pros
Flexibility: Part-time student loans allow you to continue your education even if you can't commit to a full-time course load. This makes it easier to balance school with work or family responsibilities.
Lower borrowing: Generally, part-time students take fewer courses per semester, which can mean less tuition costs and, consequently, less borrowing. This could result in a smaller debt burden upon graduation.
Federal protections: If you opt for federal loans, you can take advantage of Income-Driven Repayment Plans and potential Loan Forgiveness Programs, which can make managing your debt easier in the long run.
Cons
Smaller loan amounts: Because you are enrolled part-time, the amount you're eligible to borrow may be limited. This could make it challenging to cover all your educational expenses.
Longer repayment period: If you're attending school part-time, it will likely take you longer to complete your degree. This means you might start repaying the loan later, potentially accumulating more interest.
Limited eligibility for subsidies: Federal Direct Subsidized Loans are often reserved for full-time students. Part-time students may have to resort to Unsubsidized Loans, which accrue interest while you're in school.
What Happens If I Drop Below Half-time?
If you decide to switch to less-than-half-time enrollment or withdraw from school entirely, you will be obligated to begin repaying any federal student loans you borrowed following the applicable grace period.
Depending on the grace period guidelines for your private loans, you may be required to start repaying them immediately. Please keep this in mind when making decisions about your education.
How To Find Part-Time Student Loans
Federal Student Loans:
FAFSA: The first step in obtaining a part-time student loan is to fill out the Free Application for Federal Student Aid (FAFSA). This form assesses your financial need and eligibility for federal aid.
School's Financial Aid Office: After completing the FAFSA, consult your school's financial aid office. They will provide a Financial Aid Package, which may include federal loan options tailored to your part-time status.
Eligibility: Make sure you meet the minimum criteria for federal loans. Usually, you must be enrolled at least half-time to qualify for Direct Subsidized and Unsubsidized Loans.
Private Student Loans:
Research: Unlike federal loans, private loans are offered by banks, credit unions, and other financial institutions. Start by researching which organizations offer student loans for part-time students.
Compare rates and terms: Different lenders offer varying interest rates, repayment terms, and eligibility criteria. Use comparison tools to find a loan that suits your needs.
Application: Once you've selected a lender, you'll need to apply, which generally involves a credit check. Some lenders might require a co-signer if you don't have an established credit history.
Scholarship and Grants:
In addition to loans, look for scholarships and grants tailored for part-time students. These do not require repayment and can help reduce the amount you need to borrow.
FAQs
Can you get student loans as a part-time student?
Yes, you can get student loans as a part-time student. Federal student loans usually require you to be enrolled at least half-time to qualify. Private loans may have different criteria, but many do offer loans to part-time students.
Who is considered a half-time student?
A half-time student is generally someone who is taking at least half of the full-time academic workload as defined by their educational institution. This is often measured in credit hours. For example, if full-time enrollment requires 12 credit hours, a half-time student would typically need to take at least 6 credit hours.
Do I have to be a full-time student to submit the FAFSA?
No, you do not have to be a full-time student to submit the FAFSA. Part-time students and even those considering enrolling less than half-time can fill out the FAFSA. This application is the gateway to federal financial aid, including grants, which you don't have to repay, and loans, which you do.