11 Best Loans For MBA Students this Year
There are a number of great lenders available that provide loans for MBA students, so we've reviewed the best of the best. Read on to find out which lenders have the right terms that will work for you.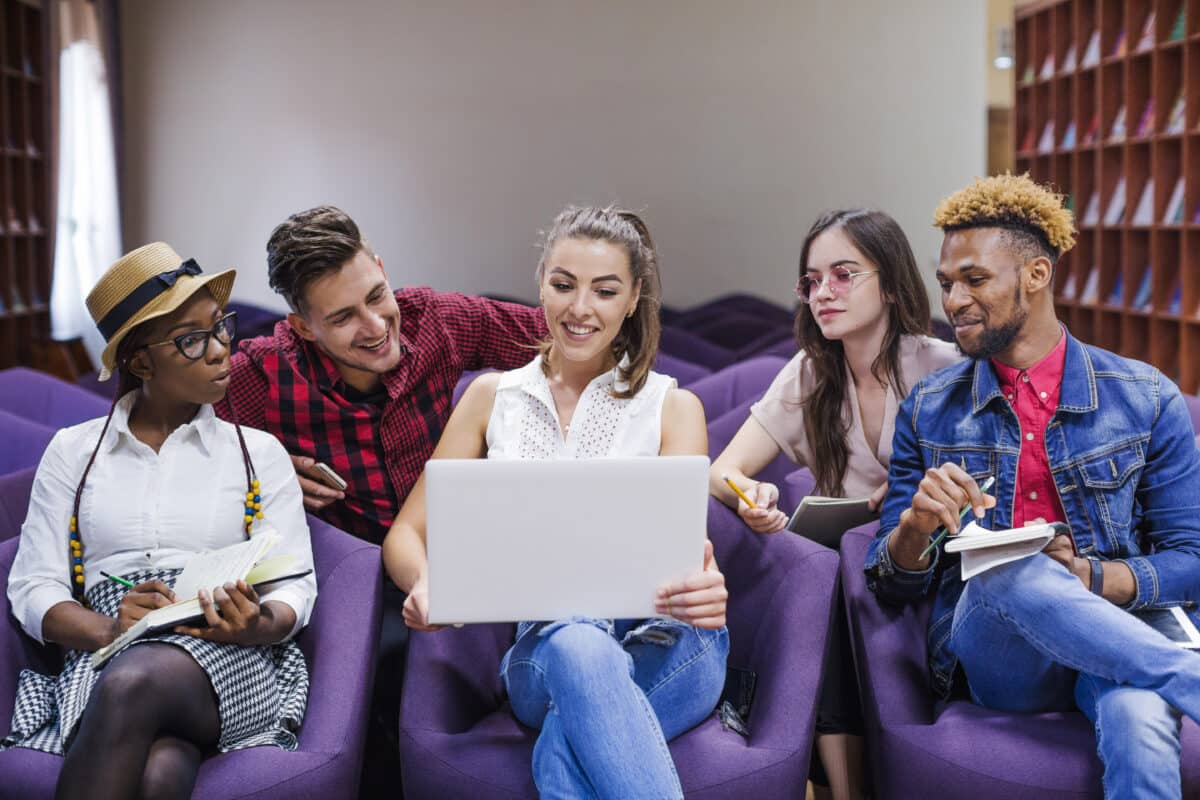 For students who are considering furthering their education toward an MBA, financing can be a major obstacle. Loans are an essential source of funding for many aspiring MBA graduates, but the process of finding one and applying for it is often intimidating and confusing.
This article provides information on the top 11 loans for MBA students at present and how to compare them to make an informed decision.
11 Best Loans for MBA Students
Lender
Scholaroo rating
Fixed rates starting (APR)
Variable rates starting (APR)

SoFi

Best for borrowers with a strong credit history

Visit website
5.25%
5.12%

Sallie Mae

Best for a long deferment period

Visit website
4.99%
6.62%

Common Bond

Best APR rates

Visit website
3.74%
3.81%

College Ave

Best for flexible repayment options

Visit website
4.42%
5.29%

Earnest

Best repayment terms

Visit website
3.99%
3.99%

Ascent

Great for students enrolled half-time

Visit website
5.48%
6.95%

Citizens Bank

Best for international students

Visit website
5.99%
5.99%

Education Loan Finance

Best for a transparent application process

Visit website
4.48%
4.98%

PNC Bank

Good for students who are employed

Visit website
4.39%
5.89%

Discover

Best repayment discounts

Visit website
5.99%
5.49%

MPOWER

Best for international students

Visit website
12.99%
N/A
#8 Education Loan Finance
How to apply for MBA student loans?
The general requirements to become eligible for an MBA student loan along with the steps to apply for one are listed below.
Eligibility Requirements
Before deciding on a loan for your MBA, it's essential to remember that the eligibility criteria are different depending on the type of loan chosen. Most private and federal loans use the following criteria when offering loans:
Credit score: Loans for graduate programs, including MBA, are not need-based. This means that in order to get a loan, lenders will focus mainly on your credit score as a way of establishing that you are a creditworthy borrower with a history of paying back loans on time. If your credit history is not strong enough to get approval, you can add a co-signer with good credit, such as your parents or spouse, to help strengthen your application.
Work history: Having a job and savings when you join an MBA program will increase your chances of getting your loan approved. One of the things that banks take into consideration when setting interest rates is establishing your creditworthiness as well as your income and savings. A high income and savings may lower the interest on your loan, allowing you to repay it faster.
Debt-to-income ratio: Lenders prefer borrowers (including your co-signer) who don't have a lot of debts to pay at the end of the month, so they look at your debt-to-income ratio. This ratio is the percentage of your monthly gross income that goes toward paying your debts. You can calculate it by dividing your monthly debt payments by your gross income.
Citizenship: Most lenders primarily grant loans to U.S. citizens or permanent residents, so you need a Social Security Number to apply. Lenders also require the same of your co-signer. For this reason, it's more complicated for international students to get approved for student loans, especially if they don't have a U.S. citizen or permanent resident as a co-signer. Having said that, there are a few private lenders that have options for you if you are an international student so be on the lookout for those.
Degree program: Lenders require borrowers to a) pursue a degree program at an eligible institution and b) be at least a half-time student. On average, half-time graduate or professional students are required to complete 4.5 credit hours per semester, so check in with your school to find out the exact number to ensure you meet the eligibility requirements.
Steps to Apply
You can follow the following steps to apply for a loan as an MBA student.
Fill out FAFSA: The first thing you should do is to fill out and submit a Free Application for Federal Student AId (FAFSA). Through this, you can find out all the types of federal aid you are eligible for. It's best to exhaust all your federal resources first as they can come with various protection plans and long-term benefits like income-based repayment, deferment, forbearance, and loan forgiveness. This will help you in case you are unable to repay your federal loan.
Find the best private lender: After using your federal options, you can apply for a private student loan to cover the gap in funding. Compare different lenders on the basis of borrowing limits, interest rates, and repayment terms. Also, check if there are any additional benefits a particular lender is offering that you can take advantage of. Opt for lenders that have a lower interest rate and flexible repayment terms. You can apply for prequalification with multiple lenders to get a quote on the rates that you can get based on your current credit and income situation.
Get a cosigner: If you do not have high credit, adding a cosigner to your loan may help you get lower rates and better terms. It can also make you more comfortable in applying for a private student loan as in case you are unable to make a payment, your cosigner can do that for you. You can approach members of your family and friends to see if someone is willing to support you in this matter.
Apply online: Most lenders now offer easy online applications through their websites. Just make sure that you have all the information and required documentation ready before you start the application. This way you will get through it in minutes smoothly.
Sign the loan agreement: If approved for the loan, you will receive a final loan agreement containing final rates and repayment terms. Make sure to go through it in detail and if you agree to what is listed on it, you can sign it and the loan will be disbursed to you or your institution as per the agreement.
How to Identify the Best Loans for MBA Students
When choosing to approach a lender for a loan to cover your MBA, take into consideration the following factors:
Borrowing limit: Your MBA loan limit depends on your lender. For federal loans, you are allowed to borrow up to $20,500. Some private lenders also have a set limit, while others give students the option of borrowing the annual cost of attendance. Make sure you choose a lender that can satisfy your financial needs.
Living expenses: Students can pay their living expenses, such as housing, groceries, transport, and health insurance, with student loans. After your tuition and fees are covered, your school will send you the leftover funds and with this, you will be able to fund costs related to living your life as comfortably as possible.
Repayment terms: Most lenders, both federal and private, require you to start repaying your loan as soon as your grace period ends. The grace period depends on the lender: for private loans,  it varies between six to nine months, while the federal student loan grace period is strictly six months. Federal loans give you ten years to fully repay your debt, while private loans give up to fifteen years, so make sure to consider this factor before making a decision on which loan to choose.
Deferment policy: If you're a half-time student at the very least, you have the option of deferring payment on all federal student loans. A number of private lenders also allow you to defer payments with a similar condition, but some, such as SoFi, require you to start repaying the loan or interest while you are in school. It's important to note that, unlike undergraduate student loans, all graduate student loans accrue interest regardless of your chosen lender.
Federal vs. Private loans for MBA Students
Federal and private student loans are both excellent options for funding your MBA. However, selecting the best option for you can be tricky because one wrong move can leave you with overwhelming debt. Pay special attention to the available options to pick a loan that fits your financial capabilities.
The U.S. government offers you federal student loans and the only way to access them is by completing a Free Application for Federal Student Aid (FAFSA). MBA students can apply for two federal loans, Unsubsidized Direct Loans and Direct PLUS loans, at a fixed interest rate but with origination fees. Subsidized student loans are not available to graduate students.
Private student loans, on the other hand, are offered to you by financial institutions such as banks, state agencies, credit unions, or universities. Private lenders allow you to choose between fixed and variable interest rates, and tend to have fewer fees when compared to federal loans.
Pros and Cons of Private Student Loans
Private student loans, including loans for MBA students, come with various pros and cons that you should consider before applying.
Pros of student loans
You can fund up to the full cost of attendance of your program
MBA students have the potential of earning higher income which will make it easy to pay off the loan in future
You can get lower rates with good credit
It can help build credit if you are punctual with your monthly loan payments
Cons of student loans
Private student loans can be expensive as they have higher interest rates
The interest rates can be even higher for students with poor credit which can make the loan more expensive
Increases debt burden and can cause stress
A cosigner might be needed in case of bad credit which can add to stress. This is because if you miss a payment or make them late, your cosigner's credit history and score will also be negatively impacted
Alternatives to Loans for MBA Students
Scholarships: A scholarship is a type of financial aid that does not need to be returned. Many private institutions and organizations offer them to graduate students. There are also degree-specific scholarship programs you can check out and apply for. Some institution offers financial aid and discount to students undertaking a certain program or on merit. You can check with your school's financial aid department to see if you qualify for any. However, scholarships only provide a very minimal amount of money that cannot cover your tuition. They can, however, help to pay a small chunk of it or be used to cover education-related living expenses.
Grants: Grants are similar to scholarships as they are financial gifts that are not required to be repaid. Grants are usually need-based and, like scholarships, they are not enough on their own to cover the full cost of education for MBA students.
Work-study:
Work-study is another financial aid option that you can qualify for by applying for FAFSA. It is a program for college students who demonstrate financial need. This program helps get students part-time jobs at their school and the money they earn directly goes towards their tuition.
Part-time jobs: You can also find part-time work on your own. There are many platforms online that allow you to find jobs that are flexible in nature and can be done alongside your studies. You can even consider working remotely which might make things more convenient to manage.
Accelerated MBA programs: Some schools offer accelerated MBA programs which allow you to finish your degree earlier. They usually cost less than otherwise – meaning that you require a lower amount of funding.
FAQs
Which lending institution provides the best loans for MBA students?
Based on our review of lenders, SoFi and Common Bond offer the best loans for MBA students: Students with excellent credit scores will get the best offers with SoFi, and Common Bond has the best deals for those focussing on the Annual Percentage Rate (APR).
Does a credit score impact loans for MBA?
Yes, credit scores can impact your loan approvals. However, some lenders don't require a high credit score whilst others allow you to get a co-signer to apply with you.
How do I get the best loan for an MBA?
You can improve your loan approval rate by ensuring you meet eligibility requirements, including credit score, work history, and debt-to-income ratio.
What is an MBA loan?
MBA loans are graduate student loans offered by lenders to help pay for your Master of Business Administration (MBA) degree. You can use these loans to cover your total cost of attendance and any education-related living costs. Many lenders give out loans specifically for MBA students while others offer general graduate student loans that cover most degrees including MBA.
Do MBA students get loans?
Yes, many private lenders offer loans specifically for MBA students. You can also check out student loans for graduate students from various lenders that typically cover most degrees including MBA.
How to take out a student loan for MBA?
For private loans for MBA students, you will need to apply online through private lenders, banks, and credit unions. These loans are usually credit based and if you have a poor credit score then you will need to apply for the loan with a cosigner.
Federal loans for MBA students require a FAFSA to be filled out as the first step for determining your eligibility for various types of federal aid.
How much can I borrow with MBA student loans?
The total borrowing limit varies from one lender to another. Some lenders do offer loans that will cover your full certified cost of attendance, while others may have a yearly cap or a maximum lifetime limit.
Do I need a cosigner for MBA student loans?
You will need a cosigner in case you are unable to meet the minimum credit or income requirement of the lender on your own.
Should I get a private MBA student loan?
It is best to exhaust your federal aid resources first as they come with various protections and benefits that private student loans do not offer. Whatever extra you need can be covered by private loans so you will have to borrow less making them more manageable.
Students who are unable to qualify for federal loans via FAFSA have no choice but to apply for private loans. They can apply for aid like scholarships but the amount they provide is very minimal. For private student loans, make sure to compare the lenders in terms of the rates and repayment terms they offer to make the best decision for yourself.