Wyoming Daughters of the American Revolution
3/1/2023
Submission Deadline
Explore Similar Scholarships
Location:
Demographic:
Grade Level:
The Wyoming Daughters of the American Revolution scholarship is an award program that was created to support female students of at least 1/8 American Indian descent.
This program is sponsored by the Wyoming Community Foundation, a non–profit organization created to cater to the good of Wyoming. They are known for connecting donors and communities to causes they care about.
For this scholarship, a $3,000 fund will be granted to one successful applicant for tuition and/or fees and costs associated with pursuing success in higher education.
Key Information of Wyoming Daughters of the American Revolution
Study Details
Country of Study
United States
Scholarship Details
Intended Level of Study
Undergraduate
Wyoming Daughters of the American Revolution Timeline
October 1, 2022
Application Opening Date
Applications for this program usually open in the first week of October.
March 1, 2023
Submission Deadline
You have at least four months until the deadline for submissions so make the best use of your time.
Scholarship Eligibility
To be eligible to apply, applicants must meet the following criteria.
Eligible Grade: High School Graduate
Maximum Age: Any
Required GPA: 2.0
Geographic Eligibility: Wyoming
Gender: Women
Race/Ethnicity: Native North American
Application Requirements
Here's what you need to submits besides your application.
How to ace the Wyoming Daughters of the American Revolution
1
Read everything in the application
To avoid missing out on important details, it is necessary that you carefully scan through the application before submitting it. You might discover some guidelines that you didn't pick up the first time.
2
Visit the foundation's resource page
The sponsors of the scholarship made things easier for applications by providing resources that tailor your application to what the foundation is looking for. Examples include guidelines for good scholarship essays, career planning tools, and FAFSA advice.
3
Take note of the character limit
The application for this scholarship requires a lot of short answers. Your total number of words for each submission should not be less than 500 words.
4
Get someone to review your answers
Before submitting, take time to craft your answers and then have an experienced instructor or counselor review them. Having a second opinion can help prevent costly mistakes.
How the Wyoming Daughters of the American Revolution is Judged
There aren't any solid criteria for this scholarship but applicants who meet the application requirements have a greater chance of winning the Wyoming Daughters of the American Revolution scholarship.
Why We Love the Wyoming Daughters of the American Revolution
Impact on the society
Since its establishment, the Wyoming Community Foundation has given away more than $100 million to help charitable causes in their mission toward humanity.
The foundation helps with students' personal finance
On their resource page, the Wyoming Community Foundation made available a self-sufficiency calculator that helps students calculate expenses for off-campus living.
You're not prohibited from receiving multiple scholarships
Unlike some scholarships, the Wyoming Daughters of the American Revolution has no policy in place that prevents you from applying for more scholarships. However, you need to factor in your institution's financial aid policy when applying for more scholarships to be on the safe side.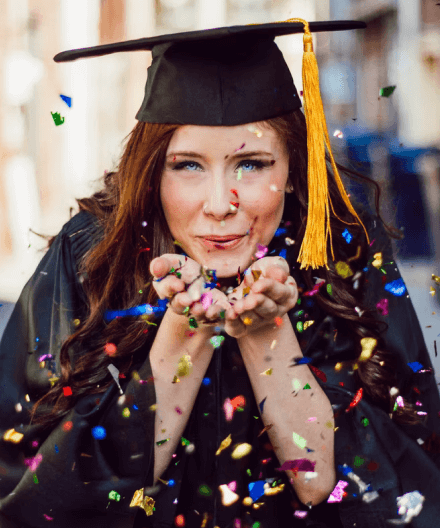 5 Facts about the Wyoming Daughters of the American Revolution Scholarship
You need to create an account
Applying for the scholarship requires you to create an account on the foundation's website before you can apply. Creating an account involves just inputting your email and choosing a password.
Funds will be paid to your institution
The $3,000 scholarship fund will be paid directly to your school and geared towards your tuition or any other fees associated with your degree of choice.
The scholarship can be deferred
As long as there is a good and clearly-explained cause, the scholarships can be deferred. However, this only applies if you communicate the need on time and not after you fail to accept your award.
Winners may apply a second time
The recipients of the scholarships may apply for additional funding for another year as long as they follow the guidelines. Note that reapplication is different from renewal.
You'll sign an affidavit during your application
The application for the scholarship comes with a financial affidavit form which you must complete and sign before submitting. Your personal information won't be made public.