Burger King Scholars Program
$1,000–$50,000
Award Amount
12/15/2022
Submission Deadline
Explore Similar Scholarships
Location:
Grade Level:
The Burger King Scholars program was founded to honor Burger King co-founder James "Jim" W. McLacmore, who was a firm believer in the importance of higher education, in 2000. The scholarship's goal is to assist deserving students in North America pursue further studies and reach their full potential. The Scholars Program and Family Fund, which started in 2004, merged and the Burger King Foundation was established.
Overall, the Scholars Program has awarded $50 million in scholarships to more than 43,000 students across the U.S. and Canada over the 21 years it's been in existence. Scholarship grants range from $1,000 to $50,000 and are intended to help students offset the cost of attending college or post-secondary vocational/technical school. Recipients are selected based on their GPA, work experience, extracurricular activities, and community service.
The $50,000 scholarship, named the James W. McLamore WHOPPER Scholarship, is awarded to only three applicants each year. It was created in 2011 when the McLamore Family Foundation decided to introduce a new category to the scholarship program. To be eligible, you need to have a 3.50 GPA and be an active leader in your community.
Key Information of Burger King Scholars Program
Scholarship Details
Intended Level of Study
Undergraduate
Award Amount
$1,000–$50,000
Key moments in
October 15, 2022
Application Open Date
Every year, applications for the Burger Kings Scholar Program open on October 15.
December 15, 2022
Submission Deadline
Applications generally close on December 15 each year, these may change so please confirm the date on the website.
May 2023
Awards Announced
Successful applicants will be sent an email by May. If you do not receive one by the end of June at the latest, please contact Scholarship America.
Scholarship Eligibility
To be eligible to apply, applicants must meet the following criteria.
Eligible Grade: High School Senior
Maximum Age: Any
Required GPA: 2.5
Geographic Eligibility: Canada, United States
Gender: Any
Race/Ethnicity: Any
Application Requirements
Here's what you need to submits besides your application.
Grade transcript
Present Work Experiences
Financial Information
How to ace the Burger King Scholars Program
1
Apply early
The scholarship accepts applications between October 15 and December 15, but submitting early is still key. If 50,000 applications are received before the December 15 deadline, the application will no longer be available.
2
Highlight active leadership roles
The Burger King Scholars program prioritizes those who not only have a strong GPA, but those who can demonstrate they have a strong active leadership role in community service, athletics, and/or similar co-curricular activities. While it's important to have a high GPA, this scholarship also wants to reward those who are exceptionally well-rounded.
3
Highlight substantial work experience
Please be sure to emphasize any work experience you may have. This plays into the idea that scholarships are awarded to those who prove they are well-rounded and can contribute in multiple different areas.
4
Emphasize your love of learning
This scholarship is all about rewarding students who are truly eager and passionate about furthering their education. Be sure to highlight the various activities, work, or projects you've done to help you in your mission.
How the Burger King Scholars Program is Judged
Applicants need to display a passion for pursuing further education. They will also be judged on their academic achievement and participation in school and community activities. Work experience is also taken into consideration for the James W. McLamore WHOPPER Scholarship, as well as the need for financial assistance.
Why We Love the Burger King Scholars Program
It awards the early bird
Initiative is important when trying to win any scholarship, but this scholarship depends on it. They only consider the first 50,000 applications, and while this may seem like a lot, there are a lot of students who need scholarships so it's best to begin the application process early.
It empowers exceptional students
There are many types of scholarships out there, meant to serve all types of students. No type of scholarship is better than another, but it's hard not to admire a scholarship that looks almost exclusively at someone's merits and achievements.
It's widely available to those who need it
This scholarship is open to all high school seniors, especially those who need financial support. All applicants need to worry about is maintaining their GPA.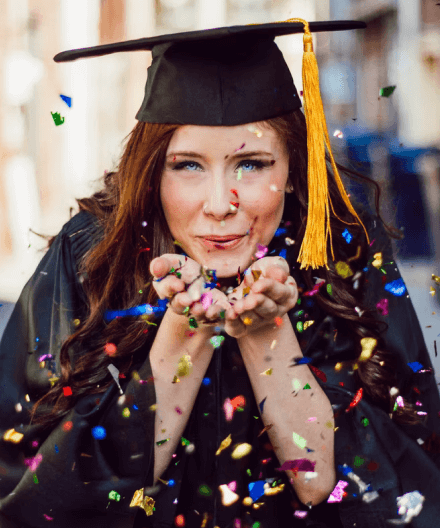 5 Facts About Burger King
It was originally called Insta-Burger King
The original Burger King put the "Insta-" theme front and center on their sign when the restaurant was just starting out.
Australia calls it "Hungry Jack's"
In order to avoid breaking copyright laws in Australia. Burger King had to go with Hungry Jack's Down Under and is still called that to this day.
Sarah Michelle Gellar promote Burger King as a kid
Back in 1981, Sarah Michelle Gellar starred in a commercial for Burger King prior to her role as Buffy.
Snoop Dogg trained Burger King employees
In 2016, Snoop Dogg was recruited by Burger King to sell the item "Grilled Hot Dogs" – the video features Snoop Dogg training staff members on how to properly make a hot dog.
The WHOPPER has been around since 1957
This signature burger patty was introduced by new owners James McLamore and David Edgerton, who bought and renamed the franchise in 1954.