Don't Text and Drive Scholarship
9/1/2022
Submission Deadline
Explore Similar Scholarships
Location:
Grade Level:
According to the National Safety Council, the use of cell phones while driving leads to 1.6 million crashes each year. In fact, 1 out of every 4 car accidents is caused by texting and driving in the U.S. alone. Thankfully, organizations like Digital Responsibility — formed by a group of Silicon Valley tech employees — have been established to spread awareness of the responsible use of technology to young people.
As part of their mission, Digital Responsibility offers students the opportunity to earn $1,000 by sharing their thoughts on the risks of texting and driving, first in 140 characters, and then in a short essay. They also have three other scholarships: Digital Privacy, E-Waste, and Technology Addiction Awareness, which all follow the same process as the Don't Text and Drive Scholarship.
Applicants will need to submit an application online. Here they provide their basic information, as well as what fields of study they are interested in. The final part of the application is a 140 character message about why they won't text and drive. Ten finalists are then chosen and will need to write a 500- to 1,000-word essay. Only one scholarship is awarded.
Key Information of Don't Text and Drive Scholarship
Study Details
Country of Study
United States
Scholarship Details
Intended Level of Study
Undergraduate
Key moments in
October 1, 2021
Application Open Date
Applications open almost a full year before the submission deadline.
September 30, 2022
Submission Deadline
The submission deadline falls on September's No Texting while Driving Day.
Scholarship Eligibility
To be eligible to apply, applicants must meet the following criteria.
Eligible Grade: High School Freshman – College Senior
Maximum Age: Any
Required GPA: Any
Geographic Eligibility: United States
Gender: Any
Race/Ethnicity: Any
Application Requirements
Here's what you need to submits besides your application.
Essay
School Verification
Short Answers
How to ace the Don't Text and Drive Scholarship
1
Do your research
The best argument is the argument that is supported by facts the whole way through. Make sure that you have the latest stats when it comes to texting and driving, and familiarize yourself with the news and other information that Digital Responsibility shares on its website.
2
Draw from your own experience
Whether it's your own memory or that of a family member or friend's, we've all been affected by distracted driving at some point. Pairing stats with a strong, emotional experience will go a long way towards securing you the top prize.
3
Combine your social media and blogging skills
With an initial application entry limited to 140 characters, you will need to get your Twitter fingers out to compose a pledge that packs a big punch. Fortunately, it will then provide a strong thesis once you are selected as one of the finalists and have to write a 500- to 1,000-word essay.
4
Get it reviewed before submitting
You only get one shot at this so don't rush it, take time to form and work out what you want to write. Then let someone else read your response and hear what they think. They may point out something that could help you win.
How the Don't Text and Drive Scholarship is Judged
Applicants' submissions are judged on their content and creativity. Showcasing knowledge and passion for the topic are also evaluated.
Why We Love the Don't Text and Drive Scholarship
It's a message worth sharing
According to the National Highway Traffic Safety Administration, taking your eyes off the road for about 5 seconds to send or read a text is long enough to cover a football field driving at 55 mph. It's crucial that we share this message with all new drivers.
It leads to actionable change
This scholarship doesn't just encourage the dissemination of valuable information — it's meant to influence our everyday motions. By integrating ourselves and others into its process, we have the opportunity to shift the way society behaves whenever it's behind the wheel.
It reminds us to disconnect
It can sometimes feel like we can't go a minute without our attention being drawn by a Facebook ping, Instagram direct message, breaking news update, or some other notification. While our smartphones and other devices provide many benefits and enjoyments, it's important that we separate ourselves from them at times for health and safety purposes.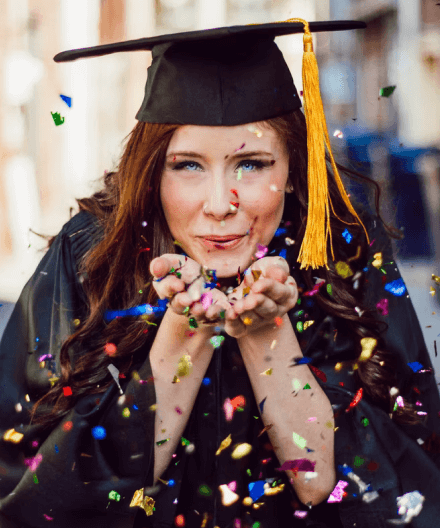 5 Facts About Texting and Driving
Texting while driving makes crashing 23 times more likely
According to a Virginia Tech Transportation Institute study, if you text while driving you are 23 times more likely to cause a traffic collision.
April is National Distracted Driving Awareness Month
This initiative was started by Shelley Forney, who became an advocate for safer driving after her daughter was killed by a distracted driver.
Teens are more likely to text while driving
AT&T conducted a Teen Driver Survey and results indicated that while 97% of teens agree that texting while driving is dangerous, yet 43% do it anyway.
States that don't ban texting and driving for licensed drivers
Mississippi, Missouri, Montana, New Mexico, Oklahoma, Texas, and West Virginia are the only states where only learner drivers are banned, other states ban all licensed drivers.
Pledge and take a stand
The National Highway Traffic Safety Administration has a pledge initiative where you can pledge to start driving phone-free, which is a great way to motivate yourself.