AAC Scholarship for Ohio Governor's Exhibition
2/1/2023
Submission Deadline
Explore Similar Scholarships
College Major:
Location:
Grade Level:
The Art Academy of Cincinnati (AAC) established the scholarship for the Ohio Governor's Exhibition to advance knowledge and appreciation of art through education. AAC seeks to develop and support radical, forward-thinking, contemporary visual artists and designers whose creative contributions will make a significant difference in the lives of all those they touch. The scholarship is intended for students pursuing an undergraduate degree.
Applicants must be high school seniors or undergraduate students at an accredited, non-proprietary college or university. Applicants must also be Greater Cincinnati residents. Those pursuing their first undergraduate degree are given priority.
The Ohio Governor's Exhibition AAC Scholarship is renewable. Students must continue to meet the criteria for the award to be renewed. Students can reapply each year and provide the necessary documentation to demonstrate their continued eligibility.
Key Information of AAC Scholarship for Ohio Governor's Exhibition
Study Details
Country of Study
United States
Specific Schools
Art Academy of Cincinnati
Scholarship Details
Intended Level of Study
Undergraduate
AAC Scholarship for Ohio Governor's Exhibition Timeline
August 2022
Application Open Date
Applications open on August 8.
February 2023
Submission Deadline
The submission deadline is on February 1.
Scholarship Eligibility
To be eligible to apply, applicants must meet the following criteria.
Eligible Grade: High School Junior – High School Senior
Maximum Age: Any
Required GPA: Any
Geographic Eligibility: Ohio, United States
Gender: Any
Race/Ethnicity: Any
Application Requirements
Here's what you need to submits besides your application.
How to ace the AAC Scholarship for Ohio Governor's Exhibition
1
Send in a strong portfolio
The scholarship is awarded based on the strength of the portfolio. You should submit eight to ten unique works of artwork, design, or creative writing. Images of journal or sketchbook pages are highly encouraged.
2
Don't plagiarize
You must impress the judges with your creativity to win this scholarship. Send in original work that demonstrates your ideas and interests, as well as your technical abilities.
3
Show your enthusiasm for art
The scholarship is intended for students with an interest in art. In your application, make sure you show how passionate you are about art.
4
Submit your application early
To receive acceptance and priority scholarship notification, applicants are strongly encouraged to complete the application process at the earliest possible date. Also, ensure you edit your work before making the final submission.
How the AAC Scholarship for Ohio Governor's Exhibition is Judged
The scholarship is awarded primarily on the strength of an applicant's portfolio, though academic merit is also taken into consideration. To determine the scholarship winner, the judges also take each component of the application into account.
Why We Love the AAC Scholarship for Ohio Governor's Exhibition
It offers financial assistance to students
The AAC Scholarship provides financial assistance to high school students who wish to pursue art studies at the university level.
The scholarship is renewable each year
The scholarship is renewable each year for up to four academic years as long as a student maintains a semester GPA of 2.0 or higher.
You join a large alumni group
Another thing we love about the AAC scholarship is that the recipient gets to join robust alumni. Recipients are not only given monetary awards but are also given intellectual opportunities.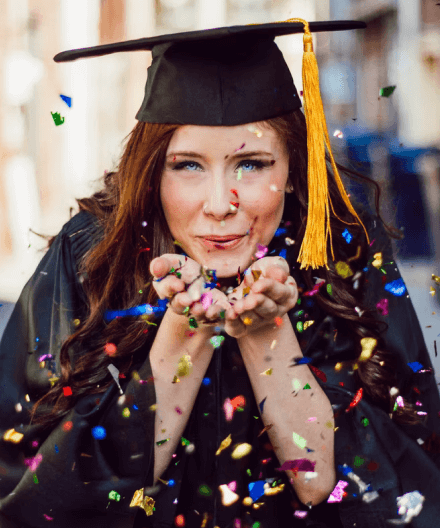 5 Facts About AAC Scholarship
Applicants must be U.S. citizens
You must be a resident or citizen of the United States of America to be eligible for the AAC scholarship.
Financial need not a must
The scholarship does not require applicants to demonstrate financial need.
The field of study must be arts
Art is the only field of study that is considered for the scholarship.
The scholarship is based on merit
The scholarship is a merit-based award given to students accepted into a bachelor's degree of fine arts program on an ongoing basis.
There is no racial bias
Students of any race or ethnicity are eligible to apply as long as they live in the United States.