4 Student Loans For Trade Schools and Career Training
We have reviewed the best options for trade schools and career training. Students can get both federal and private loans for this purpose; however, not all trade schools and career training programs are eligible for federal aid.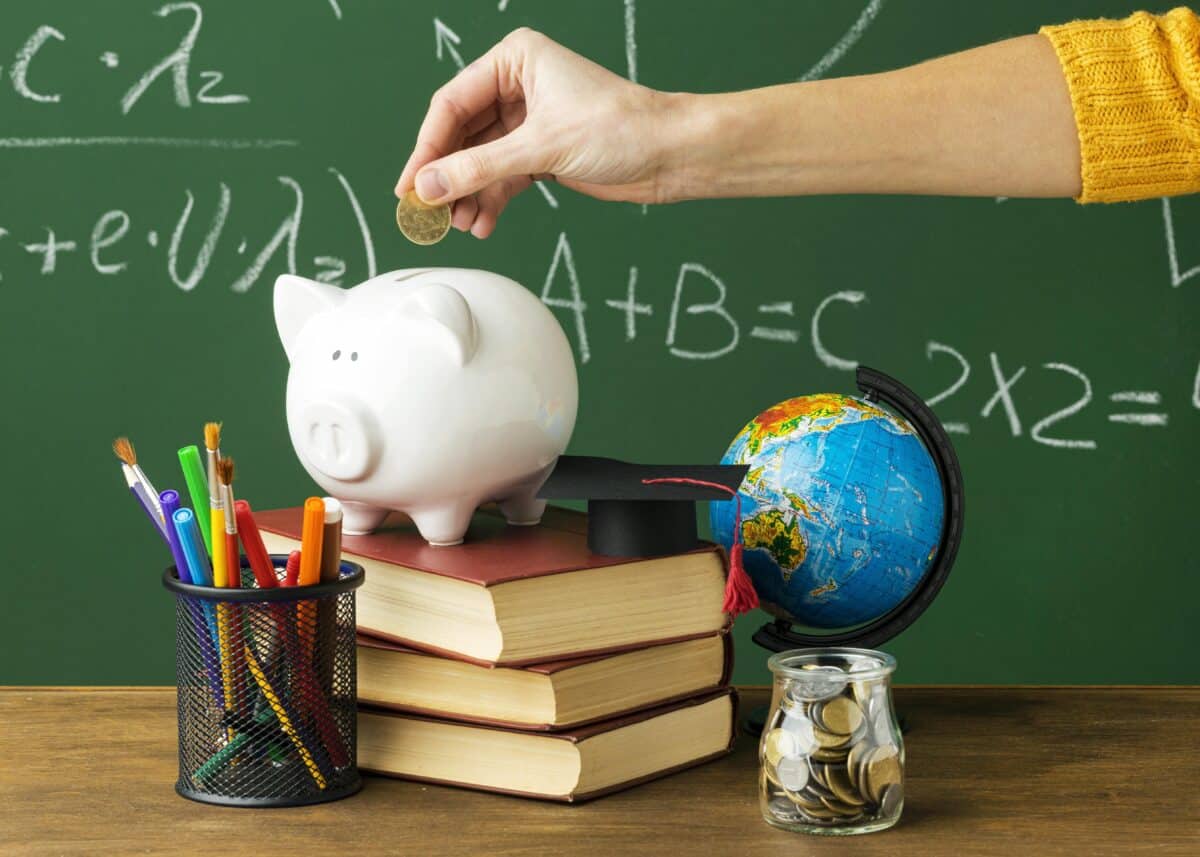 Federal loans can be used to pay for some eligible trade schools and are the better option as they come with benefits like student loan forgiveness, postponement options, and low interest rates. However, the amount required to cover the full cost of attending a trade school might be more than what a federal loan provides. In that case, there are private student loans for trade schools that can help you fill that gap in funding.
These trade school loans or career loans are specifically designed to cover the cost of professional training certificates and diplomas that are offered in these schools. These institutes are a great alternative to traditional degree-granting colleges as they allow you to complete your education within two years by providing job-specific career training. This brings down the total cost of education when compared to a 4-year degree program.
Eventhough a trade school is cheaper than a degree-granting university or college, it still has a considerable cost of attendance that may be hard to finance all on your own. You can take help from the federal and private loans mentioned below to fund your education. You may need to cover the whole cost with private loans if your school or program is not accredited or eligible for federal aid.
Federal Student Loans for Trade Schools
Federal aid for trade schools is available but it is limited to only those programs and certificates that are eligible and accredited by the Department of Education. If you're considering joining a trade school, you can check with their financial aid office to confirm whether they accept federal aid. You can also check at the Department of Education using their College Navigator tool.
If your school and program are eligible, you can apply for FAFSA to find out what types of federal loans and other aid, like grants or work-study programs, you may be eligible to apply for. There are three types of federal student loans for students including Direct Subsidized Loans, Direct Unsubsidized Loans, and PLUS loans.
Direct Subsidized Loans:
Direct Subsidized Loans are based on financial need which is determined by FAFSA. The current interest rate for subsidized loans is a fixed rate of 5.50% and the government pays the interest on this loan while the student is in school and during the 6-month grace period after graduation. Students can get repayment terms of 10 to 25 years and the monthly loan repayments are based on the student's income.
Direct Unsubsidized Loans:
Direct Unsubsidized Loans are similar to subsidized loans in the benefits they bring and students in accredited schools can qualify regardless of financial need. They have the same fixed interest rate of 5.50%, a 6-month grace period, and the monthly repayments depend on the borrower's income. Students may be able to get slightly higher borrowing limits with these loans compared to subsidized loans; however, the interest is not paid by the government and accrues during school and the grace period.
Direct PLUS Loans:
Direct PLUS Loans are for graduates and parents of students enrolled in eligible institutions. These loans have higher interest rates than other federal loans, being 8.05% currently, and may carry out a credit check to ensure that there hasn't been any adverse credit history in the last 90 days of application. They also have repayment terms of up to 25 years and offer other benefits associated with federal loans like forgiveness, and flexible repayment options.
Private Student Loans For Trade Schools
Lender
Scholaroo rating
Fixed rates starting (APR)
Variable rates starting (APR)

Sallie Mae

Best for students studying less than half-time or online

Visit website
4.50%
6.37%

College Ave

Best for graduation reward

Visit website
4.59%
5.49%

Ascent

Best for non-U.S. citizens

Visit website
9.63%
9.92%

Edly

Best for income based repayments

Visit website
Based on qualification check
Based on qualification check
How to Apply for Student Loans for Trade School
Check if you are able to qualify for a federal loan for trade school first as they have a lower interest and they come with benefits that most private student loans do not offer.
How to Apply for Federal Student Loans for Trade Schools
Here are the steps to apply for federal student loans:
Fill out the FAFSA Form: Applying for federal aid requires submitting a Free Application for Federal Student Aid (FAFSA) form as the first step. The documents required will be ones that support the information you have filled out in the application and the requirements are listed on the website. The FAFSA must be completed annually, and it considers your school expenses as well as factors such as family size and income when determining your financial need and eligibility for federal grants and loans for trade schools.
Student Aid Report Review: Once you submit your FAFSA, you will get a Student Aid Report which you must review to see if the information you have provided on the FAFSA is all correct. The school will then receive the report and create a financial aid package.
Receive Financial Aid Letter: You will receive a letter telling you what types of federal aid you have qualified for. It can include options like grants, scholarships, and work-study. There will also be information on the types of student loans you have qualified for. Then, you can choose the aid you need and apply for that.
How to Apply for Private Student Loans for Trade Schools
Following are the steps to apply for private student loans:
Compare Lenders: Compare different lenders to see what they are offering in terms of interest rates and repayment terms. Typically, lower interest rates are better to opt for as they can reduce the overall cost of your trade school student loan. Some lenders may also offer some extra benefits that may be better in your situation. You can also get a quick pre-check to see if you are eligible and get approximate rates.
Collect Documents: Carefully go through the eligibility requirements and the list of documents required. Collect all the necessary information asked by the lender to make sure that the application process is a quick and smooth one. Find a cosigner if you require one. In case you are applying with a cosigner, you will be required to submit additional information about them.
Apply: After choosing a lender and collecting all the documents, apply for a loan through the lender's website. Most lenders offer a quick online application process that is easy to get through and takes a few minutes.
Receive the Offer: If you get approved for a loan and receive an offer, make sure to thoroughly read through it. This is because the final offer may differ from the initial one. You may be offered different interest rates or other terms. Only sign the offer if you are satisfied with all the terms listed.
Accept the Offer: Once you are happy with the offer, accept it and you will receive the loan as defined by the lender. Most types of financial aid are transferred directly to the school's account and not to the borrower.
Alternatives to Trade school loans
If you find that a student loan isn't the best option for you, there are a few alternatives available to pay for trade school or career training.
Income-Share Agreements: Some schools have started allowing income-share agreements for students. Instead of getting a student loan to pay for education and then repaying it back with interest, some lenders or schools offer the money to students up front, and the student agrees to pay them a percentage of their income once they start working. Income-share agreements are a fairly new concept, but they're gaining popularity. You can check with your prospective trade school to see if they have this option available.
Scholarships and Grants: Federal grants and scholarships are available to some trade school students. This is essentially free money to fund your studies as they are not repayable. Each trade school generally has its own grants and scholarships, but there are also state scholarships and third-party programs available. Most of these programs are made available to certain students, like those reentering the workforce or to the children of military personnel.
FAQs
How do I get a student loan for trade school?
You can fill out the FAFSA and apply for federal student loans which have low and fixed interest rates. Or you can compare private lenders and review the best loan options for you.
Can federal student loans be used for trade schools?
Yes, federal student loans are available for all kinds of schools and colleges, including trade schools. You can choose between direct subsidized, unsubsidized, and Grad Plus loans.
Which bank provides the best student loan for trade schools?
Sallie Mae is a popular choice for trade school loans as it's a trusted lender that also covers certificate programs at non-degree-granting institutions. Other options include College Ave for flexible loan options, and Ascent for loans without a cosigner. You can review our comparison of different lenders above to find the best option.
Will trade school student loans be forgiven?
Yes, if you get a federal student loan for trade school, it can be forgiven as student loan forgiveness applies to multiple trade school programs too.