10 Best Law School Student Loans
Law school costs, including tuition, housing, books, and fees, can be difficult to pay for, which is why many students need to take out a loan to pay for this. We've rounded up the best law school student loans to pay for your studies.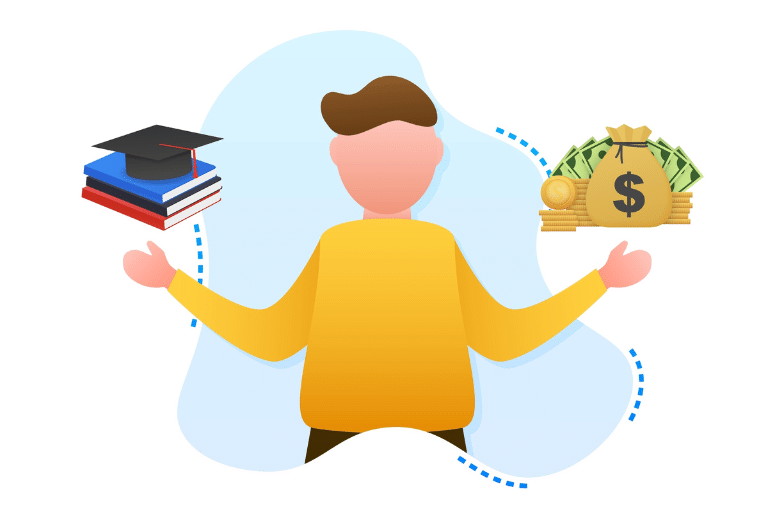 Attending law school may result in a financially rewarding profession, but it's crucial to exercise prudence when borrowing for your education. It's typical to rely on student loans to finance your studies, and on average, law school graduates accumulate a total of $130,000 in student debt from both undergraduate and law school loans.
For many students, it makes sense to consider federal student loans first to cover these costs. Federal debt comes with lower interest rates than many borrowers are apt to find in the private loan market. Federal student loans also come with more flexible repayment options, including income-driven repayment (IDR) plans and potential forgiveness options. These may be particularly useful for borrowers who intend to enter legal jobs in the public sector.
Best Law School Loans
Lender
Scholaroo rating
Fixed rates starting (APR)
Variable rates starting (APR)

Earnest

Earnest is best for its transparent eligibility requirements

Visit website
4.45%
5.32%

College Ave

College Ave has the best repayment terms

Visit website
4.44%
5.09%

Citizens Bank

Citizens Bank is best for cosigner policies

Visit website
4.43%
6.03%

Sallie Mae

Sallie Mae has the best loan limit policies

Visit website
4.50%
5.99%

Ascent

Ascent is best for international students

Visit website
4.62%
5.98%

Discover

Discover is best overall for rewards

Visit website
4.49%
5.99%

SOFI

SoFi is best for interest rate discounts

Visit website
4.99%
5.49%

MPOWER

Best for international students

Visit website
14.75%
N/A

MEFA

MEFA offers the most accessible loans

Visit website
5.35%
N/A

PenFed

Best for PenFed members

Visit website
7.74%
N/A
What Are Law School Loans?
Law school loans in the United States are a type of financial aid specifically designed to cover the costs associated with attending law school. These costs can include tuition, fees, books, and living expenses. Loans can come from federal sources, private lenders, or sometimes from the schools themselves.
As such, there are essentially two types of law school loans: federal and private.
Federal loans are often considered the most favorable option because they come with benefits like income-driven repayment plans and the potential for loan forgiveness. However, the amount you can borrow may be capped, and you might still need additional funds to cover all your costs.
Private loans usually fill the gap where federal loans fall short. While they can offer larger loan amounts, they often have higher interest rates and fewer repayment options. Because of this, it's generally advised to exhaust federal loan options before turning to private loans.
If you're considering taking out loans for law school, prioritize federal loans over private ones. The more flexible repayment terms and potential for loan forgiveness can make federal loans a better long-term choice.
How to Qualify for a Law School Loan
To qualify for a Law School Loan, there are several steps and criteria to consider, depending on whether you're seeking federal or private loans.
Federal Loans
Fill Out the FAFSA: The Free Application for Federal Student Aid (FAFSA) is the first step. This determines your eligibility for federal loans and other financial aid.
School Accreditation: Make sure the law school you plan to attend is accredited, as federal aid is generally only available for students at accredited institutions.
Citizenship Status: You must be a U.S. citizen or eligible non-citizen to qualify.
Financial Need: Federal loans often consider financial need, so your income or your family's income could be a factor.
Credit History: While federal loans generally have less stringent credit requirements, adverse credit history could disqualify you from some options like Grad PLUS loans.
Private Loans
Credit Score: Private lenders often require a good to excellent credit score.
Co-signer: If you don't have a strong credit history, a co-signer can improve your chances of approval.
Income Proof: Some lenders require proof of income or financial stability.
School Accreditation: As with federal loans, attending an accredited school is usually necessary.
Other Options
Institutional Loans: Some law schools offer their own loan programs. Check with the financial aid office for options.
Bar Study Loans: These are designed to help you cover the costs of preparing for the Bar Exam.
How To Get a Law School Loan If You Have Bad Credit
While it's possible to get a student loan for law school if you have bad credit, your options may be limited and it may lead to higher interest rates.
The best place to start is with Federal student loans. Direct Unsubsidized Loans don't do a credit check, and while grad PLUS loans do, there isn't a minimum credit score threshold you need to meet.
Private student loan lenders will very likely have minimum credit score requirements, and the better your credit, the better your interest rate will be. If you get approved for a bad credit student loan, you may find that you get high interest rates and this means the loan will be more expensive over time. Once you improve your credit score, you may eventually be able to refinance to a lower rate.
If you struggle to get approved you may consider getting a cosigner. Co-signers are common for private student loans since many students don't have enough credit history for a lender to determine their eligibility. The lender considers the co-signer's credit profile, which can improve your chances of getting approved for a student loan with better rates and terms.
FAQs
How much can you borrow with a law school loan?
The amount you can borrow for law school varies depending on the type of loan and other financial aid you may be receiving. Federal Direct Unsubsidized Loans have a borrowing limit of $20,500 per academic year for graduate students, including law students. Grad PLUS loans can cover the remaining cost of attendance but they do require a credit check. Private loans vary widely and will often cover your full cost of attendance.
Do law school loans cover living expenses?
The total cost of attendance covered by law school loans includes tuition, fees, food, transportation, books, equipment, and housing. You may be able to use your student loans to pay for child or adult care for dependents while you attend classes. Check your loan agreement for more details.