How Much Is Nursing School And How To Pay For It
The cost of nursing schools vary depending on many factors. Here is a guide to how much is nursing school and how the cost varies by degrees and the ways you can fund them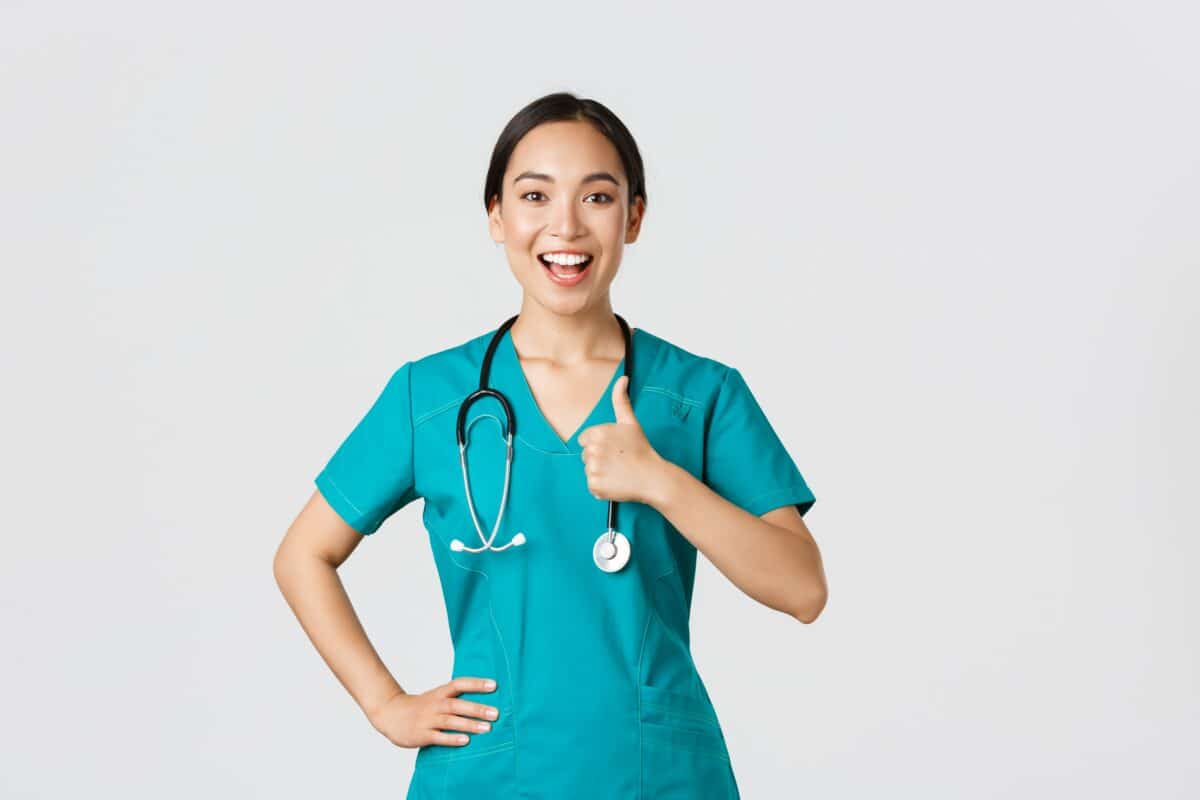 The cost of nursing school can be quite expensive. Depending on the institution, tuition fees range from thousands to tens of thousands of dollars for each academic year – costing anywhere between $6,000 for an associate degree and $100,000 for a doctorate.  Furthermore, students are also responsible for the costs associated with textbooks, laboratory materials, and clinical experiences. How much is nursing school exactly is influenced by various factors like the degree level, choice of state, institution chosen, and residency status too.
This blog talks about how much is nursing school, and the factors influencing the cost of nursing school. If you have financial troubles and are unable to afford the cost of a nursing school, we also provide some ways to get funds for your education.
How Much Does a Nursing School Cost?
The cost of attending nursing school can vary widely depending on several factors, including the type of program, location and other associated expenses. Generally speaking, tuition for a Bachelor's degree in Nursing ranges from around $8,000 to more than $30,000 per year.
In addition to tuition fees, students may need to purchase textbooks and supplies as well as pay for lab fees and other miscellaneous costs. Depending on the school, there may also be additional expenses such as housing and transportation that will need to be accounted for when budgeting for nursing school. All in all, it is important to keep in mind that the cost of attending nursing school can vary greatly, so it is important to research different schools to find the best option for one's particular budget and needs.
How Much is Nursing School by Degree?
Registered nurses can earn a salary of $60000 to more than $100,000 per year in the United States. Some nurses even earn close to $150,000. However, getting qualified as a nurse may require a lot of money too as nursing schools are generally expensive.
We have provided a general idea of the cost of the three main degree levels including associate, bachelor,'s, and master's levels of in-state students below. Other postgraduate degrees may vary significantly in terms of cost. For example, the tuition cost of the Doctorate of Nursing Practice (DNP) program is not only dependent on the institution type but also if you are doing your doctorate after a bachelor's or master's degree. Costs may exceed the given ranges when you include other expenses like nursing licensing exams, room and board, supplies, etc.
It is best to contact the institution you are considering for the exact cost of studying nursing.
Associate's Degree in Nursing (ADN) Cost
Full-time course duration: 2 years
Public school nursing cost: $8,000 – $22,000
Private school nursing cost: $30,000-$50,000
This is an undergraduate degree in nursing that provides core knowledge along with the necessary clinical skills to nursing students. These programs continue for 2 years in general for students studying full-time; however, there are some institutions offering associate degrees that take 18 months to complete.
The course prepares nurses for beginning-level clinical practice. In order to be a licensed nurse, this is the minimum level of education that is required by many states.
Bachelor's of Science in Nursing (BSN) Cost
Full-time course duration: 4 years
Public school nursing cost: $40,000 – $80,000
Private school nursing cost: $60,000 to $120,000
This is a 4-year undergraduate degree and can take longer if students study part-time. It provides an in-depth knowledge of the subject and the associated training to be a successful and competent nurse in the States. A BSN degree can cost anywhere between $40,000 to $120,000 depending on where you plan to study and if the institution is a public institution or private one.
Master's of Science in Nursing (MSN) Cost
Full-time course duration: Between 1 to 2 years
Public school nursing cost: $20,000 – $40,000
Private school nursing cost: $40,000 – $95,000
A Master's of nursing is a graduate degree that can be completed in between 1 to 2 years for full-time students. The cost of an MSN varies between 20000 to 95000 on average depending on where you attend school and if it is a public or a private institution. It can go below or beyond the range depending on other factors like residency status, etc.
Earning a Master's degree can qualify you for higher-level nursing positions. You can opt for Nurse Administrator and Chief Nursing Officer positions with a certain level of experience and such graduate nursing degrees.
What are Nursing School Additional Expenses?
There are various additional expenses associated with a nursing school.
Nursing uniforms and accessories
Nursing schools require you to purchase a uniform and nursing accessories including a stethoscope, penlight, bandage scissors, duty shoes, etc. Some universities have a package including all these supplies and it can cost you at least a couple of hundred dollars.
As nursing students, you may have to undergo a few tests including a background check, and various blood tests. You might have to get additional vaccines too.
Some nursing books are quite expensive and cost hundreds of dollars. Some may be even close to a thousand dollars and you might have to purchase different books for different semesters. It is best to go for second-hand books as they are much cheaper
Nursing programs include clinical too which means you will have to spend some additional money on commuting. To lower these costs, you can try carpooling with fellow students.
In order to become a registered nurse and practice in most states, you will need to give an NCLEX-RN exam developed by the National Council of State Boards of Nursing (NCSBN). The exam itself costs $200 USD. To prepare for the test you might have to take some courses that can cost you a few hundred too.
Main Factors Affecting How Much is Nursing School
How much nursing school tuition costs depend on multiple factors like residency status, institution type, course format, and state. All these factors when combined together can change the cost of tuition at nursing schools to vary significantly.
Residency status refers to whether the student applying is an in-state student or is with a residency status of that which is out-of-state. The cost for in-state students is usually less and the cost of the same course for out-of-state students may even double up.
Public universities are generally cheaper than private institutions in the United States. Public universities receive money from the government so the degree cost is subsidized; hence, students have to pay much less than private institutions.
Generally, online nursing courses cost lesser than on-campus learning. This is because of the lower overhead of running these courses. Moreover, it can save you additional expenses like transportation costs and room and board expenses. However, some practical training may require attending college in person.
How much is nursing school may vary according to where you live too. Some states are generally more expensive to live in which means that the overall cost of attendance is higher for such states. This is because, in such states, it would cost more for transportation, supplies, and room and board.
How to Pay for Nursing School
There are multiple options to choose from that can help you pay for nursing school.
Federal Financing Aid for Nursing Students
All students applying to nursing programs must complete the FAFSA. Even if you don't think you'll need student loans to pay for college, the FAFSA will determine if you qualify for any need-based aid. Based on the information you provide, the government will use the FAFSA to determine your financial need.
1. Federal Loans
While nursing programs can be costly, nursing students may be eligible for low-interest federal loans. To apply for federal financial aid, begin by completing the Free Application for Federal Student Aid (FAFSA). You may be eligible for the following types of federal student loans depending on your educational status and financial need; direct subsidized, direct unsubsidized, direct grad PLUS loans, direct parent PLUS loans.
2. Federal Work Study Programs
Undergraduate and graduate students in need of financial assistance can work part-time jobs via the Federal Work-Study Program (FWS) and make money to put toward the costs of their higher education. The program promotes involvement in the community and jobs linked to the student's field of study. The amount of the grant is determined by the timing of the application, the degree of need, and the school's financial situation.
3. Federal Grants & Scholarships
Several government and private agencies offer nursing scholarships and grants to encourage enrollment in nursing-related studies and to ensure a steady flow of highly educated professionals entering the workforce.
A few worthwhile awards are sponsored by the Health Resources and Services Administration (HRSA), a division of the U.S. Department of Health and Human Services, expressly for nursing students: Grants for Nursing Students from the State grants for underrepresented nursing students, Institutional and organizational support for nursing students, as well as nursing student professional grants.
Private Financing Options for Nursing School
Work-study programs allow you to help pay for school and living expenses while pursuing your degree. Depending on the type of position you have, you may be able to gain nursing experience through this arrangement. The military, for example, provides possibilities for reimbursement or repayment for educational opportunities. Additionally, you might have access to monthly stipends, which can assist you in covering living fees and other nursing school expenses.
1. Private Loans
You could find it more advantageous in some circumstances to pay for nursing school with private student loans as opposed to federal loans. Private student loans, however, are not eligible for Public Service Loan Forgiveness (PSLF) or government repayment programs. If a private student loan is more appropriate for your circumstances, make sure to research as many lenders as you can to obtain the best deal.
When the cost of a student's educational expenses exceeds the amount of financial aid received, students and parents may choose to borrow private educational loans. Private loans are frequently referred to as gap financing. Before considering a private loan, students and parents should exhaust all federal loan options.
2. Private Scholarships & Grants
A nursing scholarship is a monetary award that assists a nursing student in paying for nursing school. Those considering attending nursing school are aware that this type of education is not cheap. Scholarships and grants are available to all types of nursing students, with many tailored to applicants with specific specialties, cultural identities, military backgrounds, and other demographic characteristics.
3. Nursing Fellowships
Registered nurses (RNs) and advanced practice registered nurses (APRNs) can apply for nursing fellowships in a variety of disciplines. These programs' main objectives are to aid nurses in advancing in their careers or making a smooth transfer from one speciality to another. 
Nursing fellowships and nursing residency programs frequently complement one another and are frequently provided as options for nurses. Both residency and fellowship programs, which they classify as transition programs, are accredited by the American Nurses Credentialing Center (ANCC) Practice Transition Accreditation Program.
4. Nursing Aid & Military Service
Military personnel and veterans may be eligible for financial aid during or after their service to attend nursing school. ROTC and military nurse corps programs can pay for nursing school in exchange for military service. There are also programs, such as the AMEDD Enlisted Commissioning Program, that allow military members to enroll in and pay for nursing school. Enlisting in the Naval Nurse Program is a good option for current nursing students. Military nursing students who do so may be eligible for up to $10,000 in addition to a $1,000-per-month stipend to help with the cost of nursing school. 
Enlisting in the Navy Nurse program could earn you a $20,000- bonus and up to $40,000 in student loan reimbursement if you're already an RN. Enlisting in the Navy as a military nurse requires a five-year commitment.
Through the Navy ROTC Four-year scholarships students seeking a bachelor's degree in nursing at particular schools and institutions in the US are given aid. These scholarships pay for tuition and fees as well as provide money for books and living expenses on a monthly basis.
Loan Forgiveness for Nursing Students
Students can have the remainder of their student loans forgiven by the Public Service Loan Forgiveness Program (PSLF) after making 120 qualifying monthly payments as part of a qualifying repayment plan while working full-time for a qualifying employer. Working full-time is defined as either meeting the definition of your employer or working 30 hours or more per week, whichever is greater. They may qualify if they work at least 30 hours per week in multiple part-time jobs. In exchange for a period of service in a military nurse corps, nurses can receive scholarships or loan forgiveness from the military.
Employment During Nursing School
Nursing school demands commitment and effort, but if you're prepared to put in the work, you can complete it while working a full-time job. Success is possible while maintaining a full-time job and attending nursing school in a number of different ways. For instance, effective planning and the use of time management techniques can make it possible for you to pursue your dream of becoming a nurse while working a full-time job. First, enroll in half the number of credits per semester, talk to your academic advisor or clinical coordinator about extending the duration of your rotations, try to find a job as a hospital clerk or CNA in the same hospital network or college where you take clinicals. 
An agreement between an employer and employee known as tuition reimbursement states that the company will pay all or a portion of the employee's tuition for a study program, college degree, or other type of education. Before being paid, employees must fulfill a number of conditions. For instance, before receiving a reimbursement, some employees must pay the whole cost of their tuition. Employees could also be required to enroll in a particular set of courses that are paid for by the tuition reimbursement scheme.
FAQs
How much is nursing school?
A four-year BSN program at a public university can cost between $40,000 and $80,000, whereas tuition at a private university can range from $60,000 to $120,000. The overall expense for out-of-state students may rise significantly.
What is the best student loan for Nursing School?
The best loans for nursing schools are federal subsidized and unsubsidized loans. Nursing students, who are enrolled at least part-time at a degree-granting institution, can apply for federal student loans. For struggling borrowers, it offers more flexible repayment options than other lenders. Subsidized loans do not accrue interest while in school or during deferment, have lower interest rates than private lenders, and do not require a credit check or a minimum income to be borrowed. Term lengths range from 10 to 25 years once repayment begins, depending on the repayment plan.
How can I pay for nursing school without a loan?
Scholarships may assist in lowering your nursing school fees.
Nursing Tuition Reimbursement: If you are employed, your employer may be able to assist you in covering the cost of your nursing education.
Work-study programs give you a method to subsidize your education and living costs while pursuing your degree. You might be able to get nursing experience with this arrangement.
A military career can pay for nursing schools.
Apprenticeships in nursing give you the opportunity to learn while working. Typically, these apprenticeship programs begin with a concentration on classroom instruction before transitioning to practical or hands-on training.
Final Thoughts
The first and most important cost that many nursing students anticipate for nursing school is tuition. Tuition for a four-year university program or a community college can range from $10,000 for a shorter program to $80,000-$100,000 for larger colleges, especially if you also plan to attend a graduate nursing program. 
When considering federal financial aid to help pay for nursing school, any future nursing student should start with the Free Application for Federal Student Aid (FAFSA). The US Department of Education uses this form to assess students' financial need and is the gateway to a variety of federal scholarships, loans, and work-study programs.
Aside from federal aid, nursing students can obtain private financing in the form of scholarships, loans, and grants from private organizations, charities, and third-party lending organizations.