Women's Opportunity Scholarship Fund
$5,000–$10,000
Award Amount
6/15/2023
Submission Deadline
Explore Similar Scholarships
Location:
Grade Level:
The North Dakota Women's Opportunity Scholarship Fund was established to help low-income women in North Dakota pursue higher education in North Dakota schools. Scholarship funds were put in place with the specific goal of providing financial assistance to women who may not have access to other forms of assistance. It helps scholarship recipients in a variety of ways.
The scholarship fund broadens recipients' educational and career options, laying the groundwork for a more fulfilling life both financially and intellectually. The fund assists students in breaking the cycle of poverty and improving their cultural and environmental well-being. The Women's Opportunity Scholarship provides low-income women with access to higher education.
The scholarship is available to students who plan to attend or are currently enrolled in a North Dakota college, university, or trade school. To be eligible for this scholarship, applicants must be current North Dakota residents. Priority will be given to first-time students or current students who are unable to complete a pending degree or program due to unforeseen circumstances.
Key Information of Women's Opportunity Scholarship Fund
Study Details
Country of Study
United States
Scholarship Details
Intended Level of Study
Undergraduate
Postgraduate
Vocational/Technical School
Award Amount
$5,000–$10,000
Women's Opportunity Scholarship Fund Timeline
March 2023
Application Opening Date
Applications open on March 29.
June 2023
Submission Deadline
The submission deadline is on June 15.
August 2023
Awards Announcement Date
Winners are announced by August 15.
Scholarship Eligibility
To be eligible to apply, applicants must meet the following criteria.
Eligible Grade: High School Senior – Undergraduate
Maximum Age: Any
Required GPA: Any
Geographic Eligibility: North Dakota
Gender: Women
Race/Ethnicity: Any
Application Requirements
Here's what you need to submits besides your application.
Financial Information
Essay
Recommendation letters
School Verification
How to ace the Women's Opportunity Scholarship Fund
1
Academic and career goals
In your application, talk about your motivation for pursuing a college education as well as your career goals. Don't forget to mention how the scholarship will assist you in achieving your goals.
2
Don't leave any questions out
Don't leave any questions blank on the application form. Make sure you fill out the application form correctly and on time.
3
Good academic standing
Maintain the required grade point average to remain in the school or career program. A strong academic record increases your chances of winning the scholarship.
4
Show financial need
In your application, show proof of financial need. The scholarship is intended for North Dakota women who are struggling financially.
How the Women's Opportunity Scholarship Fund is Judged
The committee's final decisions will be based on the applicant's responses to application questions, reference recommendations, and an overall assessment of her potential to achieve her academic and career goals.
Why We Love the Women's Opportunity Scholarship Fund
It helps women to continue their education
The scholarship assists North Dakota women in continuing their education, allowing access to higher education and helping them reach their career goals and better their lives.
Reapplication is welcomed
Students are permitted to reapply for the Women's Opportunity Scholarship Fund.
It breaks the bonds of poverty
The fund helps scholarship recipients break free from poverty and improve their lives in whichever career they choose and be a productive part of society.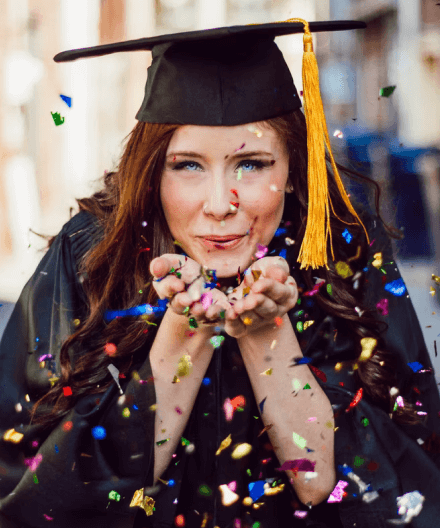 5 Facts About The Women's Opportunity Scholarship Fund
Financial status
Applicants must be low-income according to federal poverty guidelines to be considered for this scholarship.
Residence in North Dakota
Women, who are current residents of North Dakota, are eligible for the scholarship.
Plan to attend a North Dakota school
One of the eligibility requirements for this scholarship is a plan to attend a North Dakota college, university, or trade school.
Anticipated need amount
The anticipated need amount will be used to determine the level of your award; ensure that it accurately reflects what you will require to continue your education.
Scholarship renewal
Scholarship grants will be renewed on a case-by-case basis in subsequent years.