Women Leading Kentucky High School Scholarship
$1,000–$1,500
Award Amount
4/1/2023
Submission Deadline
Explore Similar Scholarships
Location:
Grade Level:
The Women Leading Kentucky is a nonprofit organization that provides inclusive, formal environments to acknowledge and promote education, mentoring, and networking. This scholarship is awarded annually to women who maintain exemplary academic standards and leadership skills.
This one-time scholarship ranges between $1,000–$1,500 and is provided to only one. To receive this scholarship, you must have a 3.0 GPA or higher, which is relatively competitive, and a good letter of recommendation. In addition, you will have to portray leadership skills, must have participated in extracurricular activities and community service, and write an exceptional essay.
This is not a renewable scholarship and will only be awarded once. Students intending to study any major are welcome to apply.
Key Information of Women Leading Kentucky High School Scholarship
Study Details
Country of Study
United States
Scholarship Details
Intended Level of Study
Undergraduate
Award Amount
$1,000–$1,500
Women Leading Kentucky High School Scholarship Timeline
February 1, 2023
Application Opening Date
Applications open in early January. So apply as soon as they open.
April 1, 2023
Submission Deadline
The deadline for applications is the first of April. Don't miss the deadline.
Scholarship Eligibility
To be eligible to apply, applicants must meet the following criteria.
Eligible Grade: High School Senior
Maximum Age: Any
Required GPA: 3
Geographic Eligibility: Kentucky
Gender: Women
Race/Ethnicity: Any
Application Requirements
Here's what you need to submits besides your application.
Grade transcript
Essay
Recommendation letters
How to ace the Women Leading Kentucky High School Scholarship
1
Demonstrate your leadership potential
Since leadership is an integral part of the application requirement, make sure you include experiences where you have taken leading roles to show the judges that you have the capabilities they require.
2
Stand out with your essay
Almost everyone applying will have high academic grades, so the essay is the only thing that makes you stand out. Ensure you use good vocabulary, form proper sentence structures, do not exceed the word limit, and restate the questions asked in your response.
3
Check your application for errors
An application with careless errors does not form a good impression, so carefully check your application for spelling mistakes, grammatical errors, improper structure, and other errors that can decrease your chance of winning.
4
Provide a detailed letter of recommendation
Ask your instructor or whoever is writing the recommendation letter, to explain all your qualities, academics, and why you're most suitable for this scholarship in detail, making a good impression.
How the Women Leading Kentucky High School Scholarship is Judged
Applicants are judged based on leadership skills, academic record, community service, and letter of recommendation. They also have to write a 400-word essay on the topic "Characteristics of Effective Leaders," which will ultimately decide the winners. You can check the application form for more details about the topic.
Why We Love the Women Leading Kentucky High School Scholarship
The funds ease your financial burden
Scholarship recipients can use their $1,000–$1,500 award to decrease a load of finance by paying it for their tuition or other expenses such as essay fees, application fees, books, stationery, and even accommodation.
The scholarship promotes gender equality
This scholarship is an excellent service to the female community, as it allows passionate young women to fully avail their educational opportunities and step into the practical world, fulfilling their career aspirations.
Students studying all majors are eligible
The scholarship is not limited to students studying sciences or engineering but is open to female students pursuing any major, making it highly inclusive.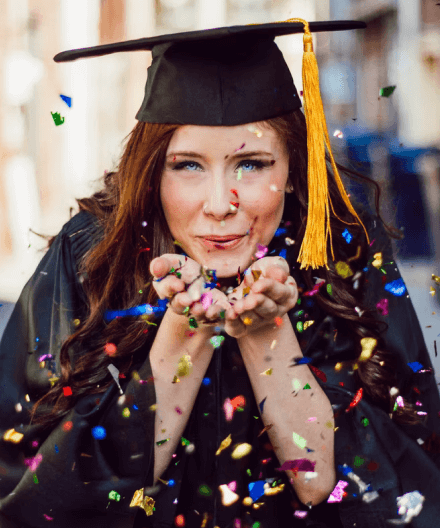 5 Facts About the Women Leading Kentucky High School Scholarship
Foundation has spent a lot on scholarships
Since 2001, the Women Leading Kentucky Scholarship Program has spent more than $205,000 on scholarships for women.
There is only one winner
The Scholarship program for high school seniors is exceptionally competitive, with only one winner each year, so you have to work extra hard and make sure your application ticks all boxes.
The foundation has helped many women
Over the years, The Women Leading Kentucky Scholarship Program has provided 21 years of service and helped about 2,250 women in Kentucky achieve their educational goals and pursue their dreams.
Must be enrolled in the upcoming semester
If you want to apply for this scholarship, keep in mind that you should be enrolled in a Kentucky college or university in the upcoming fall semester.
It is a one-time payment
The amount is up to $1,500, and it is a one-off payment only. You cannot renew it in the coming years, so make sure you spend it wisely.