UCONN – Day of Pride Scholarship
$20,000–$60,000
Award Amount
11/1/2023
Submission Deadline
Explore Similar Scholarships
Location:
Grade Level:
The Day of Pride Scholarship recognizes Connecticut high school seniors from underserved backgrounds with a proven ability for success. Successful applicants are students who demonstrate commitment to diversity and multiculturalism, leadership, contributions to their communities and financial need. All applicants must be U.S. citizens, U.S. Permanent Resident Aliens with proof of immigration status, or undocumented students who have lived in Connecticut for two years or more.
All applicants must be Connecticut residents at the time of application. Students must be enrolled in and expected to graduate from a Connecticut secondary school and enroll at UConn beginning the fall semester. Eligible applicants are students with a minimum GPA of 3.6 and rank (if available) in the top 15% of their graduating class.
Successful applicants are students who are involved in leadership activities in their community or high school or both. Applicants must demonstrate a commitment to multicultural diversity programs and initiatives through leadership, special talents, and achievements in high school or their community. Successful applicants will receive an award ranging between $20,000 and $60,000.
Key Information of UCONN – Day of Pride Scholarship
Study Details
Country of Study
United States
Specific Schools
University of Connecticut
Scholarship Details
Intended Level of Study
Undergraduate
Award Amount
$20,000–$60,000
UCONN – Day of Pride Scholarship Timeline
August 2023
Application Opening Date
Applications open on August 1.
October 25, 2023
Common Application Deadline
Applicants must complete the Common Application or Coalition on Scoir on the UConn application portal by October 25 to be considered.
November 1, 2023
Supplemental Form Deadline
The Supplemental Form will be made available on the application portal after completing the Common Application or Coalition on Scoir. The Office of Undergraduate Admissions must receive the Day of Pride Supplemental Form and all required documents by November 1.
Scholarship Eligibility
To be eligible to apply, applicants must meet the following criteria.
Eligible Grade: High School Senior
Maximum Age: Any
Required GPA: 3.6
Geographic Eligibility: Connecticut
Gender: Any
Race/Ethnicity: Any
Application Requirements
Here's what you need to submits besides your application.
Grade transcript
Standardized Test Scores
Short Answers
Recommendation letters
Present Work Experiences
Financial Information
How to ace the UCONN – Day of Pride Scholarship
1
Take up leadership positions
Recipients of the scholarship are students with proven leadership experience. While in high school, take up leadership positions by being the class president, a sports team captain, or initiating volunteer or charity initiatives in your community.
2
Describe your achievements
You will be required to provide a short answer response describing the achievement or accomplishment you are most proud of and why. While describing this achievement or accomplishment, be sure to describe the lessons you learned, and the skills you acquired.
3
Describe your intended contribution to the community
You will be required to provide a short answer describing how you will contribute to building a safe and inclusive community for all its members through diversity, equity, and inclusion. Be sure to explain how you can promote awareness, support equity, and reduce discrimination during your studies at UConn and after graduating.
4
Demonstrate your interest in UConn
You will be required to provide a short answer response describing why you are interested in UConn. Before your application, conduct some research to determine the programs offered, the extracurricular activities and student support at UConn. Be sure to describe these in your answer and why they are important to you.
How the UCONN – Day of Pride Scholarship is Judged
The selection process considers academic achievement as demonstrated by GPA, rank in class, and optional standardized test scores. Applicants who opt to provide standardized test scores must have a minimum combined SAT score of 1170 or an ACT composite score of 24. The Scholarship Selection Committee will also consider applicants' 2 letters of recommendation, résumés, and short answer responses to questions in the Day of Pride Supplemental Form. Applicants will be judged based on their demonstrated leadership in school and community and commitment to diversity and multiculturalism. The Scholarship Selection Committee will also interview eligible applicants. Applicants selected for an interview will be required to demonstrate financial need by filling out the Estimated Financial Form that they will receive via email.
Why We Love the UCONN – Day of Pride Scholarship
Applicants are encouraged to appreciate themselves
By recognizing the achievements applicants are most proud of, applicants learn to appreciate their efforts and their growth.
Applicants challenged to give back to community
By considering ways applicants can promote diversity, equity, and inclusion in their community, applicants are challenged to think of ways in which they can give back to their community throughout their life.
Applicants develop leadership skills
Since applicants are required to demonstrate their leadership, they develop and improve their leadership skills while preparing for an application, while successful applicants are recognized for their leadership capabilities.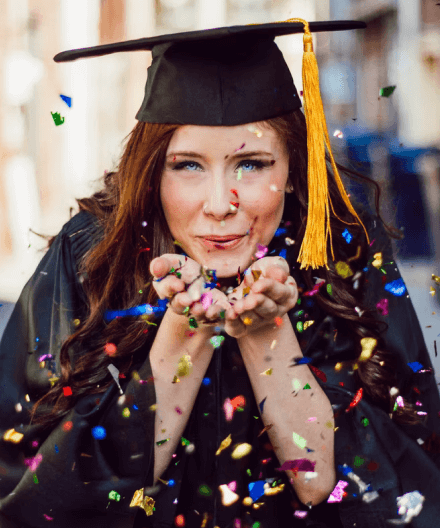 5 Facts about UConn
UConn is over 100 years old
UConn was founded in 1881 after a gift to Connecticut by Augustus Storr.
UConn began as an agricultural school
Augustus Storr gifted the Connecticut government a former orphanage, 170 acres of farmland, a few barns, and $6,000 which established the Storrs Agricultural School. It was renamed Connecticut Agricultural College in 1893.
Granted first Bachelor of Science in 1915
Today, UConn offers eight undergraduate degrees, 17 graduate degrees and six professional degree programs.
UConn has awarded over $535,6 million
In 2021, approximately 24,300 students received financial aid packages in Connecticut.
UConn has been recognized as a leading university in the U.S
In 2022, UConn was ranked by the U.S. News & World Report America's Best Colleges' among the Top 25 public universities in the nation.