TOI Scholarship
3/1/2023
Submission Deadline
Explore Similar Scholarships
Location:
The Township Officials of Illinois created the TOI Scholarships to financially support high school senior students in Illinois to complete their studies and earn an undergraduate degree. Every year, the organization awards seven students $2,000 in scholarships. Students are judged on extracurricular activities and leadership.
Applicants must demonstrate academic excellence and have a history of extracurricular activities that demonstrates leadership responsibilities, commitment to civic responsibility, social consciousness, and a willingness to serve the community. To be eligible, students have to be U.S. citizens and residents of Illinois.
Through the scholarship, the organization enables high school seniors to pursue a college education. Since the scholarship was created, the Township Officials of Illinois have awarded $345,500 to 207 students.
Key Information of TOI Scholarship
Study Details
Country of Study
United States
Scholarship Details
Intended Level of Study
Any
TOI Scholarship Timeline
January 2023
Applications Opening Date
Applications open in January.
March 2023
Submission Deadline
The submission deadline is March 1.
April 2023
Awards Announcement Date
Winners are announced on April 1.
Scholarship Eligibility
To be eligible to apply, applicants must meet the following criteria.
Eligible Grade: All
Maximum Age: Any
Required GPA: 3
Geographic Eligibility: Illinois
Gender: Any
Race/Ethnicity: Any
Application Requirements
Here's what you need to submits besides your application.
Essay
Grade transcript
Present Work Experiences
Recommendation letters
How to ace the TOI Scholarship
1
Complete the application form in full
Fill out all the fields on the application form and attach all the required documents. Make sure your official school transcript is sealed.
2
Read the mailing address
Carefully read the provided mailing address to avoid missing the deadline. Make sure your application is postmarked.
3
Include work experience in your application
In addition to extracurricular activities, including relevant work experience for extra points. Focus on leadership-centered extracurricular activities and work experience.
4
Follow essay guidelines
Increase your chances of winning by reading the essay directions. Respect the word count and format. Your 500-word essay should elaborate on the present and future role of township government in society. Applicants are also required to interview an elected township official.
How the TOI Scholarship is Judged
Applicants are judged on extracurricular activities, leadership skills, and how their essays respond to the present and future role of township government in society. Academic excellence is a plus.
Why We Love the TOI Scholarship
Open to all
The program is open to all. There is no discrimination against race, gender, religion, ethnicity, etc.
No minimum GPA
Although applicants are required to disclose their cumulative GPA, it is not an eligibility requirement.
Applicants can pursue any field of study
Applicants are not limited to any field study. The program encourages students to pursue a college education.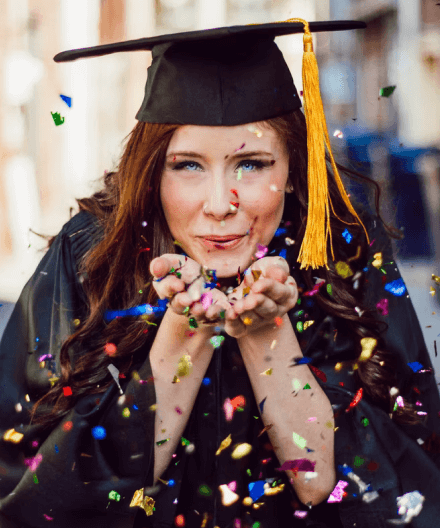 5 Facts About TOI Scholarship
Scholarship is limited to schools in Illinois
Scholarship funds don't apply to schools outside of Illinois.
The award can't be deferred
Scholarship funds have to be used during the required academic year and not at a later date.
Scholarship recipients don't receive the check
The award is paid directly to the school.
Scholarship was created over 30 years ago
The Township Officials of Illinois have been providing scholarships to students since 1989.
TOI was established 115 years ago
The Township Officials of Illinois was created in 1907.