Terry Foundation Scholars
$5,000–$60,000
Award Amount
1/2/2023
Submission Deadline
Explore Similar Scholarships
Location:
Grade Level:
The Terry Foundation Scholarship is awarded by the Terry Foundation, which was founded in 1987 by Howard and Nancy Terry. The Terry Foundation funds freshman and transfer scholarships at 13 Texas public universities. The Foundation aims to help students help themselves by investing in Texas Students.
U.S. citizens or permanent U.S. residents admitted to one of the 13 Texas public universities may apply for the scholarship. Applicants must have attended high school or been home-schooled in Texas. Students must also demonstrate strong academic and leadership abilities.
Applicants are required to demonstrate financial need by submitting the Free Application for Federal Student Aid (FAFSA), which must be submitted each year. The Terry Scholarship is for four years, for the completion of the student's first undergraduate degree. Successful applicants must also maintain good academic and participation standing to remain eligible for the scholarship.
Key Information of Terry Foundation Scholars
Study Details
Specific Schools
Texas A&M University
The University of Texas at Austin
University of Houston
Texas State University
The University of Texas at Dallas
University of Texas, San Antonio
Texas Tech University
University of North Texas
Texas Woman's University
University of Texas, Arlington
University of Texas at El Paso
Scholarship Details
Intended Level of Study
Undergraduate
Award Amount
$5,000–$60,000
Terry Foundation Scholars Timeline
October 2022
Application Opening
The application for the Terry Foundation Scholarship is done on the Apply Texas Application portal. The portal opens in August.
January 2023
Application Deadline
The deadline to submit the complete online application for the fall semester is in January.
January 2023
Enrolment Deadline
Since the Scholarship is only awarded to incoming freshmen at one of the eligible universities, students must be admitted by January to be eligible for the fall semester scholarship.
May 2023
Application Outcome Communication
Applicants receive an email from the Foundation regarding the outcome of their application by early May.
August 2023
Award Disbursement
Successful applicants receive their stipend early in August.
Scholarship Eligibility
To be eligible to apply, applicants must meet the following criteria.
Eligible Grade: High School Graduate – College Freshman
Maximum Age: Any
Required GPA: 2.5
Geographic Eligibility: Texas
Gender: Any
Race/Ethnicity: Any
Application Requirements
Here's what you need to submits besides your application.
Recommendation letters
Financial Information
How to ace the Terry Foundation Scholars
1
Take up leadership positions
Successful applicants are students with a record of leadership in school and community. Be sure to join clubs, sports teams and engage in extracurricular activities. Take up leadership positions such as presidential, captaining, or organizing roles. Make sure to also initiate community outreach activities such as volunteer programs, charity activities, or sports activities.
2
Define your academic and career goals
The application process includes an interview which is your chance to explain why you deserve your scholarship. Make sure you know what you want to achieve during your time in university, and how you hope to build a career from the education you shall receive.
3
Reach out to your teachers and mentors
Your application must be accompanied by two letters of recommendation. Speak to your teachers and mentors and request them to highlight your strong suits, academic strengths, and leadership capabilities. Reaching out to them shall also be an opportunity to receive guidance in defining your academic and career goals.
4
Apply for a degree that is offered physically
Applicants who intend to pursue degrees that are offered online shall not be considered for the Scholarship. Successful applicants will also be required to enroll in full-time face-to-face courses for a minimum of 12 hours each semester. At least 6 semester credit hours must be in physical attendance to qualify for funding.
How the Terry Foundation Scholars is Judged
Terry Scholars are selected based on their leadership potential and character, scholastic record and ability, and level of financial need. These criteria are weighted equally and independently. Applicants must therefore provide proof of leadership in their high school and community, their academic transcript upon request, and a complete FAFSA to demonstrate their level of financial need. This application must also be accompanied by two letters of recommendation. Applicants are also interviewed by a panel consisting of six current and former Terry Scholars to discuss their academic and personal background, their family's financial circumstances, and the information submitted in the online application. Applicants receive an email from the Foundation regarding the outcome of the interview.
Why We Love the Terry Foundation Scholars
Required to reside on campus for first year
Recipients of the award are required to live in Hobby Hall in the Terry Scholars Cluster during their first year. This greatly reduces the expenses students incur while in school and gives them an opportunity to socialize.
Students receive mentorship and networking opportunities
To remain eligible for the Scholarship, students must attend the Terry Scholars Orientation, the Terry Banquet, the Terry Picnic, and participate in a designated First Year Experience Course and mentor program through the Terry Scholars Organization. This is an opportunity for students to interact with other Terry Scholars from other universities and receive career and mentorship support.
Challenged to give back to your community
Since applicants are required to demonstrate their leadership in school and their community, students are challenged to engage meaningfully with their community. Successful applicants are also incentivized to continue supporting others from the state of Texas in the same way they have been supported by the Terry Foundation.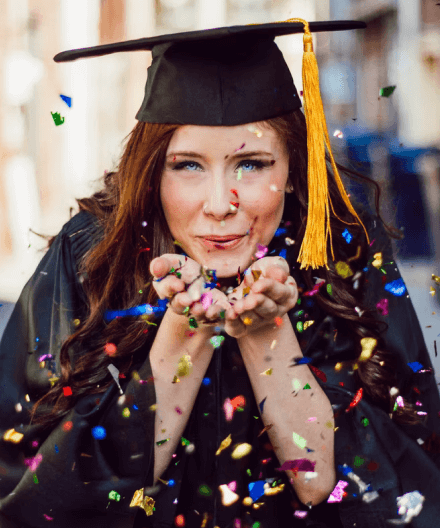 5 Facts about the Terry Foundation
Been recognized for providing scholarships
In 2010, the Foundation received the "Scholarship Provider of the Year" award from the National Scholarship Providers Association.
Recognised for its contribution to higher education
In 2016, the Foundation received the Mirabeau B. Lamar Medal for outstanding service to higher education in Texas.
Creation of the Foundation inspired by scholarship
Howard Terry was inspired to start the Terry foundation after he attended the University of Texas on a football scholarship in 1934.
Awarding scholarships for over 30 years
The first Terry Scholars received their scholarships in 1987 after the Terry Foundation was formed with a $1.2 million check.
Largest private source of scholarships in Texas
The Foundation has invested more than $320 million towards access to higher education since its inception.