TheDream.US National Scholarship Program
$16,500–$33,000
Award Amount
3/7/2023
Submission Deadline
Explore Similar Scholarships
Grade Level:
TheDream.US is a project of the New Venture Fund, administered by International Scholarship and Tuition Services, Inc, and is one of the largest college access and success programs designed for DREAMers. The organization strives to provide DREAMers with the financial support required to attend one of their Partner colleges.
Every year, the organization offers one thousand available scholarships ranging from $16,500 to $33,000 per recipient to financially support highly-qualified high school senior DREAMers undertaking an undergraduate degree to pay for their college education at any accredited institution across the United States.
With over 70+ partner colleges that are inherently committed to serving and offering support services to help undocumented students successfully navigate college life up to graduation, TheDream.US aims to assist highly motivated undocumented students with significant unmet financial needs to graduate from college.
Key Information of TheDream.US National Scholarship Program
Study Details
Country of Study
United States
Scholarship Details
Intended Level of Study
Undergraduate
Award Amount
$16,500–$33,000
TheDream.US National Scholarship Program Timeline
November 1, 2022
Application Opening Date
Applications usually open in early November, so commence compiling and drafting scholarship application materials.
March 7, 2023
Submission Deadline
Submit scholarship application and upload supporting material by 11:59 P.M. Pacific Standard Time — check the website for further details as the submission period approaches.
April 2023
Award Announcement Date
Announcements and Final notifications are sent to applicants via email in late April 2023 regarding whether or not they received the scholarship.
Scholarship Eligibility
To be eligible to apply, applicants must meet the following criteria.
Eligible Grade: High School Senior
Maximum Age: Any
Required GPA: Any
Geographic Eligibility: Any
Gender: Any
Race/Ethnicity: Any
Application Requirements
Here's what you need to submits besides your application.
Grade transcript
Financial Information
Essay
How to ace the TheDream.US National Scholarship Program
1
Draft two standout essays
The most critical part of your application involves drafting two separate essays of a maximum of 750 words each, describing your education and career goals and how you overcome a specific adversarial challenge. Use this avenue to demonstrate your motivation and persistence to exceed in college and life. Check the scholarship website for precise details regarding the essay composition questions.
2
Maintain an outstanding academic record
You need to demonstrate outstanding intellect and top-notch academic excellence in your application. Achieving and maintaining a minimum grade point average of 2.5 or higher out of a 4.0 scale as a graduate or before graduation should suffice if you intend to be considered.
3
Have your application proofread before submission
The scholarship is competitive, so you must ensure that your application is written preferably in English and doesn't get rejected because of careless typos, spelling, or grammatical mistakes. Take the time to proofread, preferably using Grammarly to review your application before submission.
4
Provide financial need proof
An essential step in the scholarship is the significant unmet financial need requirement. You can demonstrate your financial strength as a dependent student by providing both your parents and your financial information only, while independent students need only provide their financial information and that of their spouse if married.
How the TheDream.US National Scholarship Program is Judged
Candidates are assessed based on a rigorous application review process that entails analysis and scoring of grades, the value of standardized test scores, participation in advanced courses and extracurricular activities with a demonstrable commitment to volunteer work or community service, and quality of essays. An independent scholarship selection reviews and scores the essays of all finalists and subsequently awards the scholarship to the highest-scoring applicants.
Why We Love the TheDream.US National Scholarship Program
Provides support to immigrant and undocumented students
The scholarship program is specifically for students who have immigrated or are undocumented in the U.S.
Scholarship covers additional cost
The scholarship winners may be eligible to receive an additional stipend amounting to about $1,000 per year for transportation, books, and supply purposes.
Renewable scholarship nature
The scholarship is renewable each year — successful candidates may be eligible for renewal upon fulfilling the continuing eligibility requirements.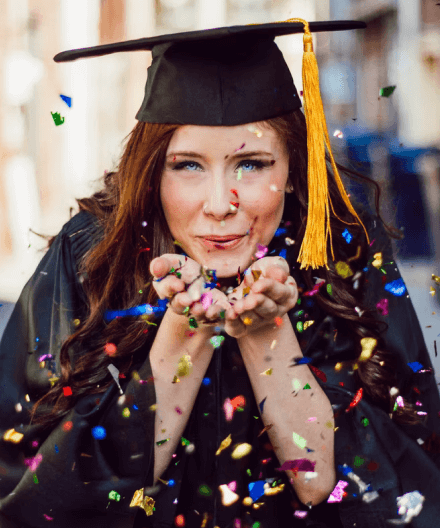 5 Facts About TheDream.US National Scholarship Program
Education classification level
You must be a high school graduate or a current high school senior who will graduate at the end of the current academic year or a student who has earned or will earn a high school equivalency diploma by the end of the current academic year.
Certify immigration status requirement
You will be required to certify that you have current DACA or TPS authorization or meet each of the immigration eligibility criteria — check the website for further details regarding these conditions.
Entry date and age
You must have arrived in the United States before November 1, 2016, before the age of 16 — individuals born in the United States are not eligible for this scholarship.
College credit restriction
You can apply if you have not earned more than 21 college credits in a community college or a four-year college or university before fall.
Get real-time updates
The application portal enables you to check the status of your application and any supporting documents — the organization sends an email receipt of your application within one week after application submission.