Tennessee HOPE Scholarship
$1,750–$2,250
Award Amount
9/1/2023
Submission Deadline
Explore Similar Scholarships
Location:
Grade Level:
Tennessee HOPE Scholarship is a state scholarship, developed by the Tennessee State Government. It is established and funded from the net proceeds of the Tennessee state lottery. The program is managed and administered by the state agency known as the Tennessee Student Assistance Corporation.
Every year, the Tennessee State Government offers one available scholarship valued from $1,600 to $2,250 per recipient to provide merit-based aid to Tennessee residents enrolled in an undergraduate degree program in one of Tennessee's public colleges, universities, or private colleges.
The program's purpose is to provide financial support for Tennessee's best high school graduates and encourage students to remain in Tennessee for their college education, thereby improving upon the social and economic benefits to the state of Tennessee. The scholarship has helped thousands of students afford a university education.
Key Information of Tennessee HOPE Scholarship
Study Details
Country of Study
United States
Scholarship Details
Intended Level of Study
Undergraduate
Award Amount
$1,750–$2,250
Tennessee HOPE Scholarship Timeline
February 2023
Application Opening Date
Applications open on February 2.
September 2023
Submission Deadline
The submission deadline is on September 1.
Scholarship Eligibility
To be eligible to apply, applicants must meet the following criteria.
Eligible Grade: High School Graduate
Maximum Age: Any
Required GPA: 3
Geographic Eligibility: Tennessee
Gender: Any
Race/Ethnicity: Any
Application Requirements
Here's what you need to submits besides your application.
Financial Information
Grade transcript
How to ace the Tennessee HOPE Scholarship
1
Maintain an outstanding academic record
You need to demonstrate outstanding intellect and top-notch academic excellence in your application. Achieving and maintaining an overall minimum GPA of 3.0 out of a 4.0 scale, a minimum of 1060 SAT, or a minimum of 21 ACT, exclusive of the essay and optional subject area battery tests, should suffice.
2
Ideal time for conducting ACT/SAT
You must take your ACT/SAT exam for your application during the national test date or state test date and before the first day of your college enrollment, bearing in mind that ACT Residual test and the ACT Superscore are not accepted.
3
Provide accurate information
You must ensure that you provide accurate information at every step of the online application process, including at the point of creating an optional TSAC account for monitoring purposes. Omission or failure to provide accurate information as requested can delay determining your eligibility for the scholarship or even potential loss of the award.
4
Send in an early application
The organization recommends sending in early applications with the potential of favoring early applicants from the general pool of candidates; therefore, seize the day without procrastinating by submitting your application early to stand out and better your chance of winning.
How the Tennessee HOPE Scholarship is Judged
Candidates are accessed based on the quality and entry time of application, and ACT, SAT, or academic transcript scores indicating at least 21, 1060, or a 3.0 out of 4.0 GPA, respectively.
Why We Love the Tennessee HOPE Scholarship
Straightforward application process
You do not need to complete any additional applications other than simply completing and filing a Free Application for Federal Student Aid form available on www.fafsa.gov — considering deadlines each academic year.
Variable cash prizes
The scholarship program offers various prize amounts up for grabs depending on the duration of the study program embarked upon by the recipient, with up to $1,600 for first and second-year students and $2,250 for juniors and seniors.
Get real-time updates
Create an account on the TSAC Student Portal to gain access to the ability to check your HOPE Scholarship Status periodically and view other scholarship program variants.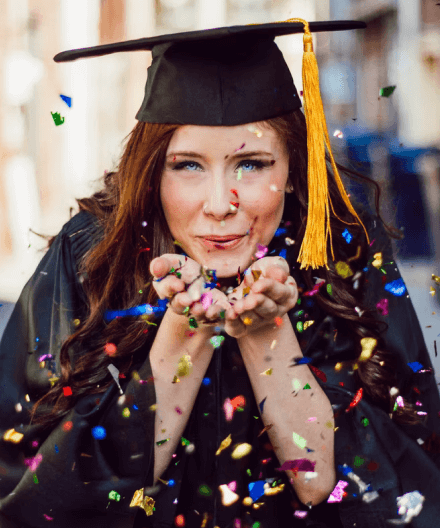 5 Facts About Tennessee HOPE Scholarship
Scholarship GPA calculation
It is important to note that the GPA used for the HOPE scholarship is calculated differently from the standardized institutional GPA and includes all credits received after high school graduation, including developmental and repeated courses.
Renewable scholarship nature
The scholarship is renewable based on continued eligibility determined on a semester-by-semester basis and maintenance of satisfactory academic progress — applicable for a maximum of five years or until the student earned a baccalaureate degree.
Education classification level
You must be a freshman studying an associate or baccalaureate degree program and enrolled at an eligible post-secondary institution within sixteen months after graduation from an eligible Tennessee high school or completion of a Tennessee home school or GED program.
Exceptions to out region Tennessee residents
The scholarship program grants exceptions to applications emanating from Tennessee residents who graduated from high schools located in states other than Tennessee, including high schools located in bordering out-of-state counties – check the scholarship website for precise details.
Regaining the hope scholarship
If the award recipient loses the scholarship due to not meeting the required GPA, you can regain the award one time only by meeting the renewal criteria.