Tampax Flow It Forward Scholarship
8/19/2023
Submission Deadline
Explore Similar Scholarships
The Tampax Flow it Forward Scholarship Program was founded by Procter & Gamble and the United Negro College Fund (UNCF). The scholarship is awarded to one female African American college junior studying in healthcare at Historically Black Colleges and Universities (HBCU). An award of $10,000 is granted to the scholar to better their prospects of adding to the healthcare industry and helping to change the misinformation about women's periods.
An applicant must provide an academic transcript and an essay demonstrating their commitment to the healthcare industry. A letter of recommendation from a faculty member, professor, or advisor that supervised the applicant must be submitted. Applicants will be expected to provide references that will be invited for an interview during the application process.
An applicant must be a female African American U.S. citizen or legal resident and prove one's participation in one service project. The scholarship provides financial support to an individual who has completed the Free Application for Federal Student Aid (FAFSA). Tampax provides a comprehensive support group for all supported scholars and bodes well for all applicants who apply for the scholarship.
Key Information of Tampax Flow It Forward Scholarship
Study Details
Country of Study
United States
Specific Schools
HBCU Institutes
Scholarship Details
Intended Level of Study
Undergraduate
Tampax Flow It Forward Scholarship Timeline
June 22, 2023
Application Opening Date
Applications for the scholarship open in June; consult the scholarship website for details on how to apply.
August 19, 2023
Application Deadline
All applications and supporting documents must be submitted by this date; visit the scholarship website for further details.
October 31, 2023
Scholarship Award Announcement
Applicants will be notified of scholarship decisions by October 31.
Scholarship Eligibility
To be eligible to apply, applicants must meet the following criteria.
Eligible Grade: College Junior
Maximum Age: Any
Required GPA: 3.5
Geographic Eligibility: United States
Gender: Women
Race/Ethnicity: Black
Application Requirements
Here's what you need to submits besides your application.
Grade transcript
Essay
Recommendation letters
How to ace the Tampax Flow It Forward Scholarship
1
Write a well-rounded essay
As a part of the application process, you are expected to provide an essay that describes the service project/event you partook in and your commitment to the healthcare industry. The service project is essential as it provides the scholarship board with evidence of your care for the community and the less fortunate. It is important to outline how you intend to care for others and how vital the healthcare industry is to you.
2
Choose the best person to be your reference
The reference will provide you with your letter of recommendation, so ensure that this person knows you well and that you have developed a strong relationship with them. Make sure your reference is someone with status within the healthcare education system and that they can provide a good account of you.
3
Provide your reference with additional information
Your application depends mainly on the quality of your letter of recommendation. The scholarship provides you with a supporting document on how to submit a letter of recommendation. Forward this document to your reference to ensure you receive the best letter possible.
4
Participate in service projects and events
You must show your commitment to the community and your participation in bettering the lives of an underserved demographic of people with periods. Participate in as many service projects and events that promote women's health and clarify misinformation about periods.
How the Tampax Flow It Forward Scholarship is Judged
The scholarship is judged by a board that thoroughly analyzes all applications to identify the best possible candidate. The board looks at the applicant's academic transcripts to indicate their intellectual ability and the applicant's essay to understand their commitment to the healthcare industry. The letter of recommendation is followed up through an interview with the applicant's reference to provide additional information about whether the applicant is a viable candidate. An applicant must be a woman of African American descent and a U.S. citizen or legal resident who has applied for Federal Student Aid.
Why We Love the Tampax Flow It Forward Scholarship
Tampax shares important facts
The scholarship provides the tools to disseminate accurate information regarding periods and tampon education. This information is also shared and distributed to underserved communities within America.
Tampax invests in future healthcare workers
Tampax has acknowledged the lack of Black women physicians and healthcare workers. Through this scholarship, Tampax seeks to increase the representation of Black women physicians within America.
Tampax champions the change makers
Tampax is expanding its support of individuals looking to help make change happen by supporting future healthcare professionals. Organizations and individuals alike benefit from the carefully chosen scholars for the Tampax scholarship.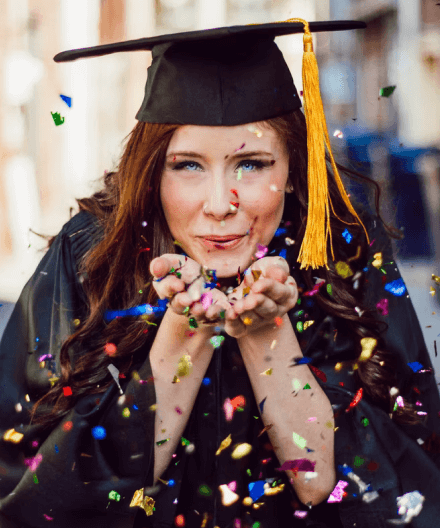 5 Facts About the Tampax Flow It Forward Scholarship
UNCF provides $200,000 tuition assistance
The UNCF is a four-year program that provides $200,000 annually in tuition assistance to Black women seeking to join the healthcare industry.
Tampax supports the Girlology Period Education Program
P.E.P is a community-focused program that brings accurate education on reproductive health and period health to young people in disadvantaged communities.
Tampax supports Black Women's Health Imperative
BWHI is in partnership with Tampax to provide period education and a donation of 100,000 Tampax to disadvantaged communities.
Provided 5,104,307 days of clean drinking water
As a part of their Good Everyday initiative, Procter and Gamble have provided clean drinking water to those in need for over five million days.
They have provided 1,045,513 meals
As a part of the Feeding America program, Procter & Gamble has provided over one million meals to people in need across America.