Study.com September Scholarships
9/1/2023
Submission Deadline
Explore Similar Scholarships
In 2010, Study.com launched its first online course. Each month, Study.com assists over 30 million students and teachers, and it is on a mission to keep improving the teaching and learning process, particularly distance learning in the modern era, as well as providing the right motivation for people to continue learning and improving.
The September Scholarships are a range of scholarships. Some are for students studying in Georgia, Arizona, Michigan, Ohio, Colorado, Virginia, Maryland, Oklahoma, Indiana, Oregon, California, Texas, Florida, Wisconsin, Massachusetts, Louisiana, New York, Arkansas, Mississippi, Minnesota, North Carolina, Kentucky, Iowa, Nebraska, and Pennsylvania are eligible for the award. There's a scholarship for single parents, transfer students, adult learners, non-traditional students, and moms.
For existing and prospective students, Study.com has allocated a wide range of educational awards and scholarships. As of now, Study.com has given out over $50,000 in scholarships. These academic awards are targeted toward persons from a variety of backgrounds, orientations, and academic aspirations.
Key Information of Study.com September Scholarships
Study Details
Country of Study
Arizona
Arkansas
California
Colorado
Florida
Georgia
Indiana
Iowa
Kentucky
Louisiana
Maryland
Michigan
Minnesota
Mississippi
Nebraska
New York
North Carolina
Ohio
Oregon
Pennsylvania
Texas
United States
Massachusetts
Oklahoma
Virginia
Wisconsin
Scholarship Details
Intended Level of Study
Undergraduate
Study.com September Scholarships Timeline
January 2023
Application Opening Date
Applications open on January 1.
September 2023
Submission Deadline
The submission deadline is on September 1.
December 2023
Award Announcement Date
Winners are announced in December.
Scholarship Eligibility
To be eligible to apply, applicants must meet the following criteria.
Eligible Grade: All
Maximum Age: Any
Required GPA: Any
Geographic Eligibility: Arizona, Arkansas, California, Colorado, Florida, Georgia, Indiana, Iowa, Kentucky, Louisiana, Maryland, Michigan, Minnesota, Mississippi, Nebraska, New York, North Carolina, Ohio, Oregon, Pennsylvania, Texas, United States, Massachusetts, Oklahoma, Virginia, Wisconsin
Gender: Any
Race/Ethnicity: Any
Application Requirements
Here's what you need to submits besides your application.
How to ace the Study.com September Scholarships
1
Make contact with previous winners
You can see a short profile from the board message, which contains the scholarship winners' comments each year and is shown on Study.com's scholarship webpage. Approach them respectfully and inquire about how to get the scholarship.
2
Look up for tips on the internet
While most internet suggestions are generic and don't show you what to do in a specific situation, it's never a terrible idea to practice a few strategies and tactics to win the scholarships. Decide what works for you and what doesn't.
3
Make your application professional-looking
Although neatness will not earn you bonus points, it will come in handy for you to determine which sections you have completed correctly and which you have not. Enter all information accordingly to avoid any inaccuracies that could make the scholarship committee's assessment process more complicated.
4
Count on the help of a mentor figure
To double-check your application, enlist the support of a relative or friend. A mentor figure can be someone with experience in the field you're pursuing or someone you can turn to for advice on significant matters.
How the Study.com September Scholarships is Judged
Applicants are evaluated on their eagerness to learn, interpersonal skills, and aptitude for their selected field of study. Students from or studying in Georgia, Arizona, Michigan, Ohio, Colorado, Virginia, Maryland, Oklahoma, Indiana, Oregon, California, Texas, Florida, Wisconsin, Massachusetts, Louisiana, New York, Arkansas, Mississippi, Minnesota, North Carolina, Kentucky, Iowa, Nebraska, and Pennsylvania are all eligible to apply.
Why We Love the Study.com September Scholarships
Deadlines for scholarship opportunities
Study.com provides a dedicated section that lists upcoming scholarship deadlines, making it easy for applicants to see which scholarships are no longer open and what's coming up.
Late applications are still accepted
The scholarship committee and the Study.com system will accept all applications, including those submitted late. These late submissions will be considered for the following year's scholarship program.
Tutoring services are provided
Study.com has tutoring sections for a multitude of subjects, including math, physics, business, and humanities. You must first create an account to make use of their affordable live chat service.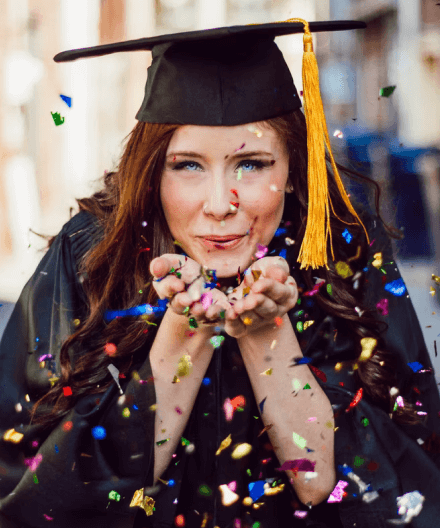 5 Facts About Study.com
Academic courses abound
More than 4,600 video courses are available on Study.com, including college and professional courses.
Provision of detailed guidelines for teacher certification
Study.com's website includes precise guidelines on how to obtain a teaching certificate as well as the various sorts of teacher certificates.
Professional development section
To assist those interested in furthering their careers, Study.com offers professional development courses as well as professional learning communities in education.
A segment dedicated to continuing education
Study.com also offers targeted education on the foundations of education, classroom management, and a variety of other intriguing topics for people who want to continue their education to a higher degree.
Extensive data collection on state teaching requirements
Study.com compiles data about licensure and certification in various states across the United States, which website visitors can peruse on their own.