Science Ambassador Scholarship
$20,000–$60,000
Award Amount
12/1/2022
Submission Deadline
Explore Similar Scholarships
College Major:
Location:
Grade Level:
The Science Ambassador Scholarship is a scholarship program promoting an interest in STEM in female high school senior and undergraduate students.
The scholarship offers an award of up to $20,000 to the deserving winner of the contest. The scholarship is used for a four-year undergraduate tuition fee.
The program initiated and funded by Cards Against Humanity is a way of stimulating the interest of young high school female students to pick up careers in various STEM fields.
Key Information of Science Ambassador Scholarship
Study Details
Country of Study
United States
Scholarship Details
Intended Level of Study
Undergraduate
Award Amount
$20,000–$60,000
Science Ambassador Scholarship Timeline
September 2022
Application Open Date
Applications open for submission in fall.
December 1, 2022
Submission Deadline
Entries will no longer be accepted from this date.
Scholarship Eligibility
To be eligible to apply, applicants must meet the following criteria.
Eligible Grade: High School Senior – Undergraduate
Maximum Age: Any
Required GPA: Any
Geographic Eligibility: United States
Gender: Women
Race/Ethnicity:
Application Requirements
Here's what you need to submits besides your application.
How to ace the Science Ambassador Scholarship
1
Stand out and be unique in your approach
Be clear, creative, accurate, and show a demonstration of your passion for the subject. The competition will attract a large number of entries and you may not want to take chances.
2
Don't exceed the maximum video length
Make sure your video is not more than three minutes to avoid disqualification. The duration can be less but should not be more.
3
Choose a topic you can easily teach
Pick any STEM topic of choice, it must not necessarily be your field of study. You should cite the sources used in researching your topic also.
4
Make sure your information is scientifically accurate
You are encouraged to cite the sources used to research your topic. Ideally, this should be in a slide or frame at the end of your video. You are free to use any citation format of your choice.
How the Science Ambassador Scholarship is Judged
Entries will be judged on the level of scientific accuracy in the topic chosen. Judges will be looking out for how far students went in sourcing accurate novel information as well as a passion for the subject of interest.
Why We Love the Science Ambassador Scholarship
Students can discover their inner creative self
The scholarship builds creativity and the ability to effectively communicate complex topics in students.
The scholarship motivates women to pursue STEM
The scholarship encourages more women to pick up careers in science, technology, engineering, and mathematics.
Scholarship fund can be used for four years
The scholarship tuition fees can be used for a span of four years and covers full tuition for undergraduates.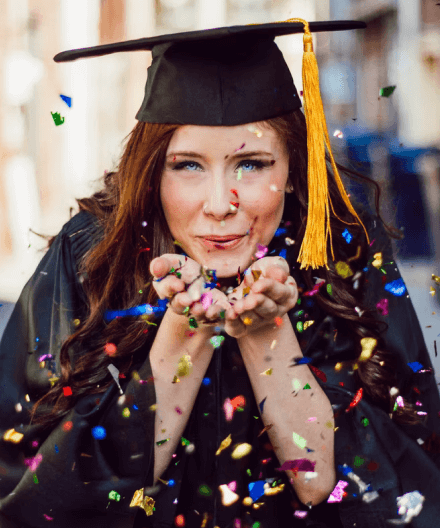 5 Facts About the Science Ambassador Scholarship
It's an initiative by Cards Against Humanity
The Science Ambassador Scholarship is funded by Cards Against Humanity, a fill-in-the-blank party game that turns one's awkward personality and lackluster social skills into hours of fun!
It supports women in STEM
The goal of the Science Ambassador Scholarship is to highlight outstanding women in science, technology, engineering, and mathematics.
Seven tuition scholarships have been funded
The scholarship has funded seven full-tuition scholarships in the field of STEM as of 2022.
The program has fostered good mentor-mentee relationship
The program has created a community of mentors and students who work in STEM fields and these students have been highly impacted by their mentors to proceed and achieve outstanding results in STEM.
Dreams have been realized through the scholarship
The scholarship has helped several women to successfully achieve their dreams of having a career in STEM.