Regional University Baccalaureate Scholarship
5/20/2023
Submission Deadline
Explore Similar Scholarships
Location:
Grade Level:
The Regional University Baccalaureate Scholarship ensures that participating public universities can provide up to four years of scholarship support to excellent Oklahoma students enrolled in a baccalaureate program. The scholarship is sponsored through the Oklahoma State Regents for Higher Education (OSRHE)
OSRHE is the coordinating board for the 25 public colleges and universities in Oklahoma. The State Regents are responsible for prescribing academic standards of higher education, determining functions and courses of study at state colleges and universities, granting degrees, and approving each of the public college and university allocations.
The Regional University Baccalaureate Scholarship award is $3,000, and it also attracts a resident tuition waiver from the institution. Applicants must be residents of Oklahoma and have an ACT composite score of at least 30 (Only ACT scores from an official test report issued by ACT will be considered for admission to the program.) or be a National Merit Semifinalist or Commended Student.
Key Information of Regional University Baccalaureate Scholarship
Study Details
Country of Study
United States
Specific Schools
Cameron University
East Central University
Langston University, Oklahoma
Northeastern State University
Northwestern Oklahoma State University
Oklahoma State University
Southwestern Oklahoma State University
University of Central Oklahoma
University of Science and Arts of Oklahoma
Scholarship Details
Intended Level of Study
Undergraduate
Regional University Baccalaureate Scholarship Timeline
February 2023
Application Opening Date
Applications open on February 1.
May 2023
Submission Deadline
The submission deadline is on May 20.
Scholarship Eligibility
To be eligible to apply, applicants must meet the following criteria.
Eligible Grade: High School Graduate – Undergraduate
Maximum Age: Any
Required GPA: 3.25
Geographic Eligibility: Oklahoma
Gender: Any
Race/Ethnicity: Any
Application Requirements
Here's what you need to submits besides your application.
Standardized Test Scores
Financial Information
Recommendation letters
Grade transcript
How to ace the Regional University Baccalaureate Scholarship
1
Provide proof of residence
This scholarship is only reserved for Oklahoma residents. Show proof of this when applying for this scholarship.
2
Apply directly with the institution
The scholarship funds are allocated individually to 11 universities. You must apply directly through any institution to gain access to this scholarship.
3
Emphasize your academic excellence
Only applicants who are National Merit Semifinalists, are commended students, or are students who have an ACT composite score of at least 30 will be considered for this scholarship. Provide evidence showing that you have at least one of these two requirements.
4
Take note of the application deadlines
As the different universities each have their application process and criteria, the application deadlines too may vary. Visit the university website you want to apply to confirm their deadline dates.
How the Regional University Baccalaureate Scholarship is Judged
The scholarship is judged mainly on an applicant's state of residence and academic abilities. The concerned schools may add other eligibility requirements.
Why We Love the Regional University Baccalaureate Scholarship
The scholarship is renewed automatically
Winners enjoy up to four years of scholarship support from the sponsors. The program allows access to higher education with fewer financial barriers to encourage students to continue their studies post-high school.
The scholarship encourages academic excellence
The scholarship is awarded to those who demonstrate outstanding intellectual qualities and will be automatically renewed so long as those qualities remain throughout the program.
Availability for a second summer option
The sponsors also provide an optional summer scholarship for the scholarship awardees, showing their continued support to exceptional students who demonstrate academic excellence.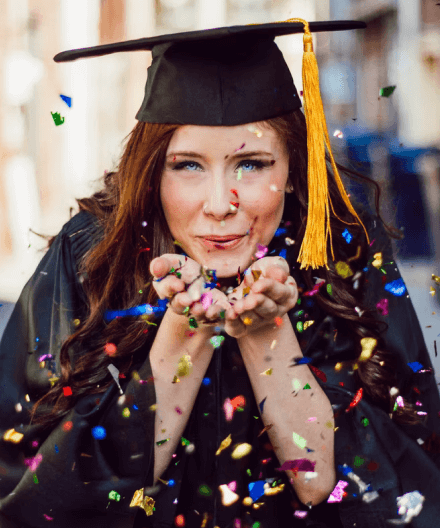 5 Facts About Regional University Baccalaureate Scholarship
Conditions for the renewal of the scholarship
Scholars must maintain a cumulative 3.25 GPA and clock a minimum of 12 hours per semester and 24 hours in the two regular semesters.
Faulting students are given a chance
Students, who cannot keep up with the requirements, can be reinstated only once and have one year to remedy the deficiency.
Unused scholarships are reallocated to other universities
Based on the number of qualified university students, unused scholarship awards may be reallocated by the Chancellor to other universities.
Universities covered by the scholarships
Eligible universities include Northeastern State University, Northwestern Oklahoma State University, Oklahoma Panhandle State University, Rogers State University, Cameron University, East Central University, Langston University, Southeastern Oklahoma State University, Southwestern Oklahoma State University, University of Central Oklahoma, and the University of Science and Arts of Oklahoma.
Recipients can take a leave of absence
Scholars can take a leave of absence from the program by petitioning the Oklahoma State Regents for Higher Education. A leave of absence is not used to remedy deficiencies in the conditions for scholarship renewal.