Presidential Academic Scholarships
$1,600–$2,400
Award Amount
3/1/2023
Submission Deadline
Explore Similar Scholarships
Location:
Grade Level:
This scholarship is an initiative of Western Oklahoma State College, a public institution in Oklahoma. Each year, as part of its financial aid program, the institution offers the Presidential Academic Scholarships. In doing so, the college seeks to reduce the financial costs of its programs to eligible students.
To be eligible for this scholarship, you must be a first-time college freshman. The main focus of the scholarship is academic excellence and, therefore, you must have a minimum ACT score of 23. Additionally, to maintain your scholarship for over four semesters, you must enroll in a course and complete at least 12 hours each semester while having a GPA score of 3.0 or higher.
The scholarship awards are based on the student's ACT scores. In particular, those with ACT scores of 28 or higher are awarded $2,400, whereas those with ACT scores of between 26 and 27 receive an award of $2,000. Finally, students with ACT scores ranging from 23 to 25 are awarded a scholarship worth $1,600.
Key Information of Presidential Academic Scholarships
Study Details
Country of Study
United States
Specific Schools
Western Oklahoma State College
Scholarship Details
Intended Level of Study
Undergraduate
Award Amount
$1,600–$2,400
Presidential Academic Scholarships Timeline
December 2022
Application Opening Date
Applications open on December 1.
March 2023
Submission Deadline
The submission deadline is on March 3.
Scholarship Eligibility
To be eligible to apply, applicants must meet the following criteria.
Eligible Grade: High School Senior – High School Graduate
Maximum Age: Any
Required GPA: 3
Geographic Eligibility: Oklahoma
Gender: Any
Race/Ethnicity: Any
Application Requirements
Here's what you need to submits besides your application.
Financial Information
Short Answers
Grade transcript
How to ace the Presidential Academic Scholarships
1
Proofread your application
Applications are often turned down due to simple grammatical, spelling, and formatting errors. To avoid this, proofread your application and have it reviewed by trusted people before submission.
2
Follow guidelines strictly
Precisely follow all the instructions given in the application form, submit all the necessary documents, and do not deviate from the stated guidelines as you may risk being disqualified.
3
Avoid the last-minute rush
Start your application process as soon as they open in order to have ample time to write your application and ensure that there are no glitches.
4
Consider your competition
Make sure to highlight the factors that set you apart and make you more deserving of the scholarship as compared to your peers. For example, you can highlight your leadership skills to complement your academic excellence.
How the Presidential Academic Scholarships is Judged
The main selection criteria for the Presidential Academic Scholarships is academic excellence. Candidates are judged based on their ACT scores. An ACT score of 24 means you have performed better than 74% of students. A score of 28 means that you have performed better than 88% of students, and a score of 30 means you've scored better than 93% of students.
Why We Love the Presidential Academic Scholarships
Variable scholarship amount
The scholarship is awarded based on one's ACT scores, which makes it accessible to many students who wish to join Western Oklahoma State College.
Specific to first-time freshmen
The scholarship is open to first-time incoming college students who usually face several financial challenges while entering college. It allows access to higher education with less financial burdens.
Merit-based
All Presidential Academic Scholars are selected based on their academic excellence regardless of their financial capabilities. There is also no discrimination against race, gender, ethnicity, religion, etc.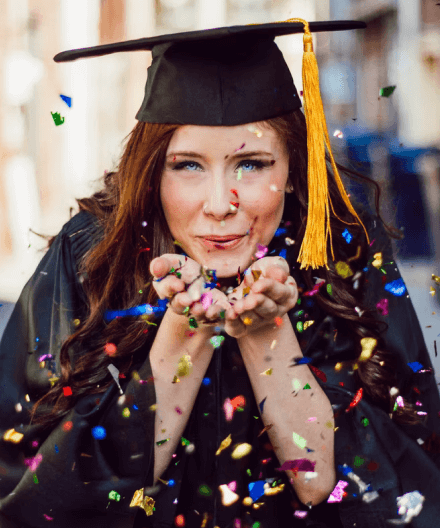 5 Facts About Presidential Academic Scholarships
Award money is split over four semesters
The prize money is spread equally across four semesters to undergraduate students seeking their first degree.
There is no bias
No candidate is discriminated against on basis of race, sex, or ethnicity: anyone can apply as long as they meet the eligibility criteria.
Applicants must be U.S. citizens
All applicants must be legal citizens of the United States residing or studying in Oklahoma State.
WOSC has other scholarships
Aside from the Presidential Academic Scholarships, Western Oklahoma State College has other scholarships namely: Western Tuition Waiver Scholarships, Agriculture Scholarships, and Athletic Scholarships.
Application forms can be submitted in two ways
The scholarship application forms may be completed online through the WOSC financial aid web page or via paper applications.