Oracle Scholarship
2/11/2023
Submission Deadline
The Oracle Corporation has partnered with the United Negro College Fund (U.N.C.F.) to provide scholarships to African Americans, Hispanics, and Native Americans who have a background in Computer Science, Computer Engineering, Business, Mathematics, Marketing, Legal, Cybersecurity, Product Development, and related majors.
Candidates must possess a minimum 3.0 G.P.A. on a 4.0 scale and currently be a sophomore or junior in their four-year accredited college degree program to qualify for the grant.
Oracle is the second-largest software company in the world, offering immense opportunities for students in technological fields to excel in their professional careers.
Key Information of Oracle Scholarship
Study Details
Area of Study
Computer Engineering
Software Development
Country of Study
United States
Scholarship Details
Intended Level of Study
Undergraduate
Oracle Scholarship Timeline
November 11, 2022
Application Open Date
Applications usually open in early November. Check the website for more accurate dates closer to the time.
February 7, 2023
Submission Deadline
The deadline for applications is around the start of the month. Check the website for more accurate dates closer to the time.
Scholarship Eligibility
To be eligible to apply, applicants must meet the following criteria.
Eligible Grade: High School Senior
Maximum Age: Any
Required GPA: 3
Geographic Eligibility: United States
Gender: Any
Race/Ethnicity: African American, Hispanic, Native North American
Application Requirements
Here's what you need to submits besides your application.
How to ace the Oracle Scholarship
1
Demonstrate passion through your personal statement
Focus on your personal statement. It should reveal your deep passion for your field of choice. The selection committee desires candidates who are career-oriented — leave no stone unturned to prove you're the one.
2
Submit a personalized recommendation letter
Brief your teacher/mentor about the objectives of the program. This will enable them to write your recommendation letter highlighting the qualities that are most desired by the scholarship awarding body.
3
Create a compact resume
Your resume should only reflect the achievements/interests that are relevant to this program. Ask yourself what the selection committee is looking for in an applicant. Ideally, your resume should be just one-page long.
4
Seek help from past winners
By connecting with the program alumni, you'll be able to avoid the mistakes most candidates make when filling in the application. Ask them if they'd be willing to review your personal statement for an expert opinion.
How the Oracle Scholarship is Judged
Applicants are assessed based on their academic achievement, personal statement, resume, recommendation letter, and background experiences. Successful candidates will demonstrate a strong interest in entering the corporate world of technological innovation.
Why We Love the Oracle Scholarship
A scholarship designed for marginalized groups
Since this scholarship is only available to African Americans, Hispanics, and Native Americans, it makes it easier for them to compete and win.
There are follow-up internships for successful candidates
The scholarship winners are also offered the life-changing opportunity to intern at the Oracle Corporation's headquarters in California.
Option to apply for succeeding scholarship awards
The engagement continues beyond this program — the sponsoring agency offers recipients an opportunity to apply for succeeding scholarship awards.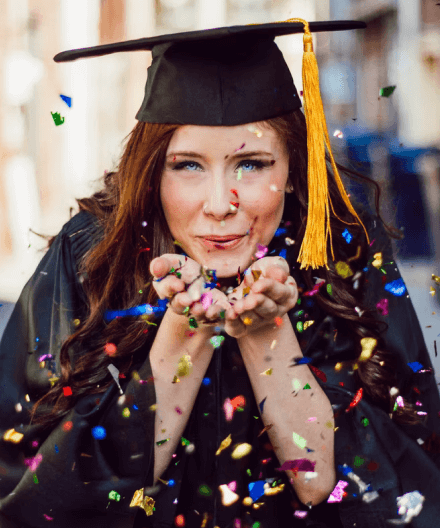 5 Facts
The United States' largest minority education organization
Since its founding in 1944, the U.N.C.F. has raised over $5 billion to support 500,000 students' education.
Financial support is extended to colleges/universities
The fund directly supports 37 Black colleges and universities through generous financial aid programs.
The fund ensures a higher graduation rate
Historically, the national average graduation rate for African Americans remained at 39% — the U.N.C.F has raised it to a whopping 70%.
The U.N.C.F. offers thousands of scholarships
Through its dynamic network of 400 programs, the U.N.C.F. offers more than 10,000 scholarships and internship opportunities to its target communities.
The fund serves as a platform for advocacy
The fund keeps a close eye on local and federal policies to make them more holistic, protecting the rights of the African American communities to receive a quality education.