NYFWA Scholarships
4/15/2023
Submission Deadline
Explore Similar Scholarships
College Major:
Location:
Grade Level:
Since 1976, the New York Financial Writers' Association (NYFWA) has given out scholarships in memory of Maurice Feldman, a public relations professional who has inspired generations of journalists. The NYFWA Scholarship is given to five students studying journalism at the undergraduate or graduate levels. It began with $500 and has since grown to a total value of $2,500. Longtime NYFWA members, who have made significant contributions to both the organization and the world of financial journalism, have been recognized through the scholarships.
The NYFWA is the country's oldest organization dedicated to business and financial journalism. Since its inception in 1938, thousands of journalists from newspapers, magazines, television, radio, wire services, online website services, and other new media outlets, as well as former journalists who have made the transition to public relations, have reaped the benefits and camaraderie of membership.
The skills students gain during their initial one-year membership with NYFWA have a proven track record of being especially valuable for their future employment in the financial journalism and business industries, providing some fantastic opportunities in The New York Financial Writers' Association as well as the vast field of journalism.
Key Information of NYFWA Scholarships
Study Details
Area of Study
Business
Financial Journalism
Country of Study
United States
Scholarship Details
Intended Level of Study
Undergraduate
Postgraduate
NYFWA Scholarships Timeline
January 2023
Application Opening Date
Applications open on January 1.
April 2023
Submission Deadline
The submission deadline is April 15.
May 2023
Awards Announcement Date
Winners are announced in May.
Scholarship Eligibility
To be eligible to apply, applicants must meet the following criteria.
Eligible Grade: College Freshman – Postgraduate
Maximum Age: Any
Required GPA: Any
Geographic Eligibility: New York
Gender: Any
Race/Ethnicity: Any
Application Requirements
Here's what you need to submits besides your application.
Essay
Present Work Experiences
Portfolio
How to ace the NYFWA Scholarships
1
Write an intriguing motivational essay
Come up with an essay explaining why you want to work in business and finance journalism.
2
Create a professional up-to-date résumé
Because a current résumé is one of the requirements for the scholarship, make sure your resume captures your work experiences and is up to date. Note, that you should include any other scholarships you have received before.
3
Create and review your financial writings
Samples of three to five pieces of your financial writing in PDF format, including links to online work and print clippings are necessary for higher chances of winning. Therefore, review and provide final samples during the process of application.
4
Journalism focused
The New York Financial Writers' Association provides a number of scholarships to students studying journalism at the undergraduate or graduate levels.
How the NYFWA Scholarships is Judged
To be eligible for a scholarship, you must be enrolled in or have graduated from a journalism program during the most recent calendar year. It is also evaluated based on work performance, experience, and a strong desire to pursue a career in business or financial journalism.
Why We Love the NYFWA Scholarships
The scholarship is unrestricted
The scholarship is available not only to undergraduate students but also to students pursuing doctoral and master's degrees. As a result, those who were initially awarded at the undergraduate level have an advantage when applying for subsequent degree levels.
Free one-year NYFWA membership
In addition to the monetary awards, winners also receive a free year of membership in the NYFWA.
Non-GPA specific
As an applicant, you do not need to provide proof/requirements of a minimum GPA during the application process and are not the basis of how the award is judged.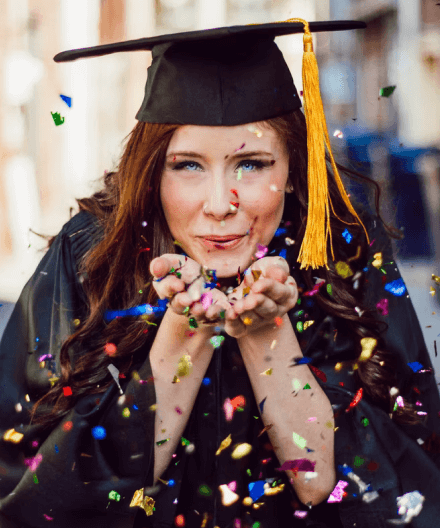 5 Facts About NYFWA Scholarship
The NYFWA is a nonprofit organization
The NYFWA scholarship is tax-exempt in order to fully fund educational opportunities for students in the tri-state New York area.
It is an honorary scholarship
Scholarships are given in memory of long-time NYFWA member, Maurice Feldman, who has made significant contributions to the organization and the world of financial journalism.
You join a robust field of alumni
After graduation, you will have the opportunity to join The New York Financial Writers Association, the nation's oldest organization devoted to business and financial journalism.
Scholarship amount has increased over the years
In the early years, the scholarship was worth $500, now the NYFWA scholarship awards $2,500 to a total of five students each.
It's journalism and business demographics
Because the scholarship is tailored to journalism and business demographics, applicants must be serious about pursuing a career in business and financial journalism.