McDonald's HACER National Scholarship
2/5/2023
Submission Deadline
Explore Similar Scholarships
Location:
Demographic:
Grade Level:
The McDonald's HACER National Scholarship Program is for Hispanic high school seniors in the U.S. Each year, it awards 30 scholars intent on pursuing an undergraduate degree at accredited institutions.
The value of this scholarship is $100,000 to help finance college tuition and other associated costs. Applicants must be eligible to attend a two- or four-year college or university with a full-time course of study and must also disclose other scholarship programs they applied to or won.
This scholarship is an opportunity for the Hispanic community to access educational advancement. Currently, $5,000,000 has been issued to Hispanic students throughout the country.
Key Information of McDonald's HACER National Scholarship
Study Details
Country of Study
United States
Scholarship Details
Intended Level of Study
Undergraduate
McDonald's HACER National Scholarship Timeline
October 2022
Application Opening Date
Applications open in October.
February 2023
Submission Deadline
The submission deadline is on February 5.
June 2023
Awards Announcement Date
Winners are announced and notified between May and June.
Scholarship Eligibility
To be eligible to apply, applicants must meet the following criteria.
Eligible Grade: High School Junior – Undergraduate
Maximum Age: 21
Required GPA: 2.8
Geographic Eligibility: United States
Gender: Any
Race/Ethnicity: Hispanic
Application Requirements
Here's what you need to submits besides your application.
Grade transcript
Recommendation letters
Financial Information
Essay
How to ace the McDonald's HACER National Scholarship
1
Grades and community projects are essential
This scholarship is merit- and financial-need based; so you have to show a transcript of high grades and be an active member in your community. Charity work or community service projects within your neighborhood or school will make your application stand out. Work hard and engage more!
2
Share a personal statement
While there's no need for an essay, you'll have a high chance of getting this scholarship by crafting a personal statement, highlighting your achievements and community participation initiatives.
3
Make recommendation counts
Those who know you best will be able to demonstrate your character and skills. Seek someone close; a mentor, teacher, friend, or family member to write it for you and tell them way ahead of the submission deadline to allow them ample time.
4
Include FAFSA report and/or 1040s
Being a need-based scholarship, you'll need to submit a FAFSA report or a 1040 form as proof of financial need.
How the McDonald's HACER National Scholarship is Judged
The selection is made purely on merit, with emphasis on your academic achievement, community involvement, and financial need.
Why We Love the McDonald's HACER National Scholarship
Dedicated to the Hispanic community
It is entirely made to support the Hispanic community and ease the burden of education expenses. Eligible applicants have to have at least one parent of Hispanic origin.
Has significant impact and motivation
Since its launch, the scholarship program has issued scholarships worth $5,000,000 in support of the Hispanic community and its future generations across the country, motivating youth to pursue higher education and better their futures.
Not limited to any geographical location
So long as you are a U.S. resident and enrolling or enrolled in an accredited institution, you are eligible to apply. This program is nationwide and not restricted to certain states.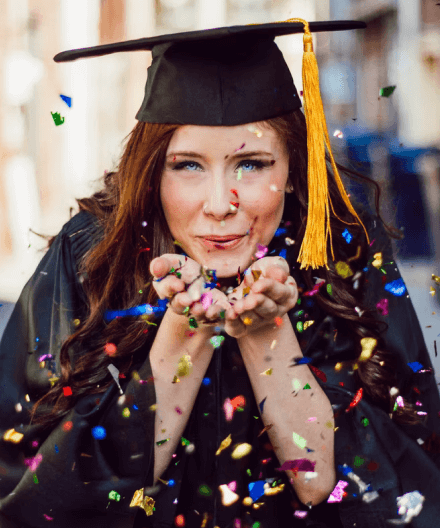 5 Facts About McDonald's HACER National Scholarship
It covers the entire duration of study
This scholarship will sufficiently cover your duration of study. Whether you're taking a two-year or four-year undergraduate degree course.
Hefty scholarship fund
It is a large amount of money that is divided into your four-year undergraduate program and paid directly to schools prior to the beginning of every academic year.
Scholarship classification
This scholarship program is divided into three tiers as follows: Tier 1: recipients are awarded $100,000, $50,000, or $25,000; Tier 2: recipients are awarded $20,000 or $10,000; andTier 3: recipients are awarded $5,000.
Other scholarships must be disclosed
You must disclose other scholarship programs you have applied for to be eligible for this scholarship program.
Recipients notification
Semi-finalists are notified shortly mid- February. Winners are notified and contacted between May and June.