La Plaza Scholarship Fund
3/2/2023
Submission Deadline
Explore Similar Scholarships
Location:
Grade Level:
Through the power of scholarships, the Central Indiana Community Foundation is dedicated to helping students achieve academic achievement. To improve students' chances of academic and financial success, the foundation's scholarship program offers rewards that are significant and frequently renewable.
La Plaza Scholarship Fund was established in 1997 by leaders of the Hispanic community to develop a program that would concentrate on scholarships for Hispanic youth in the state of Indiana. Up to six exceptional students from across Indiana receive $2,000 in four-year college scholarships each year– preference is given to Latino and/or Hispanic students. The amount of each scholarship fund and the number of qualified applicants each year determine the awards.
Scholarship conditions require that awards may be used for qualified educational expenses at an accredited college, university, technical, vocational, or trade school. Scholarship recipients are selected based on their academic record, community involvement, and financial need. Additionally, recipients must submit scholarship acceptance agreements to CICF before a scholarship will be paid.
Key Information of La Plaza Scholarship Fund
Study Details
Country of Study
United States
Scholarship Details
Intended Level of Study
Undergraduate
La Plaza Scholarship Fund Timeline
November 2022
Application Opening Date
Applications open on November 2.
February 2023
Submission Deadline
The submission deadline is on February 2.
June 2023
Awards Announcement Date
Winners are announced in June.
Scholarship Eligibility
To be eligible to apply, applicants must meet the following criteria.
Eligible Grade: Undergraduate
Maximum Age: Any
Required GPA: 2.7
Geographic Eligibility: Indiana
Gender: Any
Race/Ethnicity: Any
Application Requirements
Here's what you need to submits besides your application.
Grade transcript
Recommendation letters
Essay
Financial Information
How to ace the La Plaza Scholarship Fund
1
Review your essay and application documents
A weak application will almost certainly result in your disqualification. It is in your best benefit to make sure that all of the application papers, such as your GED certificate, most recent high school or college transcripts, and recommendation letters, are sent in accordance with their guidelines. Additionally, ensure that your application is free of careless mistakes such as typos, spelling mistakes, or grammatical faults.
2
Your essay should make an impression
Being specific and reflective when writing an essay is essential. Use the essay topic as a guide while keeping your audience in mind. Use specifics like "who," "what," "where," and "when" to bring your experience to life. If you are open about how an experience affected you, even the slightest event can have a significant effect.
3
Infuse your writing with style and clarity
Make sure your essay is both substantive and logically sound, as well as interesting and engaging. You should be able to explain the problem engagingly and grab the reader's attention right away. Additionally highlighting experiences of your personal life story to bring more life and interest to the reader.
4
Demonstrate your financial need
It's best to make use of it by telling a narrative since it's a requirement for the scholarship application. You can discuss any gaps in financial aid, family income, and personal need (personal needs may also include specific situations, such as personal hardship or financial trouble that adds to the applicant's need for financial assistance).
How the La Plaza Scholarship Fund is Judged
Scholarship recipients are chosen based on their academic record, involvement in the community, essay, and need for financial aid.
Why We Love the La Plaza Scholarship Fund
The scholarship is renewable
As long as the requirements for renewal are met, the La Plaza Scholarship Fund remains renewable. Funding is provided to students for a maximum of four years of college or until they graduate, whichever comes first.
Criminal history does not influence eligibility
CICF does not ask about criminal history and thus does not take this information into account when choosing recipients of scholarships. The foundation believes that everyone should have access to education to realize their full potential.
Awards cater for more than tuition
Recipients can use the money they receive to pay for expenses other than tuition at an accredited academic institution. They can use it to help with required fees, room and board (in some cases), and books (in some cases).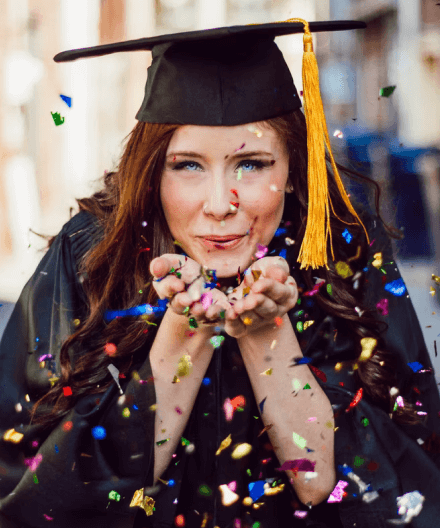 5 Facts About La Plaza Scholarship Fund
Applicants can receive other awards
Recipients are entitled to apply for any scholarship. You can be eligible for more than one award.
The scholarship is renewable
The award can be renewed for up to four years as long as the requirements are met.
CICF provides philanthropic services
CICF is the top supplier of philanthropic services to regional benefactors in Central Indiana.
The CICF stewards over $1 billion
The foundation catalyzes social change by connecting fundholders and donors with causes they care about while managing over $1 billion in philanthropic assets.
CICF was established in 1997
CICF was established in 1997 as a result of a partnership between The Indianapolis Foundation and the Legacy Fund, formerly known as Hamilton County Community Foundation.