Kristal Mead Hillie Nursing Education Scholarship
3/31/2023
Submission Deadline
Explore Similar Scholarships
College Major:
Location:
Grade Level:
Project Impact Mississippi (MS) is a nonprofit organization created to bridge the education gaps in Mississippi. It avails opportunities and resources to the children and youth in Mississippi. It administers the Kristal Mead Hillie Nursing Scholarship to support students pursuing nursing programs.
The Kristal Mead Hillie Nursing Education Scholarship is an annual $1,000 award offered to one undergraduate student enrolled in an accredited LVN/LPN, RN degree (ADN or BSN), diploma, or RN-to-BSN program. Applicants must be residents of Mississippi, have a minimum GPA of 2.5, and must have their grade transcripts when applicable.
Applicants are also to submit a short video answering specific questions and submit their academic qualifications to compete. The award is directly paid to the recipient's university or junior college.
Key Information of Kristal Mead Hillie Nursing Education Scholarship
Study Details
Country of Study
United States
Scholarship Details
Intended Level of Study
Undergraduate
Vocational/Technical School
Kristal Mead Hillie Nursing Education Scholarship Timeline
February 2023
Application Opening Date
Applications open on February 1.
March 31, 2022
Submission Deadline
Submission deadline is on March 31.
Scholarship Eligibility
To be eligible to apply, applicants must meet the following criteria.
Eligible Grade: Undergraduate
Maximum Age: Any
Required GPA: 2.5
Geographic Eligibility: Mississippi
Gender: Any
Race/Ethnicity: Any
Application Requirements
Here's what you need to submits besides your application.
Grade transcript
Video Submission
How to ace the Kristal Mead Hillie Nursing Education Scholarship
1
Answer the questions in your video response
In your video, ensure that you carefully answer each of the questions they asked in the same order. Keep your answers to the point, and adhere to the 2–4 minute time limit by keeping your response catchy, personal, and well-constructed. Avoid any grammatical errors.
2
Make a top-quality video
The audio and visuals of a video are crucial. They set you apart from the rest, so try to use a professional camera, shoot the video from correct angles, and sit under good lighting, so the visuals are bright and attractive.
3
Check the video for errors
Before submitting, watch your video, again and again, to make sure the audio is not lagging, or there is no issue with the visuals. Then, you can have it reviewed by a mentor or a friend to gain more feedback and improve.
4
Reach out to former winners
You can always reach out to former winners and ask them what tactic they used to gain further insights into being the winning candidate.
How the Kristal Mead Hillie Nursing Education Scholarship is Judged
Applicants are evaluated on the video they create and their passion for nursing, community service, and academics.
Why We Love the Kristal Mead Hillie Nursing Education Scholarship
It is a state-based scholarship
The scholarship is specially designed for the students in Mississippi to increase educational achievement and property in the community.
It's an excellent opportunity for nursing students
Nursing is such a noble career and it deserves all the recognition and support that this scholarship rightfully gives.
It has a unique video requirement
Something that sets this scholarship apart is that it requires applicants to shoot a video. Unlike asking for a lengthy essay, videos are fun to shoot and edit and help build a personal connection with the viewer.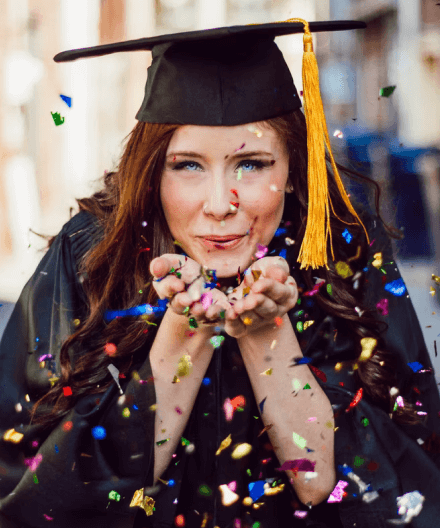 5 Facts About Kristal Mead Hillie Nursing Education Scholarship
Project Impact MS helped fulfill many dreams
Project Impact MS awards more than $30,000 in scholarships every year. Since 2016, it has impacted around 39 counties in Mississippi and spent $81,350 on scholarships.
Students must be enrolled in relevant degrees
To qualify for the scholarship, applicants must be enrolled in an accredited LVN/LPN, RN degree (ADN or BSN), diploma, or RN-to-BSN program.
There is a GPA requirement
Academics are also a factor in judging the scholarship criteria, so every applying student must hold at least a 2.5 GPA.
It is for full-time university students
Applicants should be enrolled in a junior college or university in Mississippi to be eligible for this program.
It is a one-time award
It is a one-time award of $1,000 to be paid directly to their chosen institution or university.