Jack Kent Cooke Undergraduate Transfer Scholarship
1/10/2023
Submission Deadline
Explore Similar Scholarships
Location:
Grade Level:
The Jack Kent Cooke Foundation is dedicated to helping financially disadvantaged students further their education. Since its inception in 2000, the Foundation has granted more than $230 million in scholarships to over 2,930 students, ranging from eighth grade through graduate school. The foundation has also given $119.5 million in grants to organizations that help these students.
Every year, the Undergraduate Transfer Scholarship gives out 45 scholarships to the value of $55,000 to deserving college students. Each Cooke Scholar receives considerable financial support for two to three years, as well as assistance with college planning. Each grant is designed to pay for a large portion of a student's educational expenses for the final two to three years required to get a bachelor's degree.
Individual awards differ depending on the cost of tuition, as well as any other grants or scholarships they may be eligible for. Scholars may use the award to pursue a bachelor's degree in any field of study at any accredited four-year undergraduate institution. A Cooke Scholar has access to personal advice throughout their academic career.
Key Information of Jack Kent Cooke Undergraduate Transfer Scholarship
Study Details
Country of Study
United States
Scholarship Details
Intended Level of Study
Undergraduate
Jack Kent Cooke Undergraduate Transfer Scholarship Timeline
October 1, 2022
Application Open Date
Applications for the transfer scholarship usually open in early October.
January 10, 2023
Submission Deadline
The deadline for application submission is in early January at 11:59 p.m.
May 2023
Award Announcement Date
Successful candidates will be notified before the end of May.
Scholarship Eligibility
To be eligible to apply, applicants must meet the following criteria.
Eligible Grade: College Sophomore – College Junior
Maximum Age: Any
Required GPA: 3.5
Geographic Eligibility: United States
Gender: Any
Race/Ethnicity: Any
Application Requirements
Here's what you need to submits besides your application.
Grade transcript
Financial Information
Essay
How to ace the Jack Kent Cooke Undergraduate Transfer Scholarship
1
Display your academic accomplishments and awards
The Undergraduate Transfer Scholarship is a highly sought-after award. If you have a solid academic record and have achieved any academic awards or honors, you should mention it in your application to increase your chances.
2
Show your leadership abilities
As an applicant, you must show leadership and character. You should demonstrate the ability to organize and favorably influence others within and outside the school.
3
Be engaged in your community
Be concerned about and involved in your community. Candidates are expected to show a purposeful and meaningful commitment to others through volunteer or community service activities.
4
Demonstrate unmet financial need
Applicants with a household income of up to $95,000 are considered by the organization. During the selection process, the Foundation will perform a complete financial analysis of the student and his or her parents, taking into account all of their income and assets.
How the Jack Kent Cooke Undergraduate Transfer Scholarship is Judged
The selection process for these scholarships is tough and competitive, with just about 45 scholarships awarded each year out of thousands of candidates. A panel of outstanding college admissions professionals and academics judge the applicants using criteria including high academic ability and success, unmet financial need, tenacity, leadership, and service to others. All of the qualities are required of applicants.
Why We Love the Jack Kent Cooke Undergraduate Transfer Scholarship
Recipients can pursue any area of study
The Jack Kent Cooke Undergraduate Transfer Scholarship allows recipients to pursue their preferred field of study.
Scholars have access to college planning support
Throughout your college career as a Cooke Scholar, you will have access to college preparation assistance and personal coaching, as well as the ability to connect with a network of extremely skilled Scholars and Alumni through events, a mentorship program, and social media.
The amount also covers living expenses
Scholarship recipients can use the funds for purposes other than tuition. The money can also be used for living expenses and books.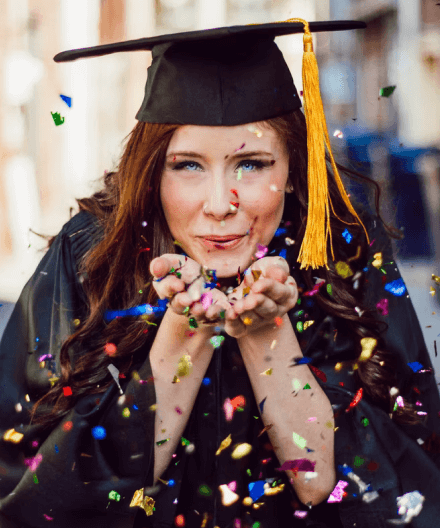 5 Facts About The Cooke Undergraduate Transfer Scholarship
The scholarship is renewable
The Foundation will examine your grades, financial eligibility, conduct, degree progress, and cooperation with the foundation after each academic year and decide whether to renew the scholarship for the following academic year.
Applicants must be a sophomore or junior
Applicants are expected to be a sophomore or recent graduate of an accredited United States community college or two-year institution.
The number of Scholars varies each year
The Cooke Undergraduate Transfer Scholarship was awarded to 72 Scholars in May 2021.
United States citizenship is not required
Candidates don't have to be U.S. citizens; however, they must have attended an accredited two-year institution in the United States.
The minimum GPA is 3.50
Candidates must have a cumulative undergraduate grade point average of 3.50 or better on a 4.0 scale or the equivalent.