IUYA Scholarship
4/23/2023
Submission Deadline
Explore Similar Scholarships
Location:
Grade Level:
The Indiana Undocumented Youth Alliance is a youth-led organization that seeks to empower and support undocumented families and students in Indiana. The IUYA scholarship is sponsored by various community members who seek to support undocumented Hoosiers — residents of Indiana.
The $10,000 scholarship will be split equally between 10 students who are — or will be — enrolled at higher institutions in Indiana in the fall semester. Interested students will need to submit an essay question response, grade transcripts from their current school, and one recommendation letter.
Candidates' applications should reflect significant academic achievements, excellent character, service to the community, and financial need.
Key Information of IUYA Scholarship
Study Details
Country of Study
United States
Scholarship Details
Intended Level of Study
Undergraduate
IUYA Scholarship Timeline
January 2023
Application Opening Date
Applications open on January 1.
April 2023
Submission Deadline
The submission deadline is on April 23.
Scholarship Eligibility
To be eligible to apply, applicants must meet the following criteria.
Eligible Grade: High School Senior
Maximum Age: Any
Required GPA: Any
Geographic Eligibility: Indiana
Gender: Any
Race/Ethnicity: Any
Application Requirements
Here's what you need to submits besides your application.
Recommendation letters
Grade transcript
Financial Information
Essay
How to ace the IUYA Scholarship
1
Prepare your responses beforehand
The application portal does not allow you to save and return to old responses. This means you have to make sure you have all your responses ready before you open the portal, so you can just fill them in and submit. The website has a PDF sample you can look through to prepare.
2
Choose wisely
You only have one shot at a recommendation letter, and you can only pick one of the multiple essay questions to respond to. For your recommendation letter, make sure you choose someone who knows you well enough and can speak aptly about you. For your essay, make sure you pick a question you can relate to the most.
3
Hone your essay writing skills
Take online tutorials, seek advice in person from professionals around you, and practice. Do all you can to perfect your essay writing. Your essay should be captivating, sincere, and well-put together.
4
Go through your application
Go through your application multiple times to ensure you have followed all the instructions and answered all questions appropriately. Silly little mistakes might cost you the scholarship.
How the IUYA Scholarship is Judged
The scholarship committee is looking for students who possess excellent academic qualities and character, engage in extracurricular activities, and demonstrate financial need. These should all be reflected in candidates' applications.
Why We Love the IUYA Scholarship
No DACA or TPS is required
Undocumented students, who currently don't have Deferred Action for Childhood Arrivals (DACA) or Temporary Protected Status (TPS), are also eligible to apply. The program supports them and allows them equal access to higher education.
Candidates can re-apply
Those, who failed to win the scholarship previously, can re-apply for it this year. The program is annual therefore, you are entitled to reapply every year.
Winners are celebrated
An annual scholarship banquet featuring music, art, and talks from influential figures is held to celebrate all the scholarship recipients.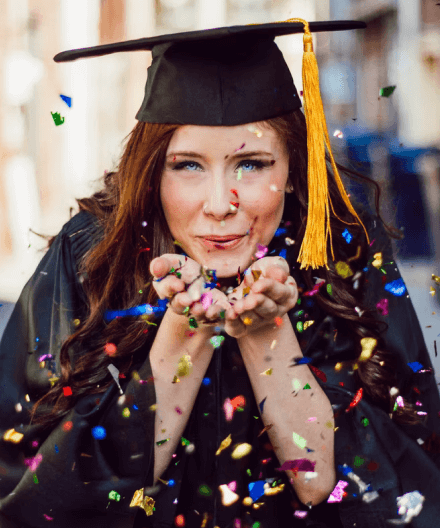 5 Facts About IUYA Scholarship
It is split into two installments
The disbursement of the scholarship fund is split equally between the fall and spring semesters.
It can be applied to any degree
Candidates can use the scholarship for whatever major they plan on studying.
Part-time students can apply
The scholarship is open to both students who want to enroll part-time or full-time.
Family members are not allowed to be references
Recommendation letters written by applicants' family members will be rejected, however, the letter does not have to be written by a teacher.
IUYA has raised more than $60,000
Since its inception in 2012, IUYA has assisted several undocumented students with scholarships worth a total value of more than $60,000.