HonorsGradU Design A Better Future Scholarship
5/28/2023
Submission Deadline
Explore Similar Scholarships
Location:
Grade Level:
Honors Graduation is a company that offers a variety of graduation supplies for purchase, including honor cords, caps and gowns, stoles, tassels, medals, diplomas, and gifts and apparel. They offer a scholarship, which is supported by proceeds from the sales of graduation cords.
High school students are given the opportunity to compete for an annual scholarship competition to Design A Better Future by coming up with an idea for a project that will benefit their community. The winners of this project will each receive a scholarship worth $10,000. The best overall project will also receive a grant for $5,000 to help keep it running.
Even though all high school seniors are eligible, you must be a high school senior who plans to continue your education at a university, college, or trade school in the U.S. The top five selected entrants will receive their $10,000 scholarship as a check from Honors Graduation to the approved school or university, listing the student as the beneficiary.
Key Information of HonorsGradU Design A Better Future Scholarship
Study Details
Country of Study
United States
Scholarship Details
Intended Level of Study
Undergraduate
HonorsGradU Design A Better Future Scholarship Timeline
March 2023
Application Opening Date
Applications usually open in early March.
May 2023
Submission Deadline
The submission deadline is on May 28.
June 2023
Award Announcement Date
Successful applicants will be contacted on June 15.
Scholarship Eligibility
To be eligible to apply, applicants must meet the following criteria.
Eligible Grade: High School Senior
Maximum Age: Any
Required GPA: Any
Geographic Eligibility: United States
Gender: Any
Race/Ethnicity: Any
Application Requirements
Here's what you need to submits besides your application.
How to ace the HonorsGradU Design A Better Future Scholarship
1
Observe your community
Take time to carefully observe your community and listen and learn from the environment and everyone around you. Creating a successful project begins with being well-versed in the issues affecting your neighborhood and the people who live there.
2
Engage your community and mobilize
Engage the people around you in order to get them excited about your project and make them want to be a part of it. When you need people, community engagement can help you mobilize members of your community to support or participate in your project.
3
Plan out your project
Plan out your project with extreme attention to detail, and devise a strategy for how you intend to carry out each step of the process. Planning will increase the likelihood that your project will be successful.
4
Your project should have a meaningful impact
You have been tasked with developing a project that will be to the community's advantage. Therefore, develop, plan, and carry out a project in such a way that it will have a significant impact on the community.
How the HonorsGradU Design A Better Future Scholarship is Judged
Applicants will be judged based on the quality and quantity of work, the potential for future long-term impact, and the general relevance of the project to the community as a whole. Finalists may be asked to submit plans detailing how they would spend the $5,000 grant if they were ultimately chosen as the winner; the more specified these plans are, the better.
Why We Love the HonorsGradU Design A Better Future Scholarship
A chance to make a difference
High school seniors have the opportunity to do meaningful community service and compete for a scholarship by participating in the annual Design A Better Future Scholarship competition.
A fun way to win a scholarship
In contrast to writing essays and simply filling out a large number of application forms, this one only requires a community improvement project that can actually be quite enjoyable and creative.
$5,000 grant for the winning project
The winning project will receive a grant in the amount of $5,000, which will help support the initiative of the student or students who were selected as winners.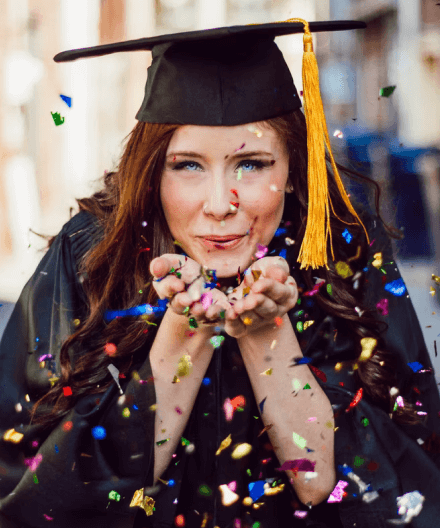 5 Facts About Design A Better Future Scholarship
Students can work in groups
Students are allowed to work in groups of up to three, and if their submission is successful, the scholarship will be equally divided among the group members.
Students can work on an existing project
Students can base their community service project on one that they are already working on for school or for extracurricular activity as long as they meet all of the scholarship requirements.
Students can work with a community organization
Students can work with an existing community organization as long as they submit the organization's name as well as the supervisor's name or email address to prove that the student was the project's primary planner and executor.
Scholarship committee consists of Honors Graduation employees
The scholarship committee is made up of current and former Honors Graduation staff members.
Awardees are posted on the scholarship website
Previous scholarship winners as well as the community service projects they completed are featured on the scholarship's website.