Graduating High School Senior Scholarship
2/1/2023
Submission Deadline
Explore Similar Scholarships
Location:
Grade Level:
The California State Graduating High School Senior Scholarship is offered by the California State PTA to high school seniors in the state. Through the Scholarship, the California PTA hopes to reward graduating seniors for actively taking part in volunteer activities in their schools and communities. Additionally, the association seeks to help the students register for their desired courses at post-secondary education institutions and, this way, achieve their college and life dreams.
The Scholarship is open to all graduating high school seniors in California who are also residents of that state. Additionally, they must be a member of the parent-teacher association (PTA) or parent-teacher-student association (PTSA) in their schools or one in their district or state if their school does not have this body. All applicants are required to submit a copy of their PTA/PTSA membership card as part of their application.
The California PTA awards a grant of $1,000 to all Scholarship winners. Additionally, two successful applicants are selected to receive a further $500 should they be interested in pursuing a medical-related career. The Scholarship award is mailed directly to a winner, who can then utilize the funds to achieve their college dreams.
Key Information of Graduating High School Senior Scholarship
Study Details
Country of Study
United States
Scholarship Details
Intended Level of Study
Undergraduate
Graduating High School Senior Scholarship Timeline
December 1, 2022
Application Open Date
Applications for the scholarship cycle open.
February 1, 2023
Submission Deadline
Applications should be received by close of business if mailed, or by 11:59 PDT if sent by email.
March 2023
Award Announcement Date
All applicants are notified of the status of their applications.
Scholarship Eligibility
To be eligible to apply, applicants must meet the following criteria.
Eligible Grade: High School Senior
Maximum Age: Any
Required GPA: Any
Geographic Eligibility: California
Gender: Any
Race/Ethnicity: Any
Application Requirements
Here's what you need to submits besides your application.
Essay
Recommendation letters
How to ace the Graduating High School Senior Scholarship
1
Provide all required documents and information
The Scholarship application process is quite intensive with several documents required, including a PTSA/ PTA membership card and an essay. Ensure that you read the instructions carefully and provide all required documents in your application.
2
Have a clear career plan and goal
Applicants are required to write an essay detailing their career goals, plans, and objectives. Before you start writing your response, ensure that you have clear outlines of these areas so that you make a compelling case for your suitability for the Scholarship.
3
Write a clear and well-structured response
Your response essay should be well written with few grammatical or stylistic mistakes. One way to achieve this requirement is by proofreading your work before submission to correct any issues.
4
Select suitable recommenders
Pick recommenders who know you, your strengths, and your ambitions well. Only then can you get a recommendation letter that demonstrates to the reviewers that you are deserving of the Scholarship.
How the Graduating High School Senior Scholarship is Judged
Applications are judged based on the uniqueness of one's essay and recommendation letters. Submitted essays should, therefore, tell a student's experience with volunteering and community service as well as outline a clear career plan. Additionally, the recommendation letters should speak highly of an applicant's suitability for the Scholarship.
Why We Love the Graduating High School Senior Scholarship
Two scholarships in one
The California State Graduating High School Senior Scholarship is actually two scholarships in one: the Volunteer Service Scholarship and the Dr. Ralph E. White Graduating Senior Scholarship. A winner of both, therefore, stands a chance of being awarded $1,500 in total.
No GPA requirement
The Scholarship, unlike many others, does not require a minimum grade point average (GPA) as part of its eligibility criteria for applicants.
Award can be used as directed by recipient
The Scholarship award is sent by check to winning candidates who can then use it as they see fit.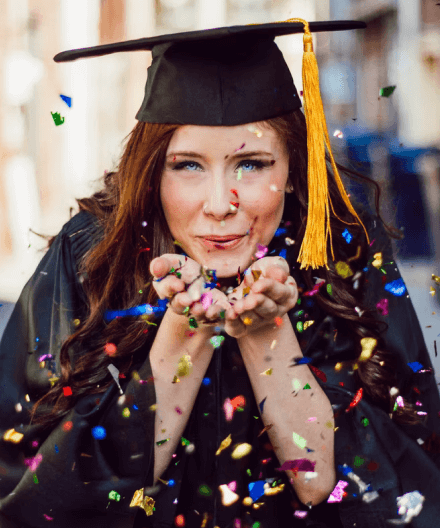 5 Facts About The California State Graduating High School Senior Scholarship
Winners can select not to have names published
While the California PTA publishes the list of selected winners on its website, an awardee can request to not have their names listed in any PTA publication.
Applicants require two reference letters
As an applicant, note that you will require two reference letters: one from a community volunteer leader and the other from a faculty member of your high school.
Over 30 winners in 2022
Every year, several winners are selected for the Scholarship, with over 30 students being awarded this year.
Recipients must provide additional proof
Recipients of the Scholarship must provide additional proof of their enrollment in their schools and completion of coursework to receive their award.
You can donate to California PTA
Members of the public can make monthly or one-off cash donations to the California PTA through a link on its website to help sustain its operations.