Gordon Hay Scholarship Fund
6/6/2023
Submission Deadline
Explore Similar Scholarships
College Major:
Location:
Grade Level:
The Gordon Hay Scholarship is designed for students aiming to pursue a career in a non-performance area of the theater. This includes playwriting, set, costume, lighting, or sound design, arts administration, stage management, production management, technical direction, and so on.
Applicants must be high school seniors, college freshmen, or college sophomores to be eligible. The award is intended to cover the particular learning needs of the awardee, such as professional conferences, seminars, workshops, participation in an unpaid internship program, professional performances, or technology needs.
Every year, the Gordon Hay Scholarship committee selects two exceptional students to be awarded this one-time scholarship worth $5,000. The scholarship is not used for college tuition or living expenses but out-of-the-classroom learning opportunities. As the need arises, students must submit a formal request to Blumenthal's Education Department before withdrawing from the "award account".
Key Information of Gordon Hay Scholarship Fund
Study Details
Area of Study
Community Service
Performing Arts
Visual Arts
Country of Study
North Carolina
South Carolina
Scholarship Details
Intended Level of Study
Undergraduate
Gordon Hay Scholarship Fund Timeline
January 2023
Application Opening Date
Applications open on January 1.
June 2023
Submission Deadline
The submission deadline is on June 6.
June 2023
Acceptance Notice
Accepted students are notified on June 17.
June 2023
Virtual Portfolio Presentations
Virtual portfolio presentations are on June 25.
July 2023
Date of Award Announcement
Winners are announced on July 1.
Scholarship Eligibility
To be eligible to apply, applicants must meet the following criteria.
Eligible Grade: High School Senior – College Sophomore
Maximum Age: Any
Required GPA: Any
Geographic Eligibility: North Carolina, South Carolina
Gender: Any
Race/Ethnicity: Any
Application Requirements
Here's what you need to submits besides your application.
Essay
Grade transcript
Recommendation letters
How to ace the Gordon Hay Scholarship Fund
1
Provide sufficient evidence
The judging panel always favors candidates who provide proof to support their assertions. You must provide significant evidence, such as artistic or technical accomplishments. This increases your chance of success.
2
Review your application
You would want to ensure your application is error-free and polished. To achieve this, you need to go over your application repeatedly so that you can cut out typos, unnecessary and disqualifying facts, etc. You can even give your lecturers, mentors, or other professionals to proofread for you.
3
Project your unique traits
Most applicants fall into the trap of relying on samples online to write their essays. While it is okay to get insights online, you need to avoid imitating the examples. Don't neglect your unique skills, experiences, and achievements, as these are what would make you stand out from the crowd.
4
Observe the proper application procedure
Many applicants are turned down because they do not follow the rules to the letter. For example, the official website specifies that the recommendations should be gotten from a current teacher or industry professional. Make you meet the application requirements and abide by the application procedure.
How the Gordon Hay Scholarship Fund is Judged
Scholarly achievement, community engagement, and artistic or technical achievement are factors considered by the judging committee. Applicants must show excellence, passion, and enthusiasm for the preferred career field. These characteristics should not be demonstrated by asserting them but by establishing their existence through past experiences and accomplishments.
Why We Love the Gordon Hay Scholarship Fund
There is no discrimination
The Gordon Hay Scholarship is open to all students irrespective of race or gender. This non-discriminatory process makes it appealing and accessible to deserving students.
The scholarship is fair
This is a merit-based scholarship awarded to exceptional students.
The application's specifics are clear and concise
Due to the clear explanation of what is required and what is not, there is little or no room for uncertainty regarding the application requirements.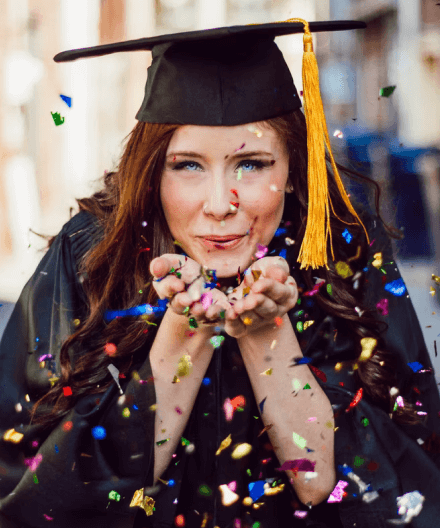 5 Facts About Gordon Hay Scholarship
There is no minimum GPA requirement
This scholarship requires no minimum GPA requirement to be eligible to apply.
There is a geographic eligibility requirement
High school seniors must reside in one of the following Charlotte-area counties: Alexander, Anson, Cabarrus, Catawba, Cleveland, Gaston, Iredell, Lincoln, Mecklenburg, Rowan, Stanley, Union, Chester (SC), Chesterfield (SC), Lancaster (SC), York (SC), while second- and first-year college students must reside in North Carolina or South Carolina. North Carolina, South Carolina.
Applicants don't need to show financial need
There is no need to prove financial need, although preference may be shown to a student with financial need.
There is no age limit
Applicants can apply irrespective of their age group, provided they meet the application requirements.
There is no gender restriction
All genders can be eligible to apply for this scholarship provided they meet other eligibility requirements.