Goodrich Scholarship Program
3/1/2023
Submission Deadline
Explore Similar Scholarships
Location:
Grade Level:
The Goodrich Scholarship Program targets promising low-income high school graduating seniors and undergraduate students in the U.S. They must be actively seeking to pursue higher education in natural sciences at the University of Nebraska Omaha (UNO).
Applicants of all genders or races are eligible to apply for the scholarship worth $1,000. The scholarship is merit-based; however, applicants must demonstrate financial need as priority is given to those in dire need. The financial support helps to defray tuition, general fees, and textbooks and varies for each recipient.
The program was established in 1972 and has since supported 1,900 scholars to complete their degrees at UNO. These past recipients have built successful careers as doctors, engineers, educators, and government leaders.
Key Information of Goodrich Scholarship Program
Study Details
Country of Study
United States
Specific Schools
University of Nebraska Omaha
Scholarship Details
Intended Level of Study
Undergraduate
Vocational/Technical School
Goodrich Scholarship Program Timeline
October 2022
Application Opening Date
Applications open on October 1.
March 2023
Submission Deadline
The submission deadline is on March 1.
Scholarship Eligibility
To be eligible to apply, applicants must meet the following criteria.
Eligible Grade: High School Senior – Undergraduate
Maximum Age: Any
Required GPA: Any
Geographic Eligibility: United States
Gender: Any
Race/Ethnicity: Any
Application Requirements
Here's what you need to submits besides your application.
Present Work Experiences
Recommendation letters
Standardized Test Scores
Financial Information
How to ace the Goodrich Scholarship Program
1
Make a detailed presentation of work experience
One sure way to ace this application is to include a detailed presentation of your work experience. It should demonstrate your leadership skills, work ethic, and initiatives.
2
Include reference forms
You must submit two reference forms as part of the application process. These forms should only be filled in by your teachers, employers, or career counselors and none by family or friends. So choose wisely those who can speak to your abilities.
3
Show proof of need for financial aid
This is a need-based scholarship with priority going to those requiring financial aid. If you fall in this category, submit a duly filled FAFSA and follow the online instructions.
4
Submit official transcripts
The scholarship verification process requires your official high school (or GED) transcripts and college transcripts. Keep your grades up and maintain good standing as this scholarship is still merit-based.
How the Goodrich Scholarship Program is Judged
The Goodrich Scholarship is merit and need-based. Therefore, the scholarship committee focuses on your completed application, proof of enrollment to UNO, financial need, work experience, and official transcripts to reach its decision.
Why We Love the Goodrich Scholarship Program
No discrimination
The program is open to all students as long as they meet the scholarship requirements. It supports equality and has no discrimination against gender, race, ethnicity, religion, etc.
Open to any major
Believing in the importance of higher education, the program supports all high achieving students who are pursuing the major of their choice. It allows access to higher education and opens doors to many career opportunities.
Promotes diversity
The scholarship comes with a specialized two-year writing-intensive humanities and social science core curriculum that emphasizes cultural and intellectual diversity within UNO's local and global communities.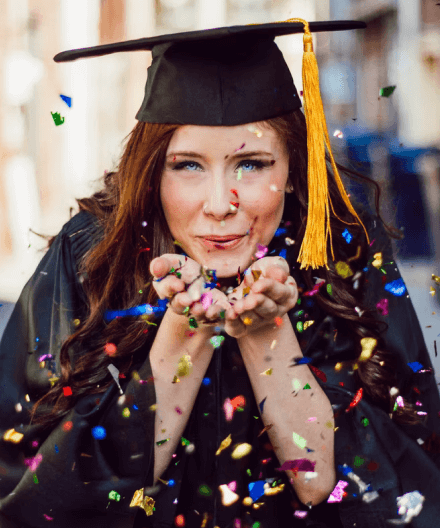 5 Facts About the Goodrich Scholarship Program
It's a long-standing scholarship program
The Goodrich Scholarship Program was launched in 1972 and has since successfully seen 1900 scholars through their academic stints at UNO.
The focus is on merit and financial need
The scholarship primarily targets bright, promising students from low-income households keen on pursuing higher education in natural sciences at UNO.
The scholarship has an exceptional track record
Scholarship recipients enjoy valuable connections and attention from the faculty and staff. Perhaps this explains why the program has successful graduation and retention rates.
Outstanding support specialists
As a scholarship recipient, you're assured of excellent academic and nonacademic support from student support specialists.
Scholars must meet UNO requirements
Applicants must meet UNO admission criteria and be admitted to UNO before acceptance to the Goodrich Scholarship Program.