For A Bright Future Global Scholarship Program
$2,500–$10,000
Award Amount
5/30/2023
Submission Deadline
Explore Similar Scholarships
Inspired by his childhood and family, Luis Hernandez Jr. founded the Foundation For A Bright Future, formerly called A Little Hope Foundation, to provide underprivileged minority children the tools and skills they need to fulfill their goals and become future leaders in their community. The foundation is a non-profit organization, funded directly through the photography exhibitions of Bad Angel Photography Studios and donations from corporate partners.
For A Bright Future is motivated by the belief that a child's aspirations should be limited only by their own imagination, effort, commitment, and desire. The foundation manages five different scholarships for students in the fields of art, education, STEM, and healthcare. Each scholarship is targeted toward a specific group of underrepresented students and each has different eligibility criteria.
The Global Scholarship was created to support young adults to take on the important issues affecting their communities. An applicant can receive only one scholarship in a year, at least $2,500, and up to $10,000 is awarded depending on financial need and university selection.
Key Information of For A Bright Future Global Scholarship Program
Study Details
Area of Study
Education
Engineering
Healthcare
Mathematics
Science
Technology
Country of Study
United States
Scholarship Details
Intended Level of Study
Undergraduate
Award Amount
$2,500–$10,000
For A Bright Future Global Scholarship Program Timeline
February 2023
Application Opening Date
Applications open on February 1.
May 2023
Submission Deadline
The submission deadline is on May 30.
June - July 2023
Applications Review
The scholarship committee will review all the complete applications received and select the top applicants.
August - September 2023
Awards Announcement Date
Winners are announced between August and September.
Scholarship Eligibility
To be eligible to apply, applicants must meet the following criteria.
Eligible Grade: High School Senior – Undergraduate
Maximum Age: Any
Required GPA: 3
Geographic Eligibility: United States
Gender: Any
Race/Ethnicity: Alaskan Native, Asian, Black, Hispanic, Native American
Application Requirements
Here's what you need to submits besides your application.
Financial Information
Grade transcript
Short Answers
How to ace the For A Bright Future Global Scholarship Program
1
Monitor social media accounts
Follow the foundation's social media accounts to get the latest updates on the scholarship review process. If you are selected for a scholarship, you can find out through the foundation's social media.
2
Fill out a FAFSA
Complete and submit a Free Application for Federal Student Aid to show your financial situation. Completing a FAFSA may also make you eligible for other scholarships.
3
Review your application before submitting
Go over your application before submitting it. Crosscheck your details, and make sure you fill out the correct information. Changes to transcripts and applications after the deadline will not be accepted.
4
Submit an official transcript
Get an official transcript from your school that shows your recent grades. Your transcript should have an authorized signature or bear the official school logo.
How the For A Bright Future Global Scholarship Program is Judged
The foundation seeks applications from minority students who display self-drive and high performance through outstanding achievements in their academic pursuits and activities within their communities and workplace.
Why We Love the For A Bright Future Global Scholarship Program
No restrictions on university choice
The scholarship can be used at any accredited university or college in the United States.
Recipients may receive external funding
Recipients of the scholarship are allowed to apply for additional financial support from other organizations.
No references required
Applicants do not need to submit recommendation letters from any references as part of their application.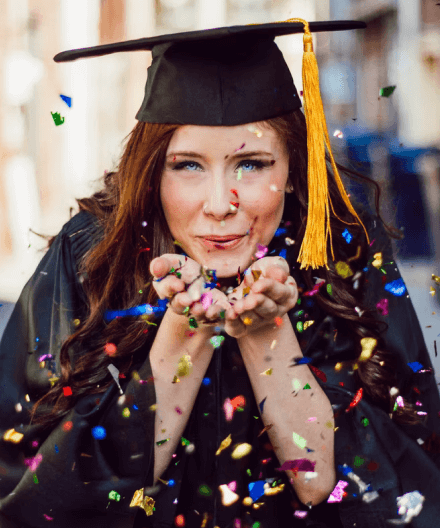 5 Facts About The For A Bright Future Global Scholarship Program
The foundation offers internships
The foundation also offers internship programs to college or university students looking to gain real-world experience while completing their education.
It's a renewable award
The award is renewable as long as requirements are met each year.
Media Lab education program
In association with local school districts, the foundation manages the Media Lab education program, an initiative to promote the combination of arts and STEM education for high school students.
Student ambassador program
The foundation welcomes student volunteers to serve as its ambassadors and gain leadership skills by working to bring awareness to the foundation's goals and scholarship programs.
Minority students are preferred
Preference is given to minority students who demonstrate financial need.