Faerie L. Angle Memorial Scholarship Fund
$20,000–$60,000
Award Amount
6/1/2023
Submission Deadline
Explore Similar Scholarships
College Major:
Location:
Grade Level:
The Faerie L. Angle Memorial Scholarship Fund is a program that awards financial backing to law students who are residents of Franklin County or have or have a material connection to the county. It was created as part of the last will of Faerie L. Angle, the widow of Roy S.F. Angle, attorney-at-law.
The scholarship continues thanks to the care of the Foundation for Enhancing Communities, an organization that inspires giving by partnering with donors to achieve their charitable goals. They're also known for combating the inequalities that communities of color face due to the effects of systemic racism.
Winners of this scholarship will receive funding ranging from $20,000 to $60,000. Students with financial needs are encouraged to apply for this scholarship. Applicants must apply with the intent to become a lawyer after graduation.
Key Information of Faerie L. Angle Memorial Scholarship Fund
Study Details
Country of Study
Franklin County
Scholarship Details
Award Amount
$20,000–$60,000
Faerie L. Angle Memorial Scholarship Fund Timeline
January 2023
Application Opening Date
Applications open on January 1.
June 2023
Submission Deadline
The submission deadline is on June 1.
Scholarship Eligibility
To be eligible to apply, applicants must meet the following criteria.
Eligible Grade: Graduate – Postgraduate
Maximum Age: Any
Required GPA: 3
Geographic Eligibility: Pennsylvania
Gender: Any
Race/Ethnicity: Any
Application Requirements
Here's what you need to submits besides your application.
Essay
Recommendation letters
Grade transcript
Financial Information
How to ace the Faerie L. Angle Memorial Scholarship Fund
1
Show relevance of your education
One of the requirements for this scholarship is a personal essay. Describe how your interest in the law aligns with your ideas, goals, interests, experiences, and plans. Include the problems you've noticed within your community and how a career in the field will help solve them.
2
Attach your student aid report
You need to prove that you require financial aid to qualify for this scholarship. For this, attach a FAFSA Student Aid Report (SAR) that includes an Estimated Family Contribution (EFC). You can as well add a letter that further lists the issues that put your family in a difficult financial situation. Such issues may include illness or loss of employment.
3
Do not submit reference letters from family
You are required to submit not more than three references from either the dean of your institution, a professor, or practicing lawyers whom you have interned, or worked with. Reference letters from family members will not be accepted in this program.
4
Mail an official grade transcript
For your application to be complete, you need to provide an official transcript directly from your institution. You can send it electronically as a certified PDF or through the post before the deadline.
How the Faerie L. Angle Memorial Scholarship Fund is Judged
Applicants must be residents of or have a material connection to Franklin County. They should also be enrolled in a three-year J.D. Program, and have a minimum GPA of 3.0. Winners of this scholarship will be those who demonstrate clear financial need, with the intent of becoming a lawyer after graduation.
Why We Love the Faerie L. Angle Memorial Scholarship Fund
The scholarship is invested in its mission
Since 2017, the Faerie L. Angle Memorial Scholarship Fund has awarded over $170,000 to support young students from Franklin County in their J.D. Program.
Funds are renewed automatically
The scholarship funds of this program will be dispersed throughout the winners' three years at law school. This will enable the students to achieve their dreams with less financial constraints.
The foundation continues the donor's legacy
The Foundation for Enhancing Communities celebrates Mrs. Faerie L. Angle's generosity and attempts to be good executors of her legacy.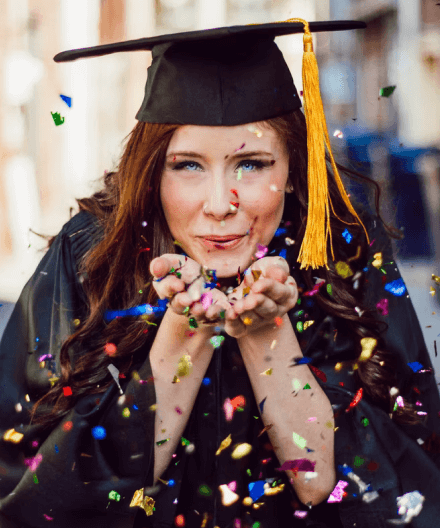 5 Facts about the Faerie L. Angle Memorial Scholarship Fund
Condition for renewal
To qualify for renewal you must maintain a minimum cumulative GPA of 3.0. Scholars of this program must submit a transcript and tuition bill each semester for the scholarship to be renewed.
There are two links on the website
While applying note that there are two links for the application. The first link is for your first entries. If you happen to log out of the page, you're to use the second link (below) to log back in.
Reference letters must be sent separately
The letters provided by your trusted referees must remain confidential and sent separately. The email address for the referees is provided on the foundation's website.
Winners must express gratitude to the organization
Selected scholars must submit a one–time thank you letter to The Foundation for Enhancing Communities upon first receiving the award to acknowledge the generosity of Mrs. Faerie Angle.
Enclosed media release form
Winners of the scholarship are mandated to sign an additional enclosed media release form so that The Foundation for Enhancing Communities can mention them in their press releases.