Evelyn Lenander Education Scholarship
$1,000–$4,500
Award Amount
3/1/2023
Submission Deadline
Explore Similar Scholarships
College Major:
Location:
Grade Level:
Since 1989, Evelyn Lenander, a long-time Buffalo Lake elementary teacher, established a scholarship fund to support students pursuing careers in elementary education. Since then, the Community Giving Foundation has administered scholarships to deserving students in her honor.
Scholarships, ranging from $1,000 to $4,500, are annually awarded to Minnesota undergraduate students who major in elementary education. To be eligible to apply, students must have graduated from a Minnesota high school and completed freshman and sophomore years at a Minnesota college or university program.
Applicants must have cumulative GPAs of at least 3.0 on a 4.0 scale. Additionally, their applications should demonstrate stellar academic and non-academic achievements, passion for the intended career, and financial need.
Key Information of Evelyn Lenander Education Scholarship
Study Details
Country of Study
United States
Scholarship Details
Intended Level of Study
Undergraduate
Award Amount
$1,000–$4,500
Evelyn Lenander Education Scholarship Timeline
December 2022
Application Opening Date
Applications open on December 1.
March 2023
Submission Deadline
The submission deadline is on March 1.
May 2023
Awards Announcement Date
Winners are announced in May.
Scholarship Eligibility
To be eligible to apply, applicants must meet the following criteria.
Eligible Grade: College Junior – College Senior
Maximum Age: Any
Required GPA: 3
Geographic Eligibility: Minnesota
Gender: Any
Race/Ethnicity: Any
Application Requirements
Here's what you need to submits besides your application.
Grade transcript
Essay
Short Answers
Recommendation letters
Financial Information
How to ace the Evelyn Lenander Education Scholarship
1
Don't procrastinate
You have quite a number of documents to gather for this application, so make sure you start the process as early as possible. After you've made the right choice of your (two) recommenders, reach out to them and be on top of communications with them, so they deliver on time.
2
Follow the instructions
Strictly adhere to their instructions on the formats of the documents to be submitted for the application. Failure to do so may result in instant disqualification.
3
Get involved in your community
Be an active member of your community or school, by partaking in community service or extracurricular activities. You should also get relevant work experience — it doesn't have to be paid.
4
Tell your authentic story
Your essay should be written in a way that is very personal to you. This is the main part of the application where the selection committee gets to connect with you as a person, so tell a compelling and sincere story.
How the Evelyn Lenander Education Scholarship is Judged
The selection committee will judge applications based on demonstrated financial need, academic excellence, character, and commitment to their community.
Why We Love the Evelyn Lenander Education Scholarship
Preference is given to permanent Minnesota residents
The scholarship committee will show preference in consideration of permanent residents of the state who live within 25 miles of Buffalo Lake. However, other students from central Minnesota are also eligible to apply.
Recipients join an expansive network of scholars
Scholarship recipients get to become part of a very large network of previous and present scholars. This gives them the opportunity to forge potentially powerful connections career-wise.
Evelyn Lenander's story offers great inspiration
The eponym of this scholarship had a 39-year career as an elementary teacher, where she was much loved and respected by her students. She once said, "I didn't have children of my own, I had community children," about her students.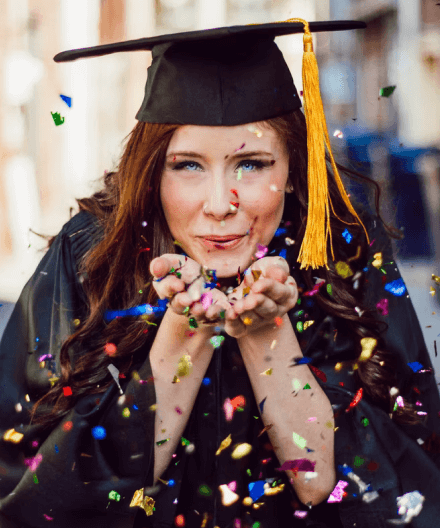 5 Facts About Evelyn Lenander Education Scholarship
It is non-renewable
It is a one-time award that can't be renewed or reapplied.
Funds are disbursed to the college
The scholarship fund is sent directly to the recipients' institutions.
Full-time enrollment is required
Applicants submit proof of full-time enrolment of a minimum of 12 to 16 credits.
The fund was originally established with $400,000
Evelyn Lenander established the Evelyn Lenander Education Fund with a gift of $400,000.
The foundation has over 2,000 donors
The Community Giving Foundation is a collective of smaller Minnesota foundations with a network of 2,292 donors.