Davis-Chambers Scholarship
$2,000–$4,000
Award Amount
2/1/2023
Submission Deadline
Explore Similar Scholarships
Location:
The Davis-Chambers Scholarship was formed as an effort between Dick CE Davis, his wife Sharon Davis, and the then unicameral senator of Nebraska, Eric Chambers. The purpose of the scholarship was to make higher education more accessible to students from minority groups with financial need. The scholarship is available to students set to join the University of Nebraska.
The annual scholarship awards an average of $2,000 and up to $4,000 to students. Applicants must be residents of Nebraska and must have graduated from a Nebraska high school. The award amount is spread between two semesters of the academic year.
Applicants are required to file a FAFSA. ACT/SAT scores together with high school transcripts should be submitted. Two essays are also required and should be a maximum of one page each.
Key Information of Davis-Chambers Scholarship
Study Details
Country of Study
United States
Specific Schools
University of Nebraska
Scholarship Details
Intended Level of Study
Any
Award Amount
$2,000–$4,000
Davis-Chambers Scholarship Timeline
January 2023
Application Opening Date
Applications open on January 1.
February 2023
Submission Deadline
The submission deadline is on February 1.
August 2023
UNMC Deadline
Students applying to UNMC must submit their application by August 1.
Scholarship Eligibility
To be eligible to apply, applicants must meet the following criteria.
Eligible Grade: All
Maximum Age: Any
Required GPA: Any
Geographic Eligibility: Nebraska
Gender: Any
Race/Ethnicity: Any
Application Requirements
Here's what you need to submits besides your application.
How to ace the Davis-Chambers Scholarship
1
Take your SAT/ACT early
If applying to UNO, UNL, or UNK, ensure that you sit for your test on or before December. Ensure that you indicate that the university you're applying to should automatically receive your test results. Be sure to prepare adequately for the test. The ACT/SAT isn't a requirement for UNMC.
2
File your FAFSA
The FAFSA is an application that enables you to get financial aid. Find tutorials and other helpful resources on how to file it on studentaid.gov/resources. The FAFSA application opens in October, so you can file it as you await your SAT/ACT. This will be a requirement for any other scholarships you'll be making, so consider it killing multiple birds with one stone.
3
Plan out your essays
You'll have two essays to submit. The key to nailing them is spending some time planning what will go into each of them. Study the essay questions closely and jot down all the ideas you find relevant to each. Create an essay outline to determine the structure of each essay. Plan your anecdotes at this stage too.
4
Craft winning essays
With your drafts as your guide, proceed to write out your essays. On subsequent revisions, check for grammatical and spelling errors, coherence issues, ambiguity, and general length of your essays. Consider revising each essay at least three times. When you're confident in your work, have a friend or two review it and offer feedback on what could be improved.
How the Davis-Chambers Scholarship is Judged
Applicants are judged based on their academic abilities, leadership skills, and engagement in community and other extracurricular activities.
Why We Love the Davis-Chambers Scholarship
It can offer full scholarships
Based on the student's financial need, the scholarship can cover the full cost of school attendance.
It is renewable
Scholarship recipients can renew the scholarship if they meet the required academic and other requirements.
All fields of study are supported
Students pursuing any field of study can apply for the scholarship.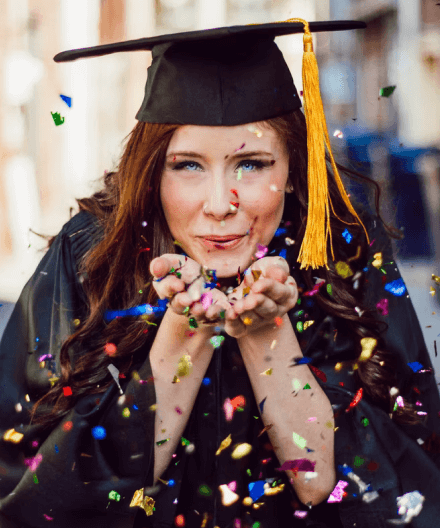 5 Facts About Davis-Chambers Scholarship
Some steps to consider
Applicants must have completed an application form for Chadron, Peru, or Wayne State College at the University of Nebraska before applying.
Previous recipients are prioritized
Preference is given to previous winners of this scholarship for renewable each year.
Recommendation letters requirement
Applicants are to provide two recommendation letters, one of which must be from an official or community college professor.
Davis-Chambers Scholarship impact
The scholarship has awarded over $ 3 million to more than 430 students in Nebraska.
About Dick Davis
He was the recipient of the Greater Omaha Chamber of Commerce Business Person of the Year Award in 2000.