Create-A-Greeting-Card Scholarship Contest
3/2/2023
Submission Deadline
Explore Similar Scholarships
Location:
Grade Level:
The Gallery Collection, founded in 1929, is one of the leading B2B greeting cards publishers in the United States. It accepts orders of various Christmas, Holiday, and Everyday greeting cards online and via email.
Every year, its parent company, Prudent Publishing, organizes a Create-A-Greeting Card Scholarship Contest, in which students from across the U.S. take part. The participant with the most beautiful card is awarded a $10,000 grant. The Gallery Collection will hold exclusive rights to the winning entry.
At the time of participation, the applicant must be at least 14 years of age and enrolled in an academic program. Home-schooled children attached to an accredited institution are also eligible to apply.
Key Information of Create-A-Greeting-Card Scholarship Contest
Study Details
Country of Study
United States
Create-A-Greeting-Card Scholarship Contest Timeline
June 7, 2022
Application Opening Date
Applications usually open in early June.
March 2, 2023
Submission Deadline
The deadline for applications is around the beginning of March.
April 16, 2023
Voting Ends
Voting, which started in late June, is closed.
May 15, 2023
Winner Announced
The winner of the scholarship will be announced on the Prudent Publishing Company's website on May 15 after voting has concluded. Notifications will go out earlier in April.
Scholarship Eligibility
To be eligible to apply, applicants must meet the following criteria.
Eligible Grade: High School Freshman – Undergraduate
Minimum Age: 14
Required GPA: Any
Geographic Eligibility: United States
Gender: Any
Race/Ethnicity: Any
Application Requirements
Here's what you need to submits besides your application.
How to ace the Create-A-Greeting-Card Scholarship Contest
1
Review catalog designs on the gallery's website
Before designing your greeting card, look at the card collection held by the publisher on its website. This would allow you to better gauge the requirements of the publisher.
2
Creativity is key
The more creative you are with your greeting card, the greater the chances of selection. Come up with something new and extraordinary. Ask yourself: would people prefer to buy your product?
3
Analyze and follow industry standards
Design your greeting card according to the purpose. For example, if it's a Christmas card, your color selection should match that. The card should be appropriate for use by all genders and age groups.
4
A card for popular use
Conduct thorough research on what type of cards are most desirable for customers. This would ensure greater sales. For instance, The Gallery Collection claims Christmas cards are its bestseller. Working on a similar theme may be your best bet.
How the Create-A-Greeting-Card Scholarship Contest is Judged
The experts at The Gallery Collection assess entries based on their creativity, aesthetic appeal, and appropriateness for the company's customer base. High-quality standards and intelligent incorporation of design elements are much-desired attributes.
Why We Love the Create-A-Greeting-Card Scholarship Contest
No purchase necessary to participate
The Gallery Collection does not require entrants to purchase a product as a prerequisite to apply for the scholarship. You can create and submit a greeting card even if you're not a regular customer of the company.
Both cash scholarship and prize offered
The winning applicant will receive both a cash scholarship worth $10,000 and a $1,000 prize for the school. The grant can be used for paying the costs associated with the academic program.
Entries undergo a competitive voting process
Every month, judges post the top 100 designs on the company's social media pages, particularly Facebook for voting. The top ten designs will move to the finalist round.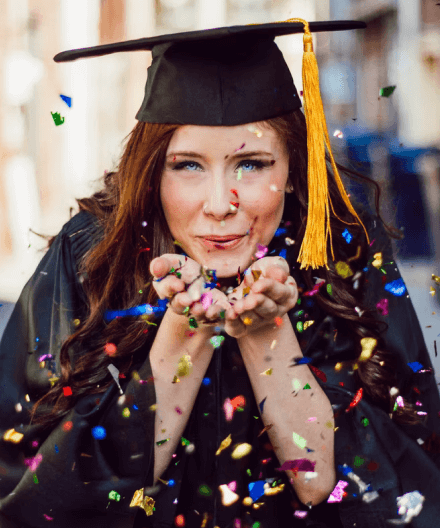 5 Facts About Create-A-Greeting Card Scholarship Contest
Entries are submitted digitally
All entries are submitted to The Gallery Collection in the form of a photograph in JPEG format or artwork.
Wording is not necessary
The sponsor does not have any clear restrictions on the usage of wording on artwork. It is up to the entrant to incorporate it into the design if it seems suitable.
Dimensions standards are in place
The Gallery Collection requires all entries to follow 5 1/2" x 7 7/8" dimensions and the orientation may be horizontal or vertical.
Use of decorative materials disallowed by sponsor
The card should not be decorated with any external decorative materials including wires, fabric, and rubber stamps.
Open to U.S. citizens and student visa holders
The scholarship is currently available to permanent citizens of the U.S. as well as international students enrolled in a degree program at a U.S. university holding a valid student visa.