CardRates.com Financial Futures Scholarship
7/31/2023
Submission Deadline
Explore Similar Scholarships
College Major:
Location:
Grade Level:
The Financial Futures Scholarship is provided by CardRates.com, an organization founded with the sole purpose of better educating customers about the advantages and risks of credit cards. Any student may apply for the scholarship as long as they are a college student, either now or in the future (e.g., high school senior)
The CardRates.com Financial Futures Scholarship awards one $1,000 scholarship each year to deserving present and future college students. The scholarship grant is paid directly to the university or college and covers the cost of the student's tuition.
Students majoring in business, accounting, finance, mathematics, management, and other fields as well as those pursuing careers in the personal finance sector are eligible for the scholarship, which is given to both current and prospective college students.
Key Information of CardRates.com Financial Futures Scholarship
Study Details
Country of Study
United States
Scholarship Details
Intended Level of Study
Undergraduate
CardRates.com Financial Futures Scholarship Timeline
March 2023
Application Opening Date
Applications open on March 1.
July 2023
Submission Deadline
The submission deadline is on July 31.
August 2023
Awards Announcement Date
Winners are announced on August 31.
Scholarship Eligibility
To be eligible to apply, applicants must meet the following criteria.
Eligible Grade: High School Senior – College Senior
Maximum Age: Any
Required GPA: 3.5
Geographic Eligibility: United States
Gender: Any
Race/Ethnicity: Any
Application Requirements
Here's what you need to submits besides your application.
How to ace the CardRates.com Financial Futures Scholarship
1
Write in your own words
This is significant since the foundation explicitly mentions that any instances of plagiarism or falsification will prevent you from receiving your award. It is in your best interest to write your essay in your own words.
2
Examine, rewrite, and proofread your essay
Check your essay for errors, such as typos, spelling mistakes, and grammatical errors, just like you would with any other piece of writing. Make sure to have a reliable family member, mentor, classmate, or friend examine your application before you submit it.
3
Make use of available research tools
It is best to conduct research and use the library, journals, and other information sources in order to create a piece of exceptional quality. Also, take note that any resources should be carefully noted and cited appropriately using the MLA format.
4
Examine the subject at hand
Keeping in mind that an essay is a piece of writing that expresses both your knowledge and perspective. It is critical to first address and analyze the question. Make sure you understand what is being requested of you and from that define your case. While still making sure your essay isn't too brief or badly written.
How the CardRates.com Financial Futures Scholarship is Judged
Applicants are judged on their excellent academic performance and the quality of their submitted essays.
Why We Love the CardRates.com Financial Futures Scholarship
Participating gives you a leg up
It is a great honor to apply for a scholarship since it demonstrates your hard work and commitment to your future and education. If you succeed, it will demonstrate that you are a bright student who will make a substantial contribution to the university. You may put this achievement on your resume, and employers will take notice.
The scholarship is open to all schools
You may still submit an application regardless of where you attend school as long as you are a resident of the United States and are enrolled in one of the listed majors.
No discrimination
The program is open to all U.S. citizens as long as they meet the scholarship requirements. It supports equality and has no discrimination against gender, race, ethnicity, religion, etc.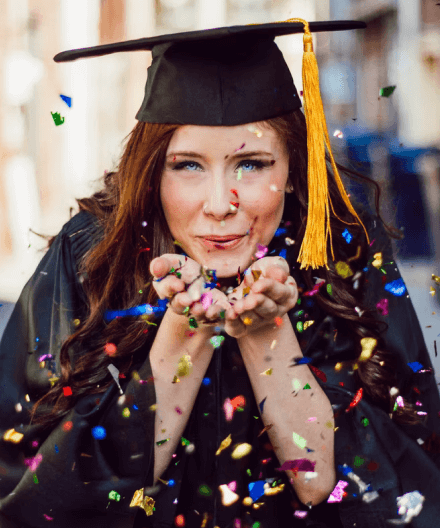 5 Facts about CardRates.com
John Ulzheimer has over 30 years of experience
He's an expert on credit reporting, credit scoring, and identity theft, and has been featured many times in media outlets including the "Wall Street Journal", NBC Nightly News, "New York Times", CNBC, and countless others
Andrea Woroch is a nationally recognized expert
She is a well-known consumer finance expert, author, and TV personality who has assisted millions of Americans in starting genuine financial change so they may experience less stress and spend more time engaging in their favorite activities.
Eric Bank's been in the industry since 1985
She has been covering business and financial topics, specializing in taking complex subject matters and explaining them in simple terms for consumer audiences.
The awarding body serves 15 million+ users
This serves to advance their aim of enlightening and educating their visitors about the world of credit cards in order to promote better credit decisions and a more promising financial future for everybody.
The organization has over 50 finance experts
The foundation rallied the nation's leading credit and finance experts to help share the most valuable, current, and unbiased financial advice on the internet.