Angela Award
12/15/2022
Submission Deadline
Explore Similar Scholarships
Location:
Grade Level:
The Angela Award by NSTA brings an opportunity for female students interested in science to receive $1,000. The program is for students in grades 8-10, who have to show excellence and passion for science to get selected. The award is offered annually with application deadlines in December.
The National Science Teaching Association is a community of teachers and professionals facilitating scientific learning in the United States. The organization offers scholarships, learning resources, and teachers training along with other initiatives. The Angela Award is offered in honor of Gerry Wheeler for his commitment to scientific education.
Interested students have to submit a nomination letter, two supporting letters, an essay, and two pages of support material. The students are judged only on their aptitude and interest in science. There are no restrictions or requirements related to the need for financial assistance or the backgrounds of the applicants.
Key Information of Angela Award
Scholarship Details
Intended Level of Study
Any
Angela Award Timeline
October 2022
Application Opening Date
The applications open every year around October.
December 15, 2022
Submission Deadline
The submission deadlines are around mid-December. Check the website for an exact date.
March 2023
Award Announcement
The award will be announced the following March.
Scholarship Eligibility
To be eligible to apply, applicants must meet the following criteria.
Eligible Grade: Middle School – 8th Grade
Maximum Age: Any
Required GPA: Any
Geographic Eligibility: United States, Canada
Gender: Women
Race/Ethnicity:
Application Requirements
Here's what you need to submits besides your application.
Portfolio
Essay
Recommendation letters
How to ace the Angela Award
1
Carefully compile the supporting documents
The supporting documents can include certifications, news clippings, and everything that shows your achievements and involvement in the science field. Choose the most impactful ones to submit.
2
Start working on your application early
Start working on the essay right away. This will give you time for improvements before submission.
3
Don't wait for the deadline
Applying early can bring your application to greater prominence and help in the selection.
4
Use feedback to improve your essay
Ask for feedback from teachers and other students related to science. Use their suggestions to improve your essay.
How the Angela Award is Judged
The contest is open to female students, who are Canadian and U.S. residents enrolled in grades 5—8 in a private or public school, or who are homeschooled. The students are judged only on their excellence and interest in the field of science, based on their essays, letters of recommendation, and supporting documents.
Why We Love the Angela Award
It recognizes, and rewards, talent early
This award will motivate students to pursue excellence in the field of science early in their academic careers.
Appreciation and recognition for winners
The winning student will be honored at NSTA's National Conference, which will include some of the top professionals in the country.
Familiarizes students with Gerry Wheeler's work
A lot of students won't be aware of the contributions made by Gerry Wheeler. This award will publicize his name and work.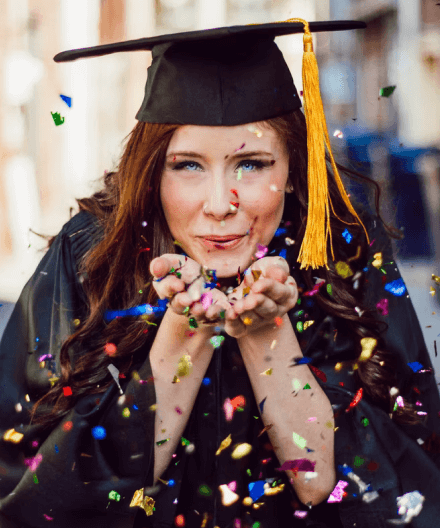 5 Facts about the NSTA
The NSTA was formed in 1944
The National Science Teaching Association was founded in 1944 in Arlington, Virginia.
A community of science teachers and professionals
The NSTA has more than 40,000 members, including professionals and teachers in the field of science.
They work to empower teachers and students
The NSTA offers learning resources and also holds conferences and events to help improve science education.
Multiple awards and scholarships are offered
The association offers multiple support programs annually for teachers and students in different categories.
NSTA programs are sponsored by prestigious entities
Sponsors include the U.S. Army Educational Outreach Program, Yager Family Trust, Carolina Biological Supply Company, Corteva Agriscience, Gerry Wheeler, Northrop Grumman Foundation, Shell, Paul Shugrue Trust, and Vernier Software & Technology.