American Legion Oratorical Contest
1/2/2023
Submission Deadline
Explore Similar Scholarships
Location:
Grade Level:
The American Legion Oratorical Contest was originally formed in St. Louis to promote a greater understanding of the responsibilities of being an American citizen. Since its inception, the contest has presented participants with an academic speaking challenge that teaches important leadership qualities, the history of U.S. laws, the ability to think and speak clearly, and an understanding of the duties, responsibilities, rights, and privileges of American citizenship. Participants are given a topic and allowed to speak for 8 to 10 minutes on it and how it relates to being a responsible U.S. citizen.
The program has featured numerous politicians and prominent contestants over the years, including former presidential candidate Alan Keyes, former Vice President Mike Pence, and television host Lou Dobbs.
The competition begins at a regional level, moves to state level, and ends at national level. Three finalists compete in the national championship. The first-place winner is awarded a $25,000 scholarship; second place $22,500, and third place receives $20,000. Every state winner who participates in the national competition receives a $2,000 scholarship.
Key Information of American Legion Oratorical Contest
Study Details
Country of Study
United States
Scholarship Details
Intended Level of Study
Undergraduate
Award Amount
$500–$25,000
American Legion Oratorical Contest Timeline
November 1, 2022
Application Open Dates
Applications for submission open around November each year but check your state's American Legion chapter website for more accurate information.
January 2, 2023
Submission Deadline
The deadline for submissions is around early January each year, but check your state's American Legion chapter website for more accurate information.
March 12, 2023
State Winners Certified
Winners of the state contest need to be certified by this date. This means that state contests will occur between mid-January and February.
April 22, 2023
National Contest
State winners compete at the national contest from April 22 to April 24 in Indianapolis.
April 24, 2023
National Final
The top three national finalists then compete in the championship on April 24 for first, second, and third place.
Scholarship Eligibility
To be eligible to apply, applicants must meet the following criteria.
Eligible Grade: High School Freshman – High School Graduate
Maximum Age: 20
Required GPA: Any
Geographic Eligibility: United States
Gender: Any
Race/Ethnicity: Any
Application Requirements
Here's what you need to submits besides your application.
How to ace the American Legion Oratorical Contest
1
Be prepared for your topic
The Legion provides the topic beforehand, so this gives you the opportunity to become extremely familiar with your topic and really practice your speaking skills. Focus on the judging criteria that they provide and work on each part individually until you round out your entire repertoire. Practice, practice, and practice your speech some more and you'll nail the delivery.
2
Pick your passion
Choose the topic that you are most passionate about. Since you only get one shot you want to pick whichever topic you have the most passion for and strikes a chord with you, this enthusiasm will come across in your speech. If you don't have a strong passion for any of the topics, focus on what you think the judges will be enthusiastic about. Knowing how to play to your audience will go a long way in making sure your message reaches them as effectively as possible.
3
Don't get tunnel vision - speak about the entire constitution
One of the key features about the speaking pieces that won the contest was that they focused on the entire constitution and not just a single part of it. To quote Max Miller, a National Winner, he says that he "noticed that the people who made it to the final round focused on the Constitution as a whole, the Constitution as an idea … when you focus on the big picture, you can reach your audience better. Keep in mind the American Legion's goal—they want to promote respect for the Constitution."
4
Time your speech
The rules are very clear, everyone's speech must be no shorter than 8 minutes and no longer than 10 minutes in duration. You don't want to be penalized for running over, or under, time so when you're practicing time yourself too. Try and hit a sweet spot where you're saying everything you need to without rushing through.
How the American Legion Oratorical Contest is Judged
The content of each contestant's speech is what they are largely judged on. Judges are looking at originality, knowledge of the topic, how the speech was organized, and if it was logical. Around 30% of the judging is focused on speaking skills, which covers volume, pitch, rate, language usage, as well as body language (eye contact and appropriate facial expressions).
Why We Love the American Legion Oratorical Contest
You can win multiple times
The contest gives away a minimum of $500 to participants who earn their way to the national contest, and an additional amount to those who make it to the subsequent rounds. You can also participate every year until you finish high school, giving you the opportunity to participate multiple times and build up your scholarship winnings.
You can repurpose your school work
The topics covered in the competition are most likely topics that you already know and have already written a paper about. On top of that, you have a ton of time to prepare your short speech, so you can come into the national contest more than ready.
You can go on an awesome trip
If you make it to the national competition, you get all expenses covered for your trip to Indianapolis. This covers all airfare and hotel costs and you have an awesome opportunity to travel with your parents and meet new peers.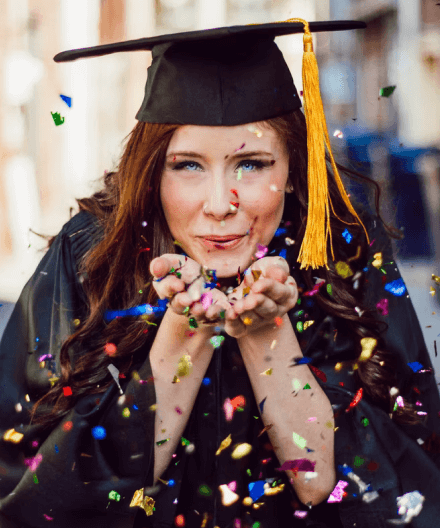 5 Facts About The American Legion
The American Legion wasn't formed in America
The legion was formed in Paris in 1919 by a few officers from the American Expeditionary Forces.
The American Legion pulled strings in Congress
The Legion played a leading role in the drafting of the GI Bill of 1944.
The Legion has illustrious alumni
Members include Dwight Eisenhower, John F. Kennedy, and Ronald Reagan.
Membership exploded in the 1990s
The boomers expanded the membership to 3.1 million in 1992.
The Legion was initially isolationist
The Legion's early stances were that a large standing army is "uneconomic and un-American".