Alberta C. Kaufman Scholarship
5/10/2023
Submission Deadline
Explore Similar Scholarships
Grade Level:
Attorney Marshall Kaufman of Kentucky's Kaufman & Stigger, PLLC established the Alberta C. Kaufman Scholarship in honor of his late mother, who was not financially able to continue her education after graduating high school but had to work and learn new skills to support herself.
Every year, the law firm offers two available scholarships valued at $1,000 per recipient to high school seniors and undergraduate students undertaking undergraduate study in any field at an accredited institution in the United States.
The organization recognizes the importance of education and endeavors to give to students working towards higher education as a tribute to Marshall's late mother, who encouraged him to further his education and eventually attend law school. It is in that spirit of support that scholarship is sponsored.
Key Information of Alberta C. Kaufman Scholarship
Study Details
Country of Study
United States
Scholarship Details
Intended Level of Study
Undergraduate
Alberta C. Kaufman Scholarship Timeline
March 2023
Application Opening Date
Applications open on March 10.
May 2023
Submission Deadline
The submission deadline is on May 10.
May 2023
Award Announcement Date
Winners are announced on May 23.
Scholarship Eligibility
To be eligible to apply, applicants must meet the following criteria.
Eligible Grade: High School Junior – Undergraduate
Age: 14 – 18
Required GPA: 3
Geographic Eligibility: Indiana, Kentucky
Gender: Any
Race/Ethnicity: Any
Application Requirements
Here's what you need to submits besides your application.
How to ace the Alberta C. Kaufman Scholarship
1
Maintain an outstanding academic record
You need to demonstrate outstanding intellect and top-notch academic excellence in your application. Achieving and maintaining a minimum cumulative weighted grade point average of 3.0 or higher out of a 4.0 scale should suffice if you intend to be considered.
2
Highlight yourself in a compelling introduction
In the application form, ensure to demonstrate who you are effectively in a maximum of 1200 characters by mentioning something unique in a summary about your background and skills that makes you stand out. In addition, structure your response following the "Past-Present-Future" formula whilst highlighting significant achievements.
3
Create a stand-out essay
In an essay of a maximum of 3,000 characters, share an honest, personal, and vital experience from your life that best describes someone who has had a positive influence in your life thus far; and how such an influence will have a positive impact on your future, by expressing your personal experiences with specific examples in a storytelling fashion.
4
Have your application proofread before submission
The scholarship is competitive, so you must ensure that your application doesn't get rejected because of careless typos, spelling, or grammatical mistakes. Take the time to proofread, preferably using Grammarly to review your application before submission.
How the Alberta C. Kaufman Scholarship is Judged
Eligible applicants are assessed based on their introduction quality, academic transcript indicating at least 3.0 out of 4.0-grade point average, and solid personalized essay statement, which is passionately read in minute detail by Marshall Kaufman and Cara Stigger who then proceed to make the final decision.
Why We Love the Alberta C. Kaufman Scholarship
Straightforward application process
To apply, fill out all required sections of the 2022 scholarship application form on the official scholarship website and submit it electronically.
Exposure to positive publicity
The scholarship award recipients are liable to be exposed to favorable publicity. So don't be surprised to see parts of your essay and photo used for marketing purposes and shared on the official website.
Ease of receiving disbursed prize
The scholarship award amount is written in the recipient's name and subsequently paid directly to the recipient's chosen college or university admissions office.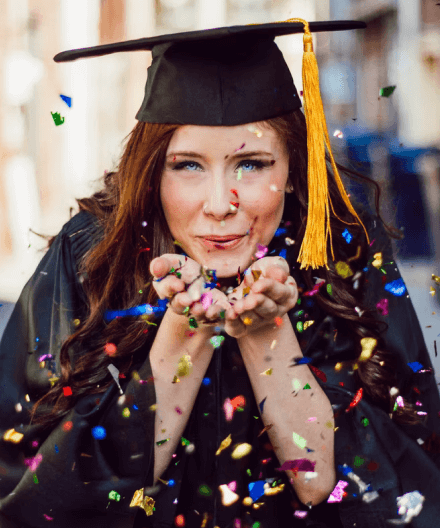 5 Facts About Alberta C. Kaufman Scholarship
Restricted to United States applicants only
To be eligible, you must be a U.S. Citizen, U.S. national, or a permanent resident in the United States, residing in Kentucky or Indiana.
Education classification level
You must be a graduating high school senior who plans to pursue a post-secondary degree after high school graduation or a currently enrolled student undertaking an undergraduate program at a two- or four-year college or university.
Applicable to any career fields
The scholarship applies to candidates pursuing a higher education degree in any career field, and it is not limited to only law students.
Preferential format of Kaufman & Stigger Scholarships
Candidates, who identify as honorably discharged veterans, including their children and spouse, and want to further their education, can apply in a specially dedicated James A Wells veteran scholarship program.
No proof of financial need required
Be assured that you are not required to show financial need proof, purchase or pay any application fee to commence, complete and win the scholarship.