AISES Aristocrat-VGT Scholarship
$2,500–$5,000
Award Amount
5/31/2023
Submission Deadline
Explore Similar Scholarships
The American Indian Science and Engineering Society (AISES) has partnered with the leading designer, manufacturer, and distributor of Class III games and Class II innovations for Native American casinos and emerging markets, Aristocrat Technologies Inc., to offer a scholarship program to students in a field related to casino gaming. AISES has awarded nearly $12 million in academic scholarships since its foundation in 1977. The AISES Aristocrat Scholarship is awarded to AISES members to widen and support the STEM workforce.
Eligible full-time undergraduate and graduate students are awarded $2,500 and $5,000 respectively for their academic year. High school seniors headed to higher education may also apply. Only students of proven tribal citizenship or indigenous natives of the United States, Hawaii, or the Pacific Islands are eligible for an award.
All applicants must be AISES members with a valid AISES membership number at the time of application. Eligible applicants will be scored and ranked based on several factors, including their potential to contribute to their communities. Applicants must have a GPA of 3.0 or higher.
Key Information of AISES Aristocrat-VGT Scholarship
Study Details
Area of Study
Computer Engineering
Computer Science
Electrical Engineering
Finance
Human Resources
Software Development
Supply Chain
Country of Study
United States
Scholarship Details
Intended Level of Study
Undergraduate
Postgraduate
Award Amount
$2,500–$5,000
AISES Aristocrat-VGT Scholarship Timeline
January 2023
Application Opening Date
Applications open on January 31.
May 2023
Submission Deadline
The submission deadline is on May 31.
June - July 2023
Application Review Period
Applications are reviewed from June 1 till July 31.
August 2023
Awards Announcement Date
Winners are announced in August.

Scholarship Acceptance Deadline]]
Recipients accept the award by August 31.
September - November 2023
Payment for Fall 2022 Semester Scholarship
Payment for the fall semester is disbursed between September 15 and November 30.
January 2024
Submission Deadline for Spring 2023 Semester Forms
Recipients submit a Spring 2023 course schedule showing credit hours, and an update directly by January 31.
February - March 2023
Payment for Spring 2023 Semester Scholarship
Payment for the spring semester is disbursed between February 1 and March 31.
Scholarship Eligibility
To be eligible to apply, applicants must meet the following criteria.
Eligible Grade: High School Senior – Postgraduate
Maximum Age: Any
Required GPA: 3
Geographic Eligibility: United States
Gender: Any
Race/Ethnicity: Alaskan Native, Native American, Native Hawaiian, Pacific Islander
Application Requirements
Here's what you need to submits besides your application.
Essay
Recommendation letters
Grade transcript
Present Work Experiences
How to ace the AISES Aristocrat-VGT Scholarship
1
Show proof of tribal citizenship or indigenous native verification
The AISES Aristocrat Scholarship is reserved for students of tribal citizenship. You must provide enrollment documents and/or a copy of birth certificates showing heritage from an enrolled citizen, indigenous group of Canada, Native Hawaiian, or Pacific Islander. You may alternatively provide a copy of their Certificate of Degree of Indian Blood (CDIB) or Certificate of Degree of Alaska Native Blood card.
2
Reach out to a recommender before application
You are required to have a letter of recommendation submitted by your recommender as part of your application. Reaching out to a recommender before the application will give the recommender sufficient time to complete, and submit your recommendation before the deadline. This will also provide you with time to get acquainted with your recommender and they can write a better recommendation that will increase your chances of selection.
3
Demonstrate community engagement
You will be assessed on your participation in extracurricular and culturally related activities. In your application, make sure to describe how you have engaged with your community by volunteering, participating in sports and athletics, or occupational CSR activities. Highlight how these activities have brought out your character and the impact you hope to have in your community if awarded a scholarship.
4
Display good writing skills
You will be required to submit 3 essays of up to 500 words each, which are crucial to the review process. In your essays, be sure to demonstrate a command of the English language by using descriptive words as you discuss your background, interests, and motivations. Ensure that you remain within the word limit and look out for spelling and grammar errors. It is advisable to have your recommender review your essays before submission.
How the AISES Aristocrat-VGT Scholarship is Judged
Applications are assessed based on their extracurricular activities, their academic performance, and achievements, the quality of their personal essay, the strength of recommendation letters, and their potential to make a meaningful contribution to their community.
Why We Love the AISES Aristocrat-VGT Scholarship
Free membership for pre-college and college students
Applicants can join the 5,900-member-strong AISES community and benefit from internships, professional development, and career resources without having to pay a dime.
Applicants are challenged to contribute to their communities
Both successful and unsuccessful applicants are challenged to think about contributing to their communities. Throughout the application process, applicants are prompted to think of the impact they hope to have in their community through their interests, education, and profession.
Students build mentorship relationships
The requirement to have a recommendation letter is an opportunity for students to acquire a mentor. Since a strong recommendation letter is only possible where the student and recommender know each other, the AISES Scholarship application process is an opportunity for students to find a mentor and build a lasting relationship that will guide the student in their career and other areas of life.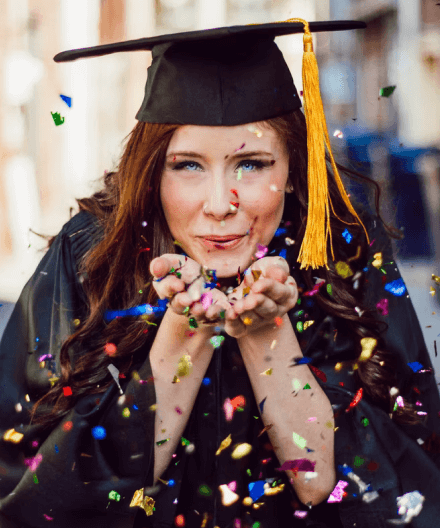 5 Facts About AISES Aristocrat-VGT Scholarship
AISES the first minority group to join AAES
In 1980, AISES became a member of the American Association of Engineering Societies (AAES) — an umbrella for recognized engineering organizations.
The first Native American to travel to space
In 2002, AISES Board Member, John Herrington became the first tribally enrolled American Indian to travel in space.
Hosts an annual fair for 5th—12th graders
The National American Indian Science and Engineering Fair (NAISEF) is an in-person and virtual fair accepting projects from 5th to 12th-grade students.
Sponsors middle and high school students
The Energy Challenge is a program run by AISES that funds up to $2,000 to project proposals for energy solutions.
Hosted its largest AISES Conference virtually
After successfully navigating the challenges and uncertainty posed by COVID, AISES hosted more than 2,500 participants in the three-day event — the highest number of attendees ever recorded at any AISES conference.