Advocates for African Americans Carolinas Scholarship
3/4/2023
Submission Deadline
Explore Similar Scholarships
The Foundation for the Carolinas (FFTC) is a community foundation and civic leader that acts as a catalyst for philanthropy in North and South Carolina. The FFTC comes up with innovative ways to encourage both individuals and corporations to engage in philanthropy. They administer the Advocates for African Americans Carolinas Scholarship that's sponsored by Duke Energy – employees from Charlotte.
The scholarship awards $2,000 to undergraduate students annually. The fields of study supported are engineering, finance, computer science, sciences, accounting, and business administration. The scholarship is open to graduating high school seniors who will enroll in universities in North or South Carolina. Students must be part of a racial or ethnic group that is considered people of color.
Applicants are to have a minimum GPA of 3.5. Applicants will be required to submit their grade transcripts, an essay, recommendation letters, and a FAFSA Student Aid Report (SAR). Finalists will be invited for interviews.
Key Information of Advocates for African Americans Carolinas Scholarship
Study Details
Area of Study
Accounting
Business Administration
Computer Science
Engineering
Finance
Country of Study
United States
Scholarship Details
Intended Level of Study
Undergraduate
Advocates for African Americans Carolinas Scholarship Timeline
December 2022
Application Opening Date
Applications open on December 3.
March 2023
Submission Deadline
The submission deadline is on March 4.
April 2023
Awards Announcement Date
The winner is announced in April.
Scholarship Eligibility
To be eligible to apply, applicants must meet the following criteria.
Eligible Grade: High School Senior
Maximum Age: Any
Required GPA: 3.5
Geographic Eligibility: North Carolina, South Carolina
Gender: Any
Race/Ethnicity: Alaskan Native, Asian American, Black, Hispanic, Native American, Native Hawaiian, Pacific Islander
Application Requirements
Here's what you need to submits besides your application.
Grade transcript
Recommendation letters
Financial Information
Essay
How to ace the Advocates for African Americans Carolinas Scholarship
1
Fill your FAFSA early
Starting October 1, you can begin filling out your FAFSA to ensure that the Student Aid Report is available to you by the deadline. Once you have the report ready, upload it with all pages. Do not edit the document or remove some pages as this will disadvantage your application.
2
Be authentic
In your essay, be authentic. Your writings should reflect on you, your personalities, achievements, extracurricular activities, your leadership roles, and teamwork. You should also elaborate on your education goals and career target and why you make a perfect fit for this program.
3
Select recommenders wisely
As you choose recommenders, don't go for the ones with the best-looking titles. A good recommendation is from a person who has the world with or supervised you closely. They should know you well and be able to speak in detail about your abilities. If they also have a big title, that's a bonus, but the title shouldn't be the primary aim.
4
Seek feedback
After writing your essay, proofread and review it severally. Ensure that it's in a good state before handing it to someone else for review. Seek feedback from a few people placing the focus on areas that could need improvement. Incorporate the feedback received to make your essay even better.
How the Advocates for African Americans Carolinas Scholarship is Judged
Applicants are judged based on academic performance and leadership skills. They are also judged based on extracurricular activities and community engagement. Financial need is used to determine the scholarship winners.
Why We Love the Advocates for African Americans Carolinas Scholarship
Confirmation emails are sent to applicants
After submitting your application, you'll receive a confirmation email – no need to wonder whether or not your application was received.
All applicants are notified
After the judges finalize the judging process, all applicants will be notified of the status of their application.
The scholarship can cover more than tuition
The scholarship funds can also be used to pay for books and school supplies, on-campus accommodation, or any other school-related expense.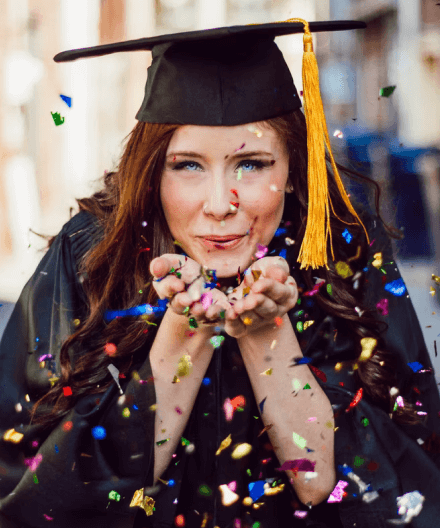 5 Facts About FFTC
It was founded in 1958
FFTC was founded more than 60 years ago.
It administers more than 150 scholarships
FFTC administers over 150 scholarships that are sponsored by a wide range of people.
It has more than 2,700 charitable funds
The funds have been set up by individuals, families, nonprofits, businesses, and corporations.
Their headquarters has a glass-art gallery
The Luski-Gorelick Center for Philanthropy in Charlotte has the Sonia and Isaac Luski Gallery that you can view for free.
A huge civic engagement portfolio
Its initiatives range from education to economics to community development, social services, and even environmental matters.