6 Best Lenders To Refinance Student Loans with a Cosigner
Refinancing your student loan may lead to better rates and lower monthly payments. We look at the best lenders that can refinance student loans with a cosigner.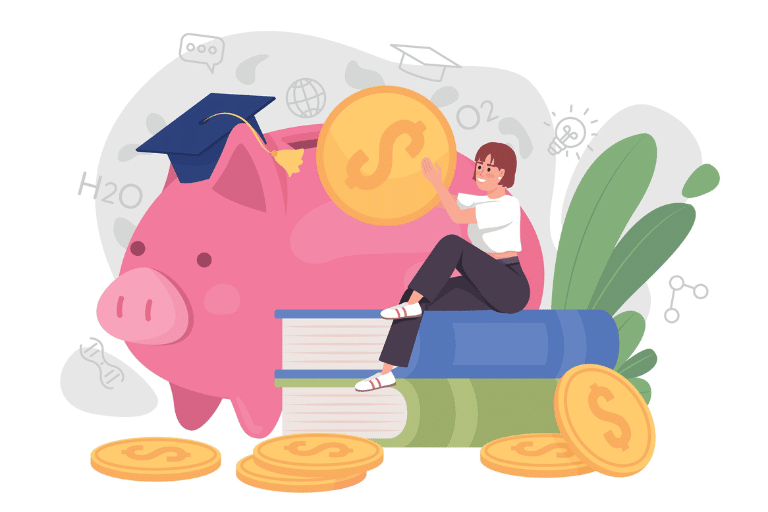 About 44 million people in the U.S. have student loan debt. While you may think you're stuck with your current loan terms, you can choose to refinance your student loan.
One way to do this is to get a cosigner, especially if you don't have great credit. A cosigner takes responsibility for the loan if you can't pay back the lender, so it may reduce the risk for the lender and get you better terms.
Here are our top choices for lenders that can refinance your student loan with a cosigner, along with their terms, rates, and eligibility requirements.
Lenders To Refinance Student Loans With a Cosigner
Lender
Scholaroo rating
Fixed rates starting (APR)
Variable rates starting (APR)

Sallie Mae

Sallie Mae has the best loan limit policies

Visit website
4.50%
5.99%

College Ave

College Ave has the best repayment terms

Visit website
4.44%
5.09%

Citizens Bank

Citizens Bank is best for cosigner policies

Visit website
4.43%
6.03%

Ascent

Ascent is best for international students

Visit website
4.62%
5.98%

MEFA

MEFA offers the most accessible loans

Visit website
5.35%
N/A

Earnest

Earnest is best for its transparent eligibility requirements

Visit website
4.45%
5.32%
What Is Student Loan Refinancing?
Student loan refinancing is when you take out a new student loan to replace one or more existing student loans. You typically refinance a loan to get better loan terms.
Refinancing student loans with a cosigner has a few advantages:
Better Interest Rates: With a cosigner who has a strong credit profile, you may be able to obtain a more favorable interest rate, thereby reducing your monthly payments and total interest cost over the life of the loan.
Easier Qualification: If your creditworthiness alone doesn't meet the lender's criteria, a cosigner may make it possible for you to qualify for refinancing.
However, there may be some drawbacks to consider:
Cosigner Risk: The cosigner is equally responsible for the loan. If you default, the cosigner's credit can be affected. This shared responsibility should be considered and discussed thoroughly with your cosigner.
Limited Flexibility: Some refinanced student loans may not offer the same protections and flexibility as federal student loans, such as income-driven repayment plans.
Refinancing a student loan with a cosigner can be a wise move if it leads to a significant reduction in interest rates or if it aligns with your financial goals. However, both parties should understand the responsibilities and potential risks involved.
1. Evaluate Your Needs and Goals
Determine why you want to refinance and what you hope to achieve, such as a lower interest rate or a shorter loan term. Understanding your goals will guide your decision-making throughout the process.
2. Choose the Right Cosigner
Select a cosigner with a strong credit history and financial stability. This person should be someone you trust and who understands the responsibilities involved in cosigning a loan.
3. Research Lenders
Investigate various lenders, both online and traditional banks, to find the best rates and terms that suit your needs. Look for lenders who accept cosigners for refinanced student loans.
4. Collect Necessary Documentation
Prepare all required documents such as proof of income, credit reports, and information about current student loans. Both you and your cosigner will likely need to provide these documents.
5. Complete the Application
Fill out the application for refinancing with your selected lender. Both the primary borrower and the cosigner must provide information and sign the application.
6. Review Loan Terms
Carefully review the new loan's terms, including the interest rate, repayment plan, and any fees. Make sure both you and your cosigner understand and agree to these terms.
7. Consider Cosigner Release Options (If Applicable)
Some lenders offer a cosigner release option after a certain number of on-time payments. If this is important to you or your cosigner, inquire about this feature with your chosen lender.
8. Finalize the Refinancing
Once approved, sign the new loan agreement with your cosigner. The new lender will pay off your existing loans, and you'll begin making payments on the refinanced loan.
9. Maintain Communication with Your Cosigner
Keep an open line of communication with your cosigner, updating them on the loan's status and any changes that may occur in the future.
Alternatives to Refinancing Student Loans With a Cosigner
If you are considering refinancing your student loans but either don't have a cosigner or prefer not to include one, there are several alternatives available:
Improve Your Credit Score
If your credit score is a concern, taking steps to improve it may enable you to refinance without needing a cosigner. Paying bills on time, reducing debt, and correcting errors on your credit report can boost your score.
Exploring Different Lenders
Different lenders have varying criteria and may offer unique loan products. Shopping around and comparing offers might lead you to a lender who is willing to refinance your loans without a cosigner and at favorable terms.
Federal Loan Consolidation
If you have federal student loans, you might consider federal loan consolidation. This combines your existing federal loans into a single new loan with an interest rate based on the weighted average of the loans being consolidated. Unlike refinancing with a private lender, consolidation doesn't require a credit check, so a cosigner is not necessary.
Income-Driven Repayment Plans
For federal student loans, you may qualify for an income-driven repayment plan. This option can adjust your monthly payments based on your income and family size, offering flexibility without the need for a cosigner.
Utilizing Employer Benefits
Some employers offer student loan repayment assistance as a benefit. If available, this assistance might reduce the need to refinance and the accompanying requirement for a cosigner.
Applying for Individual Refinancing
If your financial situation is sound, you may qualify for refinancing on your own without a cosigner. It's worth discussing your options with potential lenders to determine your eligibility.
FAQs
Can a cosigner refinance student loans?
Yes, you can add a cosigner when refinancing student loans. In cases where the primary borrower and cosigner agree, they can jointly apply for a new loan to replace the existing one. The refinanced loan might offer better terms, especially if the cosigner has strong credit. It's essential for both parties to understand and agree on the terms, as they will share responsibility for the loan.
Do you need a cosigner to refinance student loans?
No, having a cosigner is not a requirement to refinance student loans. However, a cosigner may be beneficial if the primary borrower's credit profile is not strong enough to secure favorable terms independently. In my opinion, considering a cosigner is a good idea if it leads to a lower interest rate or helps in meeting the lender's criteria, but it is not mandatory.
Can a cosigner be taken off a student loan?
Yes, a cosigner can often be removed from a student loan, depending on the terms of the loan. Many lenders offer a cosigner release option after the primary borrower has made a certain number of consecutive, on-time payments and meets other credit criteria. It's crucial to review the specific terms of your loan or consult with your lender to understand the process and requirements for cosigner release.
Can a cosigner help refinance?
Yes, a cosigner can indeed help in refinancing. By adding a cosigner with a strong credit history and financial stability, the primary borrower may qualify for a lower interest rate or better terms. The inclusion of a cosigner can enhance the trustworthiness of the loan application, which may be particularly helpful if the primary borrower has a limited or less-than-perfect credit history.