How to Find No Interest Student Loans – 7 Best Interest Free Loans
If you are worried about high-interest rates but need a loan we have outlined how you can find an interest free student loan to help with your educational costs and have provided some options too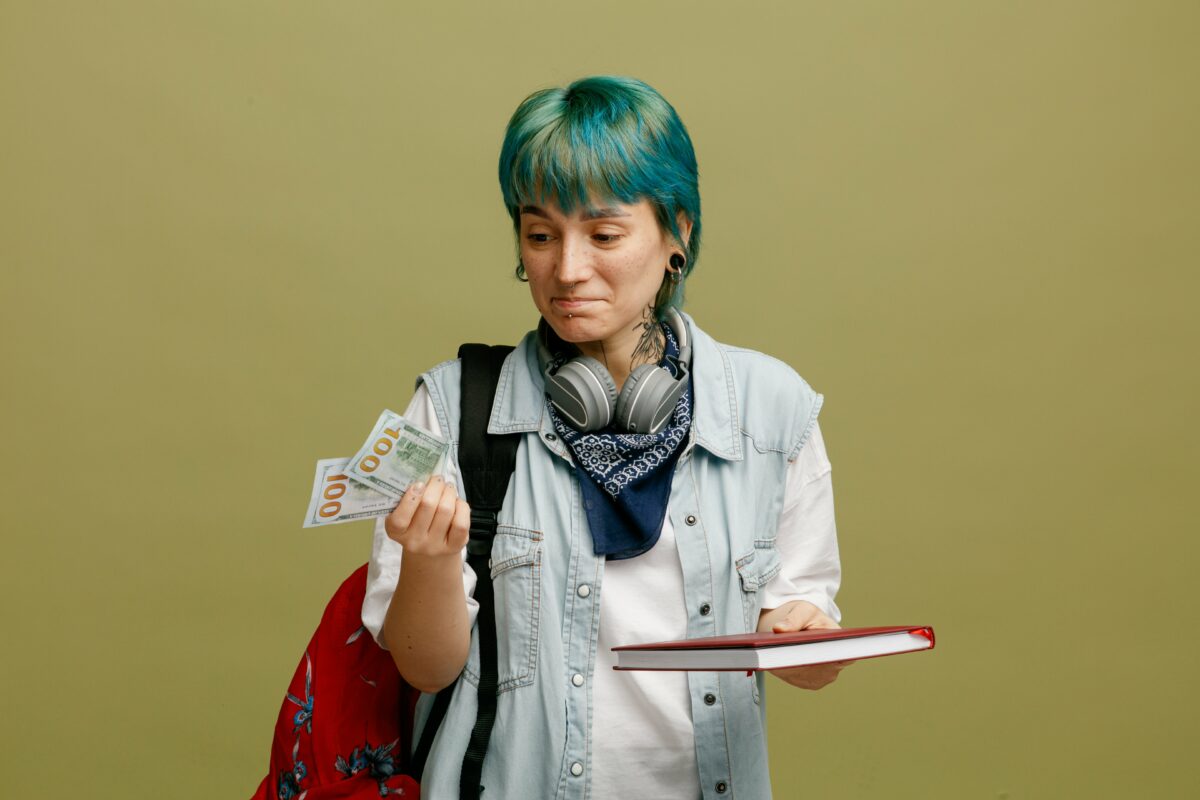 Taking student loans is unavoidable for most students as college and its related costs can be expensive. Student loans sometimes have high-interest rates but low maximum loan amounts, which pushes most students to take out multiple loans throughout their college career to cover their expenses, leaving them with overwhelming debt. However, there are also no interest student loans available to students.
Because most loans tend to have considerably high interest rates, it's not uncommon for borrowers to try to find ways of mitigating the situation. Some students research how to get a student loan interest deduction, while others look into interest-free student loans.
Although rare, interest-free student loans do exist and can considerably reduce your debt after graduation and improve your quality of life so it is a viable option worth looking into.
This blog tells you where to find such interest free loans, how to get them, and also lists the 7 best no-interest loans for students. 
Where To Find Interest Free Loans For Students?
Private foundations
These are private legal institutions created for the sole purpose of assisting those in need. Private foundations don't rely on public donations; they receive funds from a single entity, a family, an organization, or an individual who, in return, receives tax deductions. Private foundations offering interest-free student loans across the U.S. include the Bill Raskob Foundation and Evalee C. Schwarz Charitable Trust. 
State-specific programs
These are state education agencies offering financial aid to college students. Eligibility requirements for most state-specific programs are restricted to legal residents and in-state schools. Some examples include the Massachusetts No-Interest Loan Program and Scholarship Foundation of St. Louis. 
Religious organizations
These are entities with a religious and spiritual foundation. These can operate as non-profit, voluntary, registered, or unregistered entities. Religious organizations are essential in many communities and are a moral guide for many in society. One religious organization offering interest-free student loans across the country is the International Association of Jewish Free Loans. 
Military specific programs
These initiatives offer financial aid to people who have served in the military and their children. In addition to interest-free student loans, these programs provide housing and home loans, business loans, job training, and accessible or affordable medical care. An example of this program is the Military Officers Association of America Loan. 
Not-for-profit organizations
The purpose of a not-for-profit organization is to advance social causes and benefit the public. As a result, it is tax exempted. Not-for-profit organizations don't earn revenue and put all funds back into the organization. An example of this organization is A Continuous Charity (ACC). 
Local membership clubs or fraternities
Local membership clubs or fraternities consist of people sharing the same interests and values. Their purpose is to support their community and young people. An example of a local membership club providing interest-free financial aid to students is the Keene Rotary Club's interest-free loans. 
College or university financial aid programs
College financial aid programs provide financial assistance to students attending that specific institution regardless of their ability to pay. These programs rely on donors to support their students with interest-free student loans, scholarships, and grants. An example of this program is the Griffin Financial Aid Office at Harvard University and the Dean Griffin Hip Pocket Fund at Georgia Institute of Technology.
7 No Interest Loans for Students
The following is a list of organizations that provide free loans to students. The competition for these plans may be high but if you meet all the eligibility requirements, it's best to give them a go as they can save you a lot of money.
#1 Bill Raskob Foundation
Type: Private foundation
It is a small family foundation created in 1928 offering interest-free student loans to deserving U.S. citizens since then. They offer a minimum amount of $1000. They have limited funds to distribute so the number of applicants selected is limited to very few and the competition may be tough. The most deserving candidate is selected.
Eligibility:
American citizen
Enrolled at an accredited institution
Enrolled for the upcoming year
#2 Abe And Annie Seibel Foundation
Type: Private Foundation
This is also a private organization offering no interest student loans to deserving full-time undergraduate students who are USA Citizens and Texas residents. It was established in 1960 and has provided over $6 million in loans. They usually open their applications at the start of January and close them by the end of February. This foundation lends based on academic performance too.
Eligibility:
U.S. citizens and Texas residents
Graduated from Texas high schools
Must enroll full-time at a credited Texas college/university for a 4-year bachelor's degree
Be in the top 10% of their high school graduating class OR have a minimum SAT score of 1100 or ACT score of 23
Must maintain full-time status in college and a GPA of 3.0 to remain eligible
#3 Massachusetts No Interest Loan Program
Type: State-specific program
Massachusetts Department Of Higher Education (MASS) provides this loan free of interest to needy Massachusetts resident students attending post-secondary educational institutions in the state. The loan is state-funded and students have a period of 10 years to repay the principal amount without any interest.
Eligibility:
U.S citizen and or non-citizen eligible under Title IV regulations
Permanent legal resident of Massachusetts at least one year prior to the start of the academic year for which the loan is provided
Not be in default for any federal or state student loans previously
Enrolled full-time in a certificate, associate's, or bachelor's degree program at an eligible institution
No prior bachelor's degree or its equivalent
Maintaining satisfactory academic progress
Demonstrate financial need through FAFSA
#4 Jewish Free Loa Association (JFLA)
Type: Non-for-Profit organization
JFLA helps students from all races and religions achieve their educational dreams by providing them with free student loans. They recommend to students to apply early once the applications are open to have a better chance at getting a free loan as the funding is limited, especially for nursing and graduate students. They require at least 2 guarantors for first-time loan applicants and lend up to a total of $7500. Eligible students include those in nursing school, medical school, dental school, community college, vocational or trade school, undergraduate education, professions, and graduate schools.
Eligibility
Must reside in Los Angeles, Ventura, or Santa Barba County
Full-time student
Minimum GPA of 2.5
Must have two guarantors
#5 A Continuous Charity (ACC)
Type: Religious organization
ACC targets the American Muslim Community and helps them get through their education with the help of ACC interest-free loans. They accept applications from both undergraduate and graduate students. Their application process is online and usually closes by the end of March and they do take cases for student loan refinancing. Usually, along with the application, you will need to provide two letters of recommendation, financial statements, and a tax return transcript. They usually take an online interview with the shortlisted candidates before selecting the finalists.
Eligibility:
U.S. citizen or permanent resident
GPA of 3.0 is preferred but not necessary
Attending or attended a four-year institution, master's program, community college, Ph.D. program, or professional doctorate program in America
Must be actively engaged in their respective community
#6 Military Officers Association Of America (MOAA)
Type: Military-specific organization
MOAA provides loans to students currently at the value of $7000 loan per student annually without any interest. These free student loans are renewable for up to five years of undergraduate study. They usually disburse the loan in two payments in and year. They accept applications till the end of March and disburse half of the loan to selected candidates in august and the other half in December. The selection criteria are based on scholastic ability, extracurricular activities, and financial need.
Eligibility:
Must be under 24 years of age
Must have a parent eligible for MOAA membership, or be children of parents in active duty, Reserve, National Guard, or of retired enlisted military personnel
High school GPA of 3.0
Must not be attending a U.S. military academy or academy prep school
Sponsoring parent must have a paid MOAA membership if they are a military officer
#7 Evalee C. Schwarz Charitable Trust for Education
Type: Charitable organization
This charitable foundation provides no interest student loans to undergraduate and graduate students with exceptional academic performance. Their loans are also based on financial need. The competition for these loans is quite high though as they accept applicants with test scores among the top 15% in the nation. Both current and enrolling college students are eligible to apply.
Eligibility:
Must be a U.S citizen
Test scores must be among the top 15% nationwide
Enrolled in a school in your home state
Demonstrate and qualify for financial need via FAFSA application
Students studying a law degree are not eligible
How Can You Qualify for No Interest Student Loans?
Demonstrate Financial need
To qualify for interest-free loans, you need to demonstrate financial need. Financial need is the difference between your school's cost of attendance and how much you can afford. Financial need is demonstrated by subtracting the cost of attendance (COA) from any other financial aid you already have, such as expected family contribution (EFC). The result will determine how much financial assistance you receive.
Submit your FAFSA on time
Students must submit a Free Application for Federal Student Aid (FAFSA) to qualify for federal student loans. FAFSA is also important when applying for interest-free student loans because it shows that you have tried other means to pay for school, you are in need, and determines the kind of financial aid you need, such as scholarships or grants.
Be a U.S. citizen or permanent resident
U.S. citizenship is one of the essential eligibility requirements for most interest-free loans for students. Lenders require applicants to be U.S. citizens or permanent residents with a valid social security number, although some institutions exempt students holding DACA status.
Strong academic record
Having a solid academic record improves your chances of getting a loan. An academic record consists of any document you have received throughout the years you have been in school, such as transcripts, certificates, diplomas, and degrees. A strong GPA also makes you eligible for additional aid, including scholarships and grants.
Must attend in-state schools
Some interest-free student loans require you to be a legal resident of a specific state and attend an in-state college or university, as in the case of state-specific programs funded by the state government.
Pros and Cons of No Interest Student Loans
Interest-free loans do sound appealing but there are benefits as well as some drawbacks associated with them that you should consider before opting for one.
Pros
You save a lot of money – With other loans, the interest adds up resulting in a considerable cost, making those loans quite expensive. With interest-free loans, you only pay what you borrow which saves you a lot of money.
Small in-school payments – The payments you might have to pay for some loans without interest are quite small while in school.
Cons
Guarantor may be required – Some interest-free loans require a guarantor, sometimes two, as their eligibility requirement. The guarantor must have good credit and income and be reliable.
Strict eligibility requirements – Most of these loans have strict requirements that are hard to meet. The majority of people are not able to qualify for an interest-free loan. Moreover, the competition for these loans is also quite high which may decrease the chances of getting one further.
May not cover the full cost of education – No-interest loans are usually small in amount and would most likely not cover all the costs. You will probably need to find some other type of aid along with such loans to cover your full cost of tuition and college-associated costs.
Alternatives to Interest Free Loans
Scholarships
Scholarships are forms of financial aid that help graduate and undergraduate students pay for their degrees. Most institutions award scholarships to cover tuition, books, rent, and other living expenses. Scholarships can be merit or need-based and are usually awarded based on academic achievement, leadership and community work, and study area.  
401k Loan
401k loans are borrowed from your retirement savings account. The amount you borrow is established by the type of savings plan your employer has implemented. A 401k loan is a good option for students because they are quick and easy, have flexible repayment terms, and no origination or administrative fees.
Personal Loans
Also known as consumer loans, personal loans are for individual needs. Students can take out consumer loans to cover living expenses such as food, rent, books, and school supplies. Personal loans are hard to get due to their strict eligibility requirements.  
0% APR credit cards
These allow you to buy things and make payments without charging interest for a specific period, usually six to twenty-one months. 0% APR credit cards help students manage and have control of their finances while in school and after graduation. 
FAQs
Can you get interest free student loans?
Yes. There are various organizations that offer no-interest student loans including private foundations, religious organizations, local membership clubs or fraternities, and not-for-profit organizations. There are also state-specific programs, military programs, and college or university financial aid programs for students looking for loans without interest.
How do I get an interest free student loan?
The best way to get an interest-free student loan is to complete your FAFSA on time and maintain a solid academic record. To find interest-free student loans, check state-funded programs at the location you prefer as well as any local membership clubs.
Which bank provides interest free student loans?
Private banks don't offer interest-free student loans, but subsidized federal student loans are interest-free while you are in school.
Are federal student loans interest free?
Federal student loans are not interest-free. Both direct subsidized and unsubsidized federal student loans currently have a fixed interest rate of 4.99%. These loans, however, are eligible for an interest rate deduction using the 1098-E form.
Final Thoughts
Interest-free student loans are necessary for the success of a lot of students. They enable them to pay for tuition and other living expenses and reduce the overwhelming debt students have to face during and after college due to accrued interest. While they are rare, interest-free loans for students are worth the extra research it takes to find them and be successful in financing your college endeavours.