Women in Defense Scholarship
3/27/2023
Submission Deadline
Explore Similar Scholarships
Location:
Grade Level:
Established in 1988, the Women In Defense Scholar Program looks to encourage women to pursue careers in U.S. national security with a focus on foreign policy and defense. The scholarship is open to any student as long as they are not employees of family members of employees of the National Defense Industrial Association (NDIA) and its affiliates.
The scholarship is open to women across a number of preferred fields of study, which include: security studies, military history, government relations, engineering, computer science, cyber security, physics, mathematics, business, and law (as it relates to national security or defense), international relations, political science, policy and diplomacy, intelligence and economics.
The WID Scholar Program allows women to pursue careers in national security and introduces them to national security professionals through WID and NDIA events and publications.
Key Information of Women in Defense Scholarship
Study Details
Country of Study
United States
Scholarship Details
Intended Level of Study
Undergraduate
Postgraduate
Women in Defense Scholarship Timeline
February 2023
Application Open Date
Applications usually open in February. Check the website for more accurate dates closer to the time.
March 27, 2023
Application Deadline
The deadline for applications is in March. The specific date changes each year, check the website for more accurate dates closer to the time.
May 2023
Scholarship Committee reviews applications
The WID scholarship committee starts reviewing applications in late spring.
August 2023
Award Announcement Date
Applicants who would be awarded the WID scholarship are announced in early fall.
Scholarship Eligibility
To be eligible to apply, applicants must meet the following criteria.
Eligible Grade: Undergraduate – Graduate
Maximum Age: Any
Required GPA: 3.25
Geographic Eligibility: United States
Gender: Women
Race/Ethnicity: Any
Application Requirements
Here's what you need to submits besides your application.
Grade transcript
Essay
Recommendation letters
How to ace the Women in Defense Scholarship
1
Be currently enrolled
Ensure you are already enrolled or be enrolled by the next academic session in an accredited college or university in the United States, with plans to pursue a career in defending the United States or protecting national security. If you're currently enrolled, ensure your grade point average is a minimum of 3.25.
2
Emphasize your participation in national security activities
In your application, make sure to include any volunteer and work experiences that involve working or show your interest in defense or national security. If you still have a few years before you plan on applying for the WID Scholar Program, consider seeking out experiences in national security.
3
Have your essay reviewed before submission
To ensure your application doesn't get dismissed, have a family member, mentor or teacher take their time to check your application for spelling and grammatical errors. Keep in mind that the WID Scholar program committee reviews essays using the essay rubric.
4
Demonstrate financial need
A major requirement to be granted the scholarship is proving that financial aid is needed and is a major constraint to pursuing a career in national security or defense.
How the Women in Defense Scholarship is Judged
Scholarship applications are reviewed by the WID scholarship committee based on applicants' academic achievement, field of study, participation in defense and national security activities, work experience, essays (which are reviewed using the essay rubric), recommendations, and financial needs. In late spring, the scholarship committee will review applicants and make selections by the end of the summer.
Why We Love the Women in Defense Scholarship
WID Scholar Celebration
All awardees' travel expenses to the celebration event in the National Capital Region are covered. The event gives awardees the opportunity to network with fellow attendees and various people working in defense and national security.
Pushes for diversity
The scholarship aims to increase diversity and innovation in government, academia, and the defense industrial workforce by investing in high-performing women.
Previous WID scholars may apply
Unlike many other scholarships that prevent previous winners or runners up from reapplying, previous WID scholars can reapply.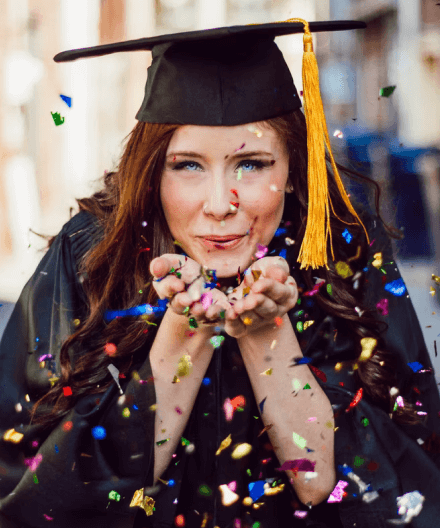 5 Facts About The Women In Defense Scholar Program
It used to be called HORIZONS
The WID Scholar Program previously used to be called the HORIZONS Scholarship program.
The program has sponsored over 165 women
Since 1988 WID Scholar Program has awarded over $675,000 to more than 165 women across various disciplines from math to law to engineering.
Affiliated with various defense organizations
The program is sponsored by the National Defense Industrial Association, Emerging Technologies Institute, and the National Training & Simulation Association.
No course restrictions
While courses with specific relations to defense and national security are preferred, applicants who are able to prove their course relevance to national security are also considered.
WID was founded to support women
Women In Defense is an empowerment organization that engages, cultivates, and supports the advancement and recognition of women in all aspects of national security by providing a professional environment, networking, education, and career development.