William E. Wilson Scholarship Award
4/1/2023
Submission Deadline
Explore Similar Scholarships
College Major:
Grade Level:
The Southeastern Theatre Conference (SETC) is one of the largest associations of theatre professionals in the U.S. It connects people to opportunities and resources in theatre. It offers the William E. Wilson Scholarship in honor of a long-time SETC member and patron.
The annual scholarship awards $5,000 to a secondary school teacher pursuing graduate studies in theater or speech and theatre. The educators must be directors of theatre at a secondary school in the SETC region and have at least one year of full-time teaching experience. The SETC region comprises the states of Alabama, Florida, Georgia, Kentucky, Mississippi, North Carolina, South Carolina, Tennessee, Virginia, and West Virginia.
Applicants should submit a personal statement detailing their plans and objectives for their graduate studies. A complete resume should also be attached. Applicants should also submit two recommendation letters.
Key Information of William E. Wilson Scholarship Award
Study Details
Country of Study
United States
Scholarship Details
Intended Level of Study
Postgraduate
William E. Wilson Scholarship Award Timeline
January 1, 2023
Application Open Date
The application opens in January.
April 1, 2023
Submission Deadline
The deadline for submissions is 11:59 PM ET.
April–June 2023
Interviews
Applications will be evaluated and interviews conducted during this period.
July 2023
Winner Announcement
The winner will be announced.
Scholarship Eligibility
To be eligible to apply, applicants must meet the following criteria.
Eligible Grade: Graduate
Maximum Age: Any
Required GPA: Any
Geographic Eligibility: Alabama, Florida, Georgia, Kentucky, Mississippi, North Carolina, South Carolina, Tennessee, Virginia, West Virginia
Gender: Any
Race/Ethnicity: Any
Application Requirements
Here's what you need to submits besides your application.
Essay
Present Work Experiences
Recommendation letters
How to ace the William E. Wilson Scholarship Award
1
Select recommenders carefully
Select recommenders who know you well and can speak to your abilities in detail. These can be the school principal or other professionals you've worked with closely. Request them to write the letters and inform them early to give them ample time to craft and review the recommendation letters.
2
Revamp your résumé
Your résumé is your chance to show your experience in theatre. Include all projects directed at your school. If you have a few videos of past projects, you can include a link to them in your resume to give the judges a feel of your work. Revamp your résumé and give it a fresh look. You could use digital tools like Canva – just make sure you don't go overboard.
3
Create an essay outline
The personal statement is your chance to show your plans and goals for your studies. While those are the bare minimums, you should show off your uniqueness, personality, and passion for theatre. Create an essay outline that defines the structure of your essay. The study plan should be thoroughly thought through. Give extra attention to the first paragraph since it's to hook the readers.
4
Write a winning essay
Using the outline, write out the first draft of your essay. The first draft should only be focused on putting down the ideas featured in the outline. Don't worry about errors or length. In subsequent edits, focus on making your essay clear, coherent, and error-free. Remove all the run-ons and ambiguous sentences. When you're done, seek feedback from a few friends and incorporate the changes into your essay.
How the William E. Wilson Scholarship Award is Judged
Applicants are judged based on their work experience and study plans. Applicants should also demonstrate their motivations for pursuing a degree in theatre. Recommendations help the judges get a holistic view of applicants and are critical to the judging process.
Why We Love the William E. Wilson Scholarship Award
Winner attends the SETC Convention
The winner gets a free ticket to the SETC Convention.
Winner gets a free one-year student membership
The winner receives a free SETC membership.
Past winners' profiles are available
The profiles of former winners are available on the website.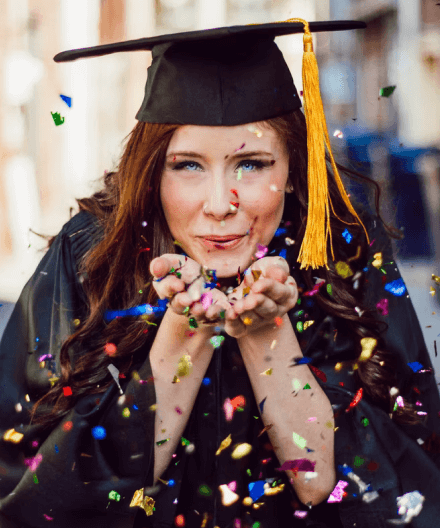 5 Facts About SETC Convention
It was first held in 1950
The Convention has been held for over 70 years.
It has more than 5,000 attendees
Every year, more than 5,000 people attend the SETC Convention
It hosts over 300 workshops
With over 300 workshops, the convention serves as a great platform to learn and get updated on the world of theatre.
More than 90 schools attend
The Education Expo features more than 90 schools.
It hosts the Theatre Job Fair
The Job Fair serves as a platform to connect off-stage professionals to potential employers.